Estimated read time: 2-3 minutes
This archived news story is available only for your personal, non-commercial use. Information in the story may be outdated or superseded by additional information. Reading or replaying the story in its archived form does not constitute a republication of the story.
MIDWAY — On a dark night, four people recently dove from a height of five stories into Midway's Homestead Crater.
One of the divers was Andy Jones, a member of the USA Cliff Diving team who is on the Red Bull cliff diving circuit and grew up in Sandy. He donned an LED light suit for the event, which was hosted by Nu Skin.
"I saw an opportunity up at the crater in Midway to do something that has never necessarily been done before, and it's likely that it won't be able to be done again," said Nu Skin's Pharmanex product marketing manager Brian Cameron. "I've known about that location for a while, and I just felt inspired to go up there and reach out to the owner and propose this grandiose plan that included lot of different elements — elements of danger, elements of excitement."
Typically, the Homestead Crater is a popular spot used for scuba diving, swimming and snorkeling. Managed by the Homestead Resort, the 55-foot-tall limestone crater formed naturally over a period of about 10,000 years. It's advertised as being "the only warm scuba diving destination in the continental U.S."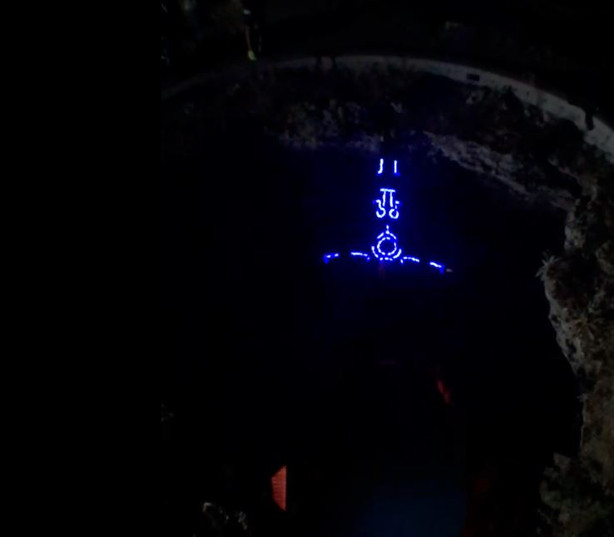 Cameron said the nighttime dives, which started Tuesday at about 10 p.m., were amazing to watch. He said it was especially cool to see the divers push their limits.
"Talking to people, there was a lot of skepticism just because it was something that had never been done before — building a tower, wearing these LED light suits, jumping off in the dark to dimly lit water below where your perspectives are a little bit skewed because of the darkness," he said. "But the jumps went as expected. They went perfect. No one got hurt, and everyone was able to accomplish all of their jumps, all of their tricks."
Jones, who now lives in California with his wife, is sponsored by Nu Skin. He competed on the University of Utah's diving team before becoming a professional athlete. In addition to traveling the world for extreme diving, he is also standby performer for Cirque du Soleil and works as a Hollywood stuntman.
The diving event was part of a promotion for a new Nu Skin product that has yet to be announced. Cameron said an official video will be released sometime in the next few weeks.
More information about the Homestead Crater can be found on the Homestead Resort website. Visits need to be scheduled through the resort by calling 435-657-3840.
---
Contact the author at ncrofts@ksl.com or find her on Twitter.
×
Photos
Related Links