This archived news story is available only for your personal, non-commercial use. Information in the story may be outdated or superseded by additional information. Reading or replaying the story in its archived form does not constitute a republication of the story.
Attending community college is often the first step to lifelong success, but wading through paperwork and processes of enrollment and course selection can be daunting. These five steps can help you be successful at community college.
1. Make a plan
Are you planning to transfer to a four-year school or go straight to work after college? Your short-term decisions make better sense if they fit into a bigger picture. Meet with an academic advisor or instructor in your area of study and put together a long-term plan for achieving your educational goals. Be sure to check back regularly with your "big plan," to make sure you're meeting your goals and timeframe.
2. Apply for financial aid
College is expensive, but likely the best investment of your life. Make sure to check with your college's financial aid office about scholarships and available funding to help cover your costs. Fill out the Free Application for Federal Student Aid (FAFSA) to see if you qualify for financial support. Some community colleges provide full tuition and fees for qualifying students. Don't miss out on dollars you can use.
3. Put together a realistic schedule that works for you
With school, work, family and friends, life is busy. Let's face it — you've got to organize your time and create a schedule that works for you. For every hour spent in class, plan on two for preparation, and set that time aside to ensure success.
As you consider the number of classes you'll take, think about taking an extra class. Finishing a semester or two early will save time and money. "Salt Lake Community College and most community colleges offer classes at various times of the day and night, and online too, to meet the pressing demands of student schedules. No other institutions are better prepared to help them succeed," says Joy Tlou, Director of Public Relations at Salt Lake Community College.
4. Set up a support network
Community colleges foster student success in a flexible, helpful and non-competitive environment. Advisers and faculty are committed to helping you plan your course of study and make college work. Labs and out-of-classroom resources are available to help with math, writing, science and computing.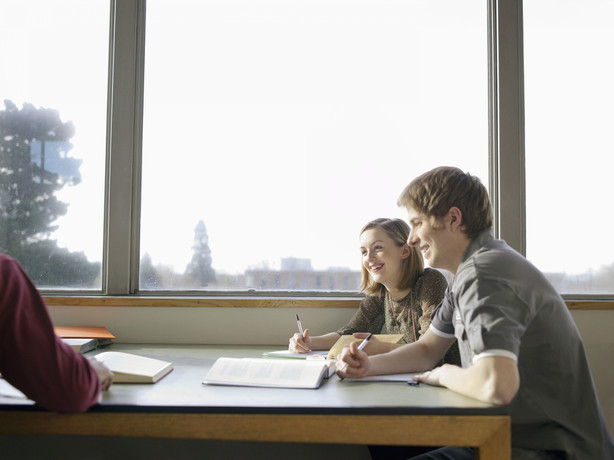 Reach out and join a study group for challenging classes, and work with your classmates to be successful. Communicate with your instructors regularly and let them help with your challenges.
5. Get involved
College is hard work, but it should be fun too. Research shows that students who participate in activities, clubs, athletics, student government and community events do better in their classes and leave college with friends, social skills and memories that last a lifetime. Time can be scarce, but getting involved with people who share your interests just makes life, and college, easier.
×