This archived news story is available only for your personal, non-commercial use. Information in the story may be outdated or superseded by additional information. Reading or replaying the story in its archived form does not constitute a republication of the story.
TWIN FALLS, Idaho — Two musicians took a song cover to the extreme when they shot the video for "Welcome Home" — a piece made popular by artist Radical Face — on top of an Idaho waterfall.
Pianist and creator of the YouTube channel 92 Keys, Trevor Loucks wrote that a lot went into making the stunning video possible.
"I wrote the arrangement for this song a full year before we filmed it," Loucks said in the video description. He also said that it was the most fun song to play on the piano from the group's six-track EP, which was released July 11.
The other member of the Boise, Idaho-based duo is violinist Crista Guthrie, a student at BYU-Idaho, shown in the video perched atop Shoshone Falls in Twin Falls. Not only is Guthrie bowing her way to greatness atop the falls, but Loucks is alongside her playing a grand piano — in the water.
Apparently, the Parks and Recreation department of Twin Falls was all too happy to help the 92 Keys members achieve their music video dreams.
"(I) didn't know what their reaction would be to a request of allowing a piano/violin group to film a music video on top of Shoshone Falls," he said. "To my surprise, they loved the idea!"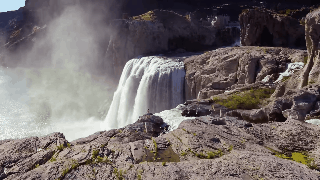 According to Loucks, the best way to get the piano into position was to use a helicopter to lower it down. Lacking the budget for that kind of transportation, Loucks said the next best option was to move it by boat.
"… (We) figured out that we could load the piano up on a pontoon boat and transport it to Pillar Falls, which is a few miles downstream from Shoshone Falls. You'll even see a shot in the video where I'm playing the song while the pontoon boat is driving down the river near Perrine Bridge."
There were added challenges for the 92 Keys crew, since they were shooting six videos for their EP in six consecutive days.
"This video was on the fifth day," Loucks said. "Carrying the piano into Pillar Falls and hiking to the top of Shoshone certainly tested our endurance, but we made it! And for the final product, it was so worth it."
"Welcome Home" was arranged by Loucks and the video was directed by Parker Walbeck. The 92 Keys album is available on iTunes, Google Play and Amazon.
×
Related Links