Estimated read time: 6-7 minutes
This archived news story is available only for your personal, non-commercial use. Information in the story may be outdated or superseded by additional information. Reading or replaying the story in its archived form does not constitute a republication of the story.
SALT LAKE CITY — The University of Utah fields 17 varsity sports in its athletic department, with seven men's sports and nine women's sports.
New Utah lacrosse coach Brian Holman would love for his club program to be the next one.
Until then, he'll wait — and build.
"The opportunity that was presented was really hard to pass up," Holman told KSL Sports. "It's an opportunity to come to an incredible university and an area where lacrosse is growing and there is still growth to be had. To come to a Pac-12 school and work toward bringing this program to Division I status.
"There aren't many lacrosse schools around that have as much to offer as Utah."
Holman was named the new head coach of Utah lacrosse Wednesday, succeeding former coach Rick Kladis, who will stay on as director of operations and an assistant coach with the program. The longtime head coach praised the move in the team's announcement.
"After putting my heart and soul into building this program for the last eight years, I am thrilled to have Brian taking the reins," Kladis said in a statement. "Having the opportunity to work with this new staff is just a dream come true."
The former North Carolina assistant spent the past eight seasons with the Tar Heels, where he served primarily as goalkeepers coach for the 2016 national champions with additional defensive coordinator responsibilities. He helped bring the Heels into the formation of the Atlantic Coast Conference lacrosse league, peaking with the 2016 NCAA national championship for both the UNC men's and women's programs.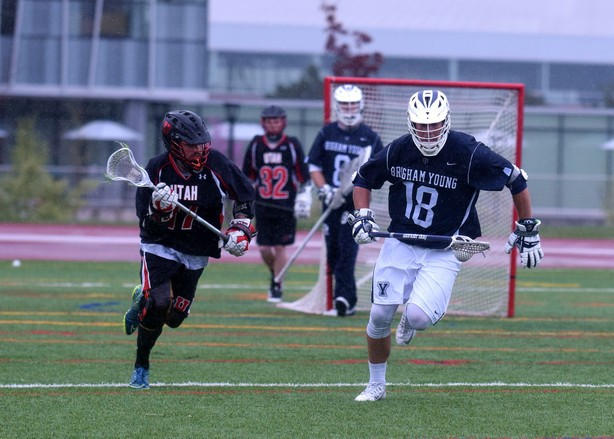 He's been around the block, too, as a lacrosse coach in Maryland at the high school, club and collegiate levels.
Holman was a freshman on Johns Hopkins' NCAA title-winning team in 1980, and the three-time All-American played in four NCAA championship matches before graduating in 1983.
"You look at ACC schools and Big Ten schools, and Utah offers everything," he said. "The place is gorgeous, the school is great, the facilities are awesome. From a recruiting perspective, it's going to be unbelievable. There is a lot of enticement to come out here."
The chance to bring in a coach with credentials like Holman's doesn't come along very often for a team like Utah, which competes in the Men's Collegiate Lacrosse Association (MCLA), alongside fellow Rocky Mountain conference schools like BYU, Utah Valley, Utah State and Colorado.
"I'm learning about the MCLA, and it's kind of like the Wild, Wild West, but that's fun," Holman said. "You don't have to live under the umbrella of the NCAA, which is kind of different. I'm learning the people we compete against are really well coached, and the teams we will have to beat if we want to move forward are pretty good. The level of play has impressed me."
Holman's move to Utah is the farthest west he's moved for the sake of lacrosse, but he's taking some familiar faces with him. His son Marcus graduated from UNC in 2013 and currently plays attackman for the Ohio Machine of Major League Lacrosse. A U.S. international and versatile attackman, Marcus Holman leads Ohio with 32 goals and 13 assists on the season.
The new Ute coach will also bring along another MLL standout in Boston Cannons attackman Will Manny. Both Marcus Holman and Manny, a Massachusetts graduate, were MLL All-Stars this season.
"I'm looking forward to this unbelievable opportunity to grow lacrosse in the Western part of the United States at the University of Utah," Marcus Holman said. "I can't wait to get my feet on the ground with this incredible staff and positively impact the U. of U. program. Along with this opportunity comes a chance to inspire the youth lacrosse players of the Salt Lake City area, which is something I'm very passionate about."
Among other things, the Holmans will work to move Utah's club program to NCAA Division I status. But is a move to Division I on the horizon for the Utes?
Lacrosse Magazine reported earlier this week that Utah is on the verge of joining the NCAA in men's lacrosse, but Utah athletic officials have rebutted that claim.
Still, the rumors persist. The Utes have added two Division I transfer since the end of the spring season, and Holman is bullish on the club's chances to move up.
"I earnestly would not have ventured out here and moved my family after eight years as an assistant coach at North Carolina … if I didn't think we would be capable of being able to take Utah to a Division I level," Holman said. "My meetings with several people have shown me that we are capable of doing this. There are some hurdles we need to get over for the university. But those hurdles are very achievable. We've got to get here, get settled, and we know we haven't been very good. We've got to get the community energized about lacrosse, but that won't be hard for us."
No Football Bowl Subdivision school has added men's lacrosse since Michigan in 2012. Before that, Notre Dame was the last FBS school to field a new lacrosse program in 1981.
The earliest the Utes could move to Division I is 2019, but — as Holman alluded — there are plenty of obstacles standing in their way to prevent such a move.
Among the first is geography. The nearest NCAA Division I lacrosse team is Denver, and while the 2015 national champion Pioneers have competed well nationally, they are also members of the Big East with the nearest in-conference opponent being Marquette — a mere 1,059 miles away in Milwaukee, Wisconsin.
Air Force also fields a Division I men's lacrosse program, but the Falcons compete in the Southern Conference — against Richmond (Virginia), High Point (North Carolina), Bellarmine (Kentucky), Mercer (Georgia), Furman (South Carolina), Jacksonville (Florida) and Virginia Military Institute.
"The process is very clear to me, and we are going to attack it," Holman said. "The university has told me what they need, and once they get that, they'll fulfill their end of the bargain. My vision is perfectly clear — to be one of the top Division I teams in the United States."
Geography works well for Utah in the MCLA, where it hasn't been particularly competitive in recent years. The Utes haven't finished above .500 since 2010.
---
My meetings with several people have shown me that we are capable of doing (adding Division I lacrosse). There are some hurdles we need to get over for the university. But those hurdles are very achievable. We've got to get here, get settled, and we know we haven't been very good. We've got to get the community energized about lacrosse, but that won't be hard for us.
–Utah lacrosse coach Brian Holman
---
Utah's place in the Rocky Mountain Lacrosse Conference also pairs it with four schools in Utah and two in Colorado (Colorado State). It will also open the 2017 season at defending MCLA national champion Chapman on Feb. 16, 2017.
"We'll go right into the lion's den to see what we are made of," Holman said. "That's the mentality we are going to try to instill in the players. If you want to work towards the best, you've got to play the best. You learn from everything, so let's do it."
Lion's den or not, with or without NCAA Division I sanctioning, the new head coach is excited to get to work.
"It's hard to express how excited we are to be here," Holman said. "One of our goals coming out here is to ingratiate ourselves into the community and become a part of a community helping to grow the game that we love.
"Going D-I and getting the best players is part of it, but we are going to be as heavily involved in the lacrosse community as we need to be."
×
Photos