Estimated read time: 2-3 minutes
This archived news story is available only for your personal, non-commercial use. Information in the story may be outdated or superseded by additional information. Reading or replaying the story in its archived form does not constitute a republication of the story.
PHOENIX — A brand new app may help young women in The Church of Jesus Christ of Latter-day Saints complete Personal Progress.
In 2013, Kristin Call launched the Personal Progress Binder, "a set of worksheets that breaks down the entire Personal Progress program into manageable chunks," she said.
According to the Personal Progress manual, "Young Women Personal Progress is an achievement program designed to help young women: strengthen their testimonies of Jesus Christ, strengthen both their present and future families, prepare to be worthy to make and keep sacred temple covenants, prepare for their future roles and responsibilities.
"Young women work with their parents, Young Women leaders, and other exemplary women to set and accomplish goals based on the eight Young Women values. Personal Progress can help parents and leaders improve their relationship with young women as they work together."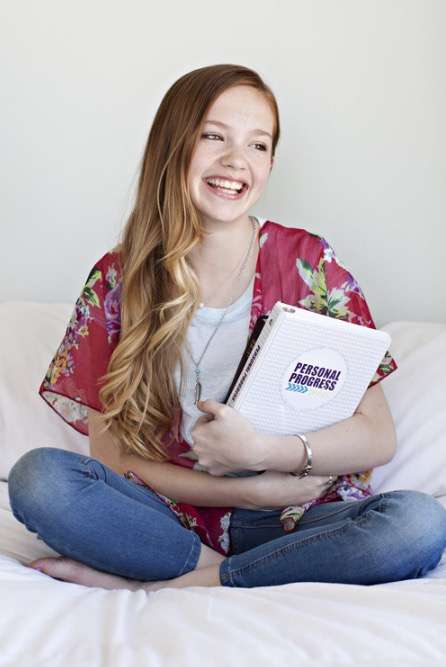 Wednesday, young women were able to download the brand new Personal Progress Binder app, which was developed by Call's brother-in-law, Scott Daly.
The app breaks down each value experience into worksheets. Young women using it can tap on a scripture reference and be directed to the Gospel Library app, where they can read the scripture and then return to the Personal Progress Binder app, where they will fill out answers to questions, Call said.
Young women can also set notifications on their phones to remind them to do longer value experiences, for example, saying their prayers morning and night. They can then check that goal off and keep track of their progress. The app also includes a Book of Mormon reading chart, Call said.
"There's functionality inside it," she said. "A lot of the experiences require you to discuss things with your parent or leader, and so right from the app, you can select 'contact my parent,' and you can message your parent or leader and there's a pre-populated text message that comes out that says, 'I've been working on Choice and Accountability 5, and I'd love to talk to you about it.' "
Whenever young women finish a value experience, a badge pops up that says they've completed it, and they can share that on social media, Call said.
"It's purpose is to give young women a little more independence in finishing the Personal Progress program," Call said. "We want to make it less overwhelming and less confusing for the young women."
The Personal Progress Binder app is not officially affiliated with the LDS Church, and Call said they don't want to replace the Personal Progress manual.
Those interested in downloading the app can purchase it for $4.99 in the app store. It's available for iPod touch, iPad and iPhone users, Call said.
×
Photos
Most recent Utah stories