This archived news story is available only for your personal, non-commercial use. Information in the story may be outdated or superseded by additional information. Reading or replaying the story in its archived form does not constitute a republication of the story.
ROY — Twelve years ago, Bob Quick was being wheeled into an ambulance when a paramedic looked at him and asked what he wanted to say to his wife and kids.
Before he knew it, things went black, Quick said. Then, out of the mist, he saw the figure of Jesus walking toward him.
"You could see the holes here and here," Quick said, pointing to his own tanned hands on a Friday morning outside the Roy Fire Station. "And he turns me away and says, 'Go back, my son. You have great work to do.'"
Quick emerged from that massive heart attack believing that he had been given a second purchase on life after years of drug abuse and "hard living."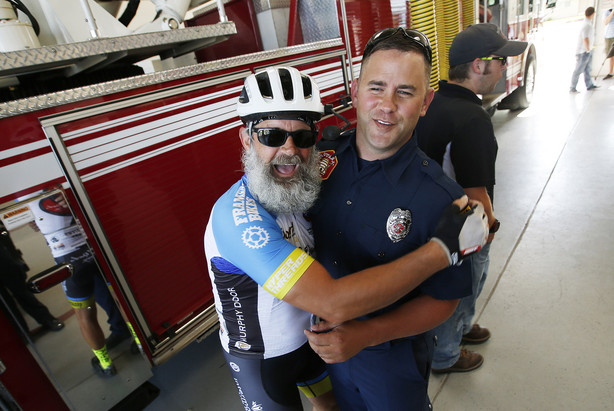 Now the hyperkinetic 55-year-old man with a bushy gray beard and neon socks is known for his coast-to-coast bike rides raising money for charity, despite the 16 stents in his heart and implantable defibrillator in his chest.
On Friday, about a quarter of the way through his second coast-to-coast bike ride to raise awareness of autism, Quick made a stop at McKay-Dee Hospital to thank the medical team that saved his life.
The cardiologist who saved the Roy man's life 12 years ago, Dr. Jack Lassetter, said he and Quick bonded over "life-changing conversations" about how the recovering addict could find purpose and strength.
"Everybody thinks that they'll be disabled and become what we call a 'cardiac cripple,'" Lassetter said. "And my analogy has always been that you use disease as a bus. You can drive the bus, you can ride the bus, or the bus will run you over."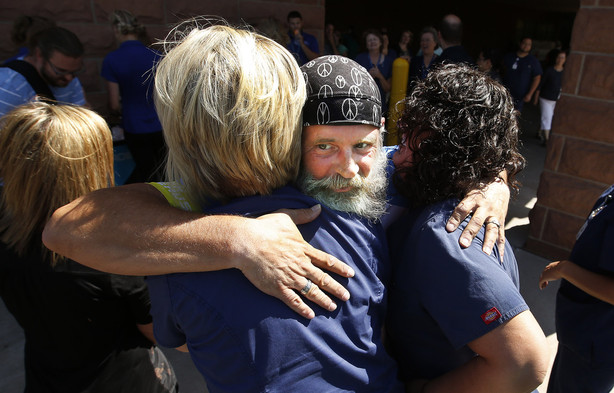 For some time, Quick "wanted to mow my lawn all the time," Lassetter said, laughing.
But Quick soon settled on a different way to pay it forward: cycling.
In 2009, along with his son, Quick made his first big trip from Wendover to Roy. The next year, the pair rode from Roy to Bear Lake.
By 2012, Quick started training to ride coast-to-cast.
"This is my therapy," Quick said. Pointing to Lassetter, he joked, "I'm sure he'll write a prescription right now for a 3,200 mile bicycle ride."
"He ain't giving me narcotics. He's giving me a prescription to exercise. That's an awesome doctor."
Quick's cross-country trip last year took 91 days, with breaks on Sundays. He didn't raise as much money as he hoped, but he's confident they will this year.
This year, Quick started from Cannon Beach, Oregon. From Utah, he and his son will bike to Casper, Wyoming, continue to Minneapolis, skirt around the Great Lakes and finish at Montauk Lighthouse in New York.
They will take shelter in fire stations and at people's homes when they can, and camp out in tents on the side of the road if necessary, Quick said.
Several friends are joining him for dayslong stretches along the way.
Taylor resident Craig Bitton credits Quick for pulling him out of a downward spiral after he was injured by a drunken driver going 103 mph and could not continue his career as a fitness model and power lifter.
"Bob is one of those guys that when you're around them, you feel immediately better," Bitton said.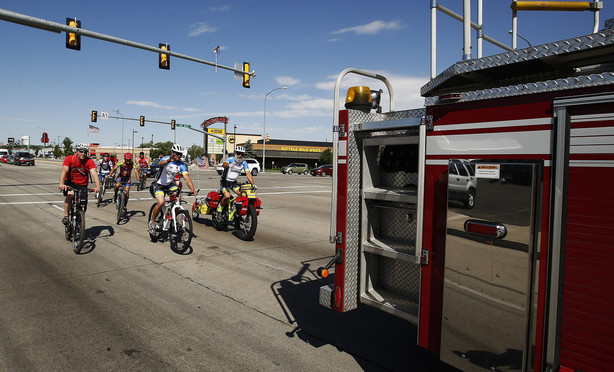 In a strange twist of fate, Bitton and Quick also realized they had a friend in common: Lassetter, also known as Bitton's brother-in-law.
Bitton and his son will ride with the group for about a week.
He and others assumed the trip was off after Quick unexpectedly had another surgery. But Quick was back on his feet within days.
"He goes in on a Tuesday and calls me on a Friday and says, 'I'm back on my bike,'" Bitton said. "He said, 'This ain't gonna get me down.' That's how Bob is."
In a ceremony at the hospital, Lassetter presented Quick with a plaque and praised him for proving that drug addiction and heart disease are not "a dead-end road."
"Keep the bus moving, Bob," Lassetter said, as Quick gave him a tearful hug.
With 2,682 miles to go, Quick was soon preparing to get back on the saddle. But first, he insisted on hugs from everybody.
And he meant everybody: every nurse, every doctor, every administrator and every unsuspecting spectator.
"He's sweaty, but he's safe," a friend joked.
Quick explained it this way: "I got a second chance at life. Now every smell means something to me, every person, every hug. I don't remember each name, but I don't forget that face."
To follow Quick on his trip, visit www.bobquicksjourney.com or follow Bob Quick's Journey on Facebook.
×
Photos