Estimated read time: 4-5 minutes
This archived news story is available only for your personal, non-commercial use. Information in the story may be outdated or superseded by additional information. Reading or replaying the story in its archived form does not constitute a republication of the story.
Editor's note:KSL.com does a weekly feature on artists in the community. If you have a painter, sculptor, musician or creative genius in mind, feel free to email your submission to atreasure@ksl.com. Please include a contact email for the artist, if available.SANTAQUIN — Jolynn Forman's journey with art has started and stopped again and again, but these days, she's committed to seeing her unique paintings throughout the state.
With her art, Santaquin resident Forman holds two extremes in her hands and puts them together to create her wax and oil paintings.
"I was trained as a realistic traditional artist but found abstract art is a lot of fun. My college professors sternly told me to pick either abstract or realism and that no one does both, but I stubbornly refuse that notion, and thus I am trying to blend the two extremes," she said. "That means I do an abstract painting first with cold wax and oil with a goal of making it as interesting as possible. That includes using rubbing alcohol dripped on to break up the splotches or even dragging a potato masher through the wax. I always include a hidden stencil in each piece. After all that, I pick a traditional subject to paint on top in a more realistic way like an animal or flowers or, more recently, LDS temples."
Forman discovered her love of art at a young age, drawing unicorns on just about every surface she could find until age 10. She didn't do much else with her art until age 13, when her mother died in a car crash and she discovered something about her that Forman never knew.
"I remember that moment well; we were going through my mother's stuff a few weeks after she died and at the bottom of an old dusty box was a pile of drawings. They were beautiful portraits that my mother had done in college," Forman said. "I had never heard from my mother or others even an inkling she was an artist, so I was stunned. I asked my grandma about them, and she explained that my mother was very talented but had encountered a cruel art teacher in college that had told her she was no good, so my mother had never drawn again. It was so sad! And at that moment I vowed to myself to never let go of my own art but somehow continue the family 'talent' my mother had given up on."
After that experience, Forman's attitude about art changed, and she pursued a Bachelor of Fine Arts degree from Utah State University. Forman worked, painting murals throughout Utah before getting married and having four daughters and putting her art on hold. Ten years later, she answered the call to create by taking commissions. Eventually, she pursued an art teaching degree at Utah Valley University. Teaching middle school art was exhausting and left little time for making art, however, so she made the difficult decision between teaching and painting.
"I loved both! But decided that art was in my blood and just couldn't give it up; I made the jump and now paint full time," she said."
She continues to give back and use her degree as a member of the Utah Art Education Association Board, the Utah County Arts Board and the Charter Inspirations Art Board.
She's most excited about her latest project, which is painting LDS temples with cold wax and oil paints.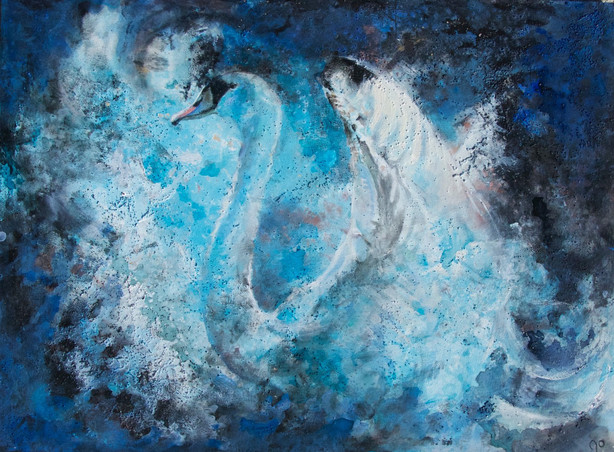 "I started the LDS temple series a few months ago when I grew frustrated at how few variety there is out there of temple art! Seriously, it felt like every one of my neighbors had the exact same photo in their house," Forman said. "I wanted a bit more modern look to put on my own walls, so I decided to make my own. A few of my friends saw the first piece of the SLC temple and wanted prints. I made a few more paintings of other temples and they were popular on Facebook. I was then encouraged and made more and things have slowly grown from there. I would love to eventually have this new style of LDS temple paintings all over Utah!"
Her temple paintings are represented at Four Square Art and can be found at Zions Mercantile Co. in Provo. She is also represented at Lund Gallery in Park City.
Find Jolynn Forman here ---->
---
×
Photos
Related Links