Estimated read time: 3-4 minutes
This archived news story is available only for your personal, non-commercial use. Information in the story may be outdated or superseded by additional information. Reading or replaying the story in its archived form does not constitute a republication of the story.
MURRAY — They come from all over the world, each with a unique story to tell.
But the difficult journey of a refugee is hard to share — until now.
Monday was World Refugee Day, and for much of the day, a group of volunteers worked on a unique project to help young refugees document their stories.
It's called "My Story Matters" — a small Utah charity that's making a big difference in the lives of refugees — some of whom have never held a photograph of themselves, let alone an entire book that's all about them.
"When somebody sits down with you and looks you in the eye and says, 'You matter and I want to know all about you,' there's a power in that," said My Story Matters founder Amy Chandler.
That power was on full display at Cottonwood High School's library Monday morning.
"For a lot of them, it's their first possession that's theirs, and it's their story," Chander said.
"My Story Matters" is an organization that creates personalized books for children in difficult situations (homeless children, kids with illnesses and refugees.) The nonprofit group is now arranging for volunteers to interview, write about and photograph young refugees. From this they create personalized books for the refugees to take home. She says creating photo books for refugees creates a sense of belonging.
"It's creating a community. For most of them, these are the only photographs they've ever had," Chandler said.
"It was pretty awesome, being able to hear these kids' stories, hear what they've gone through," said volunteer Kenton Hartle. "Just to get to know a person, just as a person. Just make a new friend."
The process starts with volunteers around the same age asking simple questions.
"Some of them have seen some pretty horrific things; some of them have come from really hard things, so we talk about that," Chandler said. "But we also ask them, 'What do you dream about?' 'What do you want to be when you grow up?' Those kinds of things."
The book-making continues with dedicated writers, editors and photographers who carefully allow the refugees' personalities to shine.
"I think we need someone to care about our stories," said BYU student Tatum Frampton. "You show them a picture of themselves and they blush and they smile and get all excited and want to take more."
"It's so fun," said 16-year-old Nour Bilal, a refugee from Syria. "I just like to tell people about myself and my story."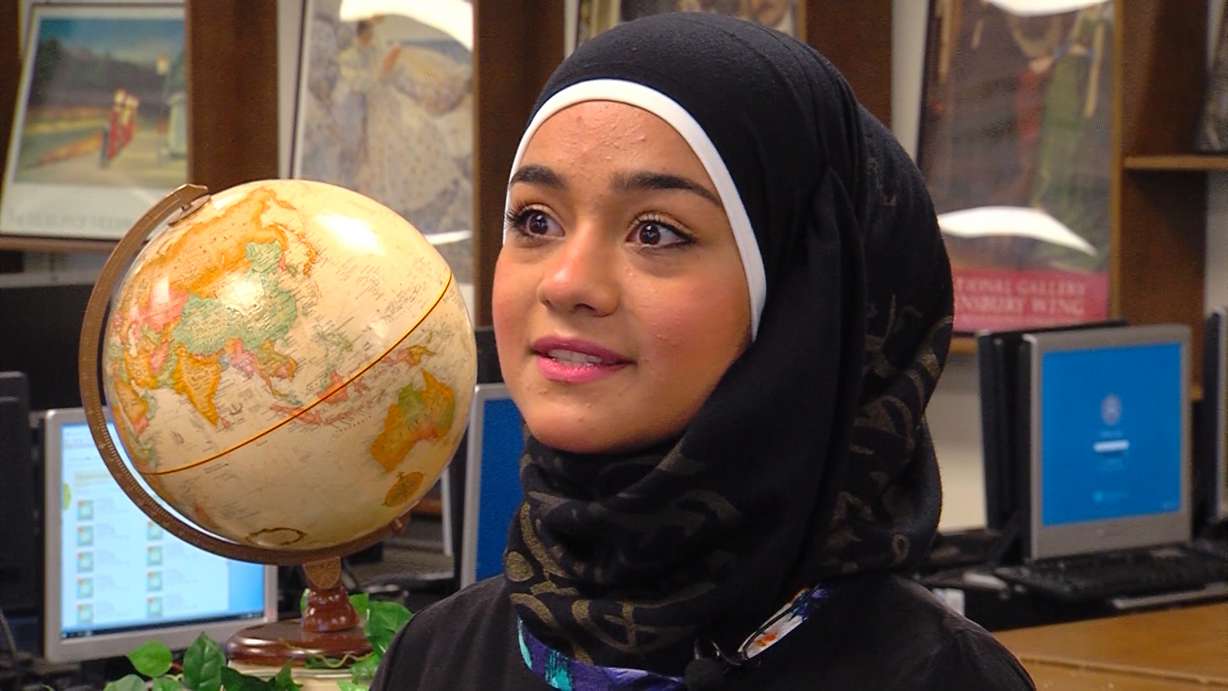 Bilal enjoyed the experience so much that she's now planning to write her entire life story one day.
"I'm from Syria and I'm Muslim, so maybe they can change a little bit in their minds the idea of what they think about us," Bilal said.
The end result is a printed keepsake, the gift of a story — something a refugee teacher says leaves a lasting impact.
"She told us after we were finished that it was one of the most impactful things she's seen in her classroom since she's been there for seven years," Chandler said. "She said she was able to get deeper with the kids. They were able to develop friendships better and they were able to share more and learn faster."
"My Story Matters" is now working to collect enough funding to create 500 more personalized books for children and teenage refugees in the Granite District who attend the Tumaini Center, a transitional school for newcomers in Granite School District.
For more information about "My Story Matters," you can visit their website at http://www.mystorymatters.org. The group also has a crowdfunding campaign on Razoo.
Contributing: Xoel Cardenas
*KSL.com does not assure that the money deposited to the account will be applied for the benefit of the persons named as beneficiaries. If you are considering a deposit to the account, you should consult your own advisors and otherwise proceed at your own risk.
×
Photos
Related links
Most recent Utah stories