Estimated read time: 2-3 minutes
This archived news story is available only for your personal, non-commercial use. Information in the story may be outdated or superseded by additional information. Reading or replaying the story in its archived form does not constitute a republication of the story.
SUGAR HOUSE — With her toddler Lucy strapped to her back, Lindsay Aerts made her way to the trailhead at Tanner Park, surrounded by other mothers and their children, ready to hike. Step by step, the moms heal from a dark mental illness: postpartum depression.
"It's an uphill battle and sometimes you don't know when you'll get to the top," said Aerts, who lives in Sugar House. They're training for a hike to raise awareness and encourage other moms to get help. "It can feel like climbing a mountain."
For Avery Furlong, a mother of two who lives in Ogden, medication worked. "I had a lot of scary thoughts," Furlong said. "We'd be driving down the freeway and I'd picture myself opening the door and just throwing myself out the door."
For Aerts, who hosts The Mom Show on KSL Newsradio, the intrusive thoughts began when Lucy was just 3 months old.
"Sitting at my parents' lake house in Maine and just looking at the fireplace and thinking, 'What if I just put my baby in the fire and walk away?' It was like, 'Holy cow, what kind of a person has a thought like that?'" she said.
Ultimately, therapy and being able to express her feelings helped Aerts heal. Now she's showing other moms they're not alone.
As she sat on the floor of Lucy's bedroom singing "Popcorn Popping on the Apricot Tree," she paused and reflected on how hard that time in her life was.
"You see all these moms around you just having kids and handling it," Aerts said. "I just thought I'd know how to do that and I got this little newborn in my arms and thought, 'I'm solely in charge and responsible for you. I have no idea what I'm doing.'"
Support from family and friends was also a huge part of her recovery. But the solutions are different for every mom.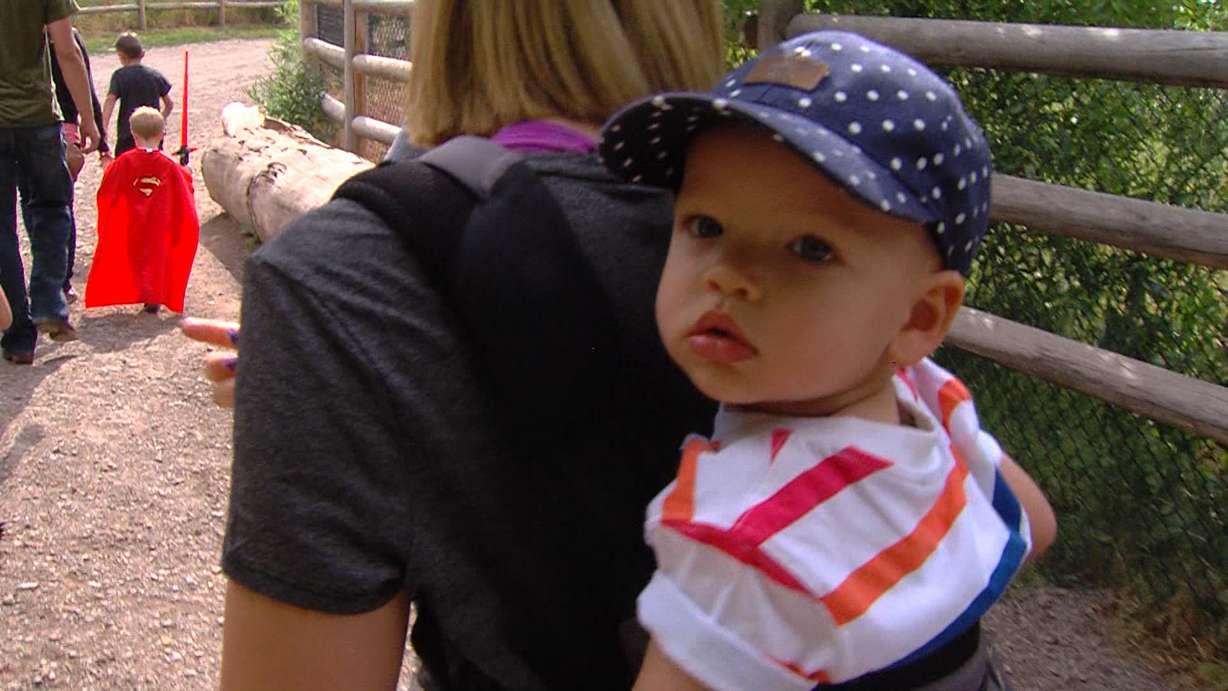 "Time," said Angie Stewart, a teacher and mother to 10-month-old Johnnie. "This isn't permanent. It seems like it's never going to end, but it will."
The hike is a metaphor, Aerts said.
"The climb is symbolizing healing from postpartum mood disorders, because healing is linear. It's not flat," she said. "It feels like one day you have a good day, the next day you have a few bad ones."
As they made their way toward the summit, Furlong agreed.
"It symbolizes me overcoming that depression and climbing out of darkness, proving that I am a good mom even though I suffered a mental illness," Furlong said.
It's also a way to spread the word: You can climb out of darkness.
Climb out of Darkness is this Saturday in six different locations in Utah. For more information visit www.climboutslc.com.
×
Photos