Estimated read time: 2-3 minutes
This archived news story is available only for your personal, non-commercial use. Information in the story may be outdated or superseded by additional information. Reading or replaying the story in its archived form does not constitute a republication of the story.
Memorial services are being held today for Hannah Lee Wagstaff, the 14-year-old girl who was killed Tuesday morning in an accident near Fairview.
Wagstaff was pushing a handcart during a pioneer trek re-enactment when she was struck from behind by a pickup truck on Highway 31.
The vehicle then veered to the left where it struck 74-year-old Montell Seely, who was trying to flag down the driver to get his attention to stop.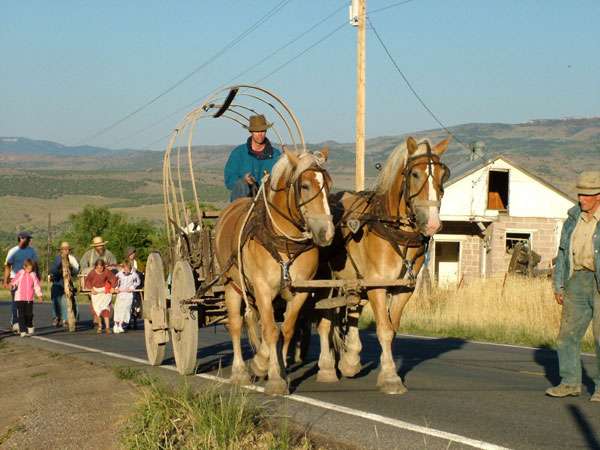 Funeral services for Seely, the founder of the Castle Valley Pageant, are planned for Saturday morning at 11 a.m. in the Castle Dale LDS Stake Center. Seely's family plans to take his casket to the cemetery on a covered wagon.
Two of Seely's grandchildren were seriously injured, but they are now recovering at home. Jonny Seely, 7, was released from Primary Children's Medical Center this morning and will be confined to a wheelchair for some time. His sister, also named Hannah, was released from Sanpete Valley Hospital on Wednesday.
Photos provided by Seely's daughter, LeAnne, show the trek, just moments before the accident. It included a car driving ahead, a horse drawn wagon and then a replica of a pioneer handcart.
Wagstaff's family shared a photo of Hannah taken the evening before the accident. Her mother remembers her as a talented girl who was full of life. The night before the trek, during a campfire program, Hannah and her younger sister Miriam, played the violin.
Wagstaff's family was planning on participating in the trek all week. It ended tragically 10 minutes after it started.
Hannah's family decided to hold a nontraditional funeral service. Family members cared for her body themselves, after the local funeral home provided its facilities at no charge.
Two family friends worked overnight to build a simple casket made of spruce. Hannah Wagstaff's body was buried the next morning, after a brief graveside service in the Hillsdale cemetery, not far from the town of Hatch in Garfield County.
A memorial service was held today at the Tropic LDS ward in Hannah's hometown of Tropic. Those wishing to help the family can contribute to a memorial fund at any branch of Zions Bank in the name of Hannah Lee Wagstaff.
E-mail: spenrod@ksl.com
×
Photos
Related links
Most recent Utah stories