Estimated read time: 2-3 minutes
This archived news story is available only for your personal, non-commercial use. Information in the story may be outdated or superseded by additional information. Reading or replaying the story in its archived form does not constitute a republication of the story.
SALT LAKE CITY — When Angie Hernandez left work with an upset stomach May 25, she didn't know she would soon deliver her own baby. In fact, she didn't even know she was pregnant.
While she was at work, she started to get a stomach ache and thought she had eaten some bad food. When she got home, she went to the bathroom and drew herself a bath to see if it would calm her down, she said.
She said she laid in the bath for a little while and tried to get back up to use the restroom again, but she couldn't. When she sat back down, she gave birth to a baby girl.
"And so then I told my oldest son that was outside the door to call my boss and my husband and told him to get home right now," she said.
Her boss arrived first and helped Hernandez with the baby and made sure everything was OK until her husband got home, Hernandez said.
"And then we went to the hospital to get us both checked out and stayed there the night," she said.
Hernandez said she is still a little shocked. The birth wasn't painful at all, which was weird for her.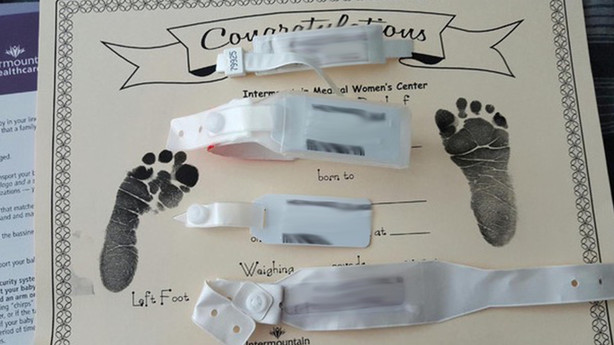 "My little girl that I had previous — she's 20 months old — I felt every contraction, breathed through it," she said. "I had her natural, so I was thinking maybe that's why it was so much easier with her, I don't know, but yeah she was like three, four pushes, and she was out, but this one, she just was out."
She had pregnancy symptoms with her other children, but not with this one. She said she even had regular menstrual cycles and wore her regular pants.
"The only thing that I think back now is a week before I had her, I had my period, and the cramps were like really really really bad. And that's the only thing that I could think my body was trying to get me ready for, I don't know," Hernandez said.
She said her family thought she was playing an April Fools' joke on them or they thought the baby was her 16-year-old son's that they agreed to take care of.
×
Photos