This archived news story is available only for your personal, non-commercial use. Information in the story may be outdated or superseded by additional information. Reading or replaying the story in its archived form does not constitute a republication of the story.
SALT LAKE CITY — The Salt Lake Bees' starting rotation got a significant boost Monday with the addition of two-time Cy Young winner Tim Lincecum, but it's uncertain if he will pitch in Salt Lake.
The four-time all-star signed with the Los Angeles Angels late last week, and accepted an assignment to the Bees, where he is expected to make two or three starts before joining the Angels likely in June.
"(He's) another guy on our pitching staff that has major league value," Bees manager Keith Johnson said prior to the Bees matchup with Memphis on Monday. "We have a bullpen full of them, and the rotation is full of guys that have some value to the major league team and will have some major league at some point."
In addition to winning the National League Cy Young Award twice, the 31-year-old righty has three strikeout titles, three World Series rings and two no-hitters under his belt.
"His resume speaks for itself," Johnson added.
Though he was added to the Bees roster Monday, Lincecum isn't in Salt Lake City yet. He pitched a simulated game in Arizona Monday, and MLB.com Angels beat writer Alden Gonzalez reported Lincecum will pitch an extended spring training game Saturday.
Johnson, and other members of the Bees front office for that matter, were unsure of Lincecum's timeline to pitch for the team other than that Lincecum will pitch for the Bees at some point before returning to the majors.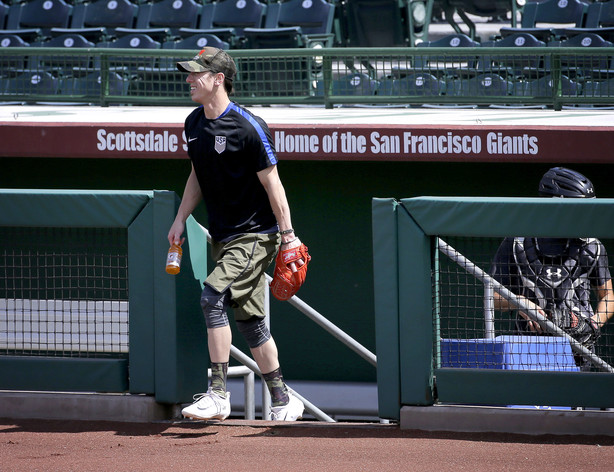 "(Angels general manager) Billy Eppler has a plan set out for (Lincecum), and once he communicates that plan, we'll make sure to follow it," Johnson said.
Gonzalez reported Lincecum may not pitch for the Bees until June 2, when Salt Lake is in Tacoma, Washington, and in the midst of a 12-game road trip. If Lincecum or Los Angeles decides to have him pitch a third minor league game, he could potentially start a series opener in Salt Lake against Tacoma around mid-June.
Flurry of transactions
The Bees adding Lincecum Monday is the 39th roster move made by the Bees since May 1. He's also the fourth pitcher with multi-year major league service time signed since April 24.
There were eight separate transactions involving the Bees on May 19 alone, which members of the Bees front office said might be a record for one day. However, Salt Lake has continued to win even with a suddenly fluid roster.
The Bees entered Monday with a 23-18 record — half a game behind Las Vegas for the best record in the Pacific Coast League Pacific Southern Division.
What has been the key to keep the team winning? Johnson said the coaches have let each player play to their strengths, and that even with a revolving door, each person has come in with a mentality to succeed.
"We're going to win games because we're going to go out and do the things we know we can do. We're going to them efficiently and better than the other team more so than if we out-talent someone or whatever situation might be," Johnson said.
"I feel way more comfortable with our guys. If they're here to steal bases, let them steal bases or hit the ball for power, hitting the ball hard, pitch multiple innings — whatever it is, just put them out there and let them be themselves."
Tyler Skaggs on the mend
Another pitcher likely on the Angels' radar currently in Salt Lake is pitcher Tyler Skaggs, who has been on the disabled list since May 1. Skaggs is also in Arizona rehabbing. He missed all of last year rehabbing from Tommy John surgery.
"Everything seems to be going according to schedule," Johnson said. "As soon as they're comfortable getting him back on the mound and getting back a feeling, I'm sure we'll see him."
×