This archived news story is available only for your personal, non-commercial use. Information in the story may be outdated or superseded by additional information. Reading or replaying the story in its archived form does not constitute a republication of the story.
LAYTON — A couple of weeks before turning 50, Annette Christensen accomplished her goal of visiting 50 temples of The Church of Jesus Christ of Latter-day Saints before her 50th birthday.
From the time she was 16 until now, Christensen has been to five international temples and 45 temples in 12 states. During one of her temple trips, she served in seven temples in just three days.
Christensen said she made this a serious goal three years ago when she was living in Hawaii. Her friend "was anticipating 30 things she could do before she turned 30," and Christensen thought that was fun.
Christensen said she has checked much more than 50 things off her bucket list, including getting her scuba diving license, climbing Machu Picchu in Peru and driving a motorcycle.
"And so I just thought, 'Oh what could I do,' and I kind of added up my temples and was like, 'Oh I've been to 27 temples, that'd be all right I could do 50 temples before I'm 50,' not realizing quite the extent of that goal," Christensen said.
It took a lot of preparation and planning to complete her goal, but she finished April 23 after she visited the Oakland, California Temple. Her husband, who is adopted, had been sealed to his parents there, Christensen said.
She said achieving and participating in this goal has given her an appreciation of the pioneers who sacrificed to build the temples and were chased from place to place and had to rebuild them, because she thinks of the sacrifices she made to achieve her goal.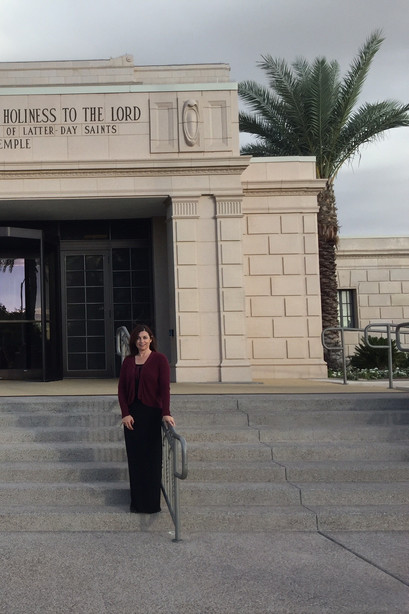 One of those sacrifices was the money she had to spend. Christensen said she tried to visit the temples as frugally as possible. When she visited the Denver, Colorado Temple, she found $15 airfare on Frontier Airlines.
"I think it's just really given me … an appreciation for the sacrifices that were made for temples to be built, especially in the areas of the world where the church didn't just provide the temples, but the members had to raise the money for them," Christensen said. "... There was building missionaries that gave of their time to help build temples. And so it was kind of in honor of those people."
×