This archived news story is available only for your personal, non-commercial use. Information in the story may be outdated or superseded by additional information. Reading or replaying the story in its archived form does not constitute a republication of the story.
SALT LAKE CITY — Each week, KSL.com updates its readers on the latest news happening in The Church of Jesus Christ of Latter-day Saints. See the following information for an update.
The Bells on Temple Square concert
The Bells on Temple Square's annual spring concert will take place at 7:30 p.m. June 10 in the Salt Lake Tabernacle, according to the Mormon Tabernacle Choir.
"The delightful ensemble is a fan favorite with concertgoers because the musicians' artful performances looks like they are dancing with their bells," the Mormon Tabernacle Choir reported. "The bells will be dancing to diverse styles of music at this year's concert, providing something for everyone."
During the concert, Temple Square organists Bonnie Goodliffe and Linda Margetts will play solos and members of the Orchestra at Temple Square will also perform pieces.
The handbells the Bells on Temple Square use consist of a 7-octave set of English handbells, a 6½-octave set of handbells, and two 6-octave sets of hand chimes.
Free tickets will be given first-come, first-served and will become available at 10 a.m. May 10. Each person may obtain up to four tickets at www.lds.org/events or by calling 801-570-0080 or at the Conference Center ticket office.
Star Valley Wyoming Temple update
On April 25, an angel Moroni statue was placed on top of the Star Valley Wyoming Temple as a small crowd watched, according to the LDS Church.
Witnesses included construction workers, church members, community and government leaders and members of the media.
The LDS Church broke ground for the temple a year ago. President Thomas S. Monson announced the temple — Wyoming's first — during General Conference in October of 2011.
"The angel Moroni statue stands atop most Mormon temples," according to the LDS Church. "Moroni was an ancient prophet in the Book of Mormon. The resurrected angel Moroni centuries later revealed to the young Joseph Smith in 1823 the location of this ancient record engraved on golden plates that gave the history of a people who lived on the American continent."
The temple will be dedicated Oct. 30. The public can tour the temple from Sept. 23 through Oct. 8, excluding the evening of Sept. 24 and all day on Sept. 25, Oct. 1 and Oct. 2. Youths will perform a cultural celebration on Oct. 29.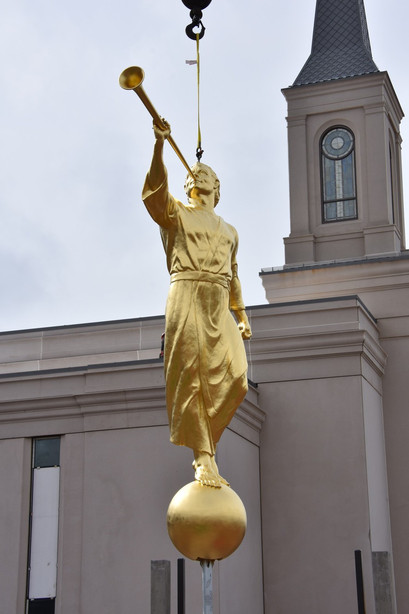 Palmyra bishops' storehouse dedicated
Presiding Bishop Gérald Caussé dedicated the Palmyra bishops' storehouse April 16, the LDS Church reported.
"I am grateful to the many church leaders and members who have given — and who will yet give — so generously of their time, resources, and talents to make this storehouse a reality," Bishop Caussé said. "I am pleased that this bishops' storehouse will provide an additional resource to help those in need."
There are dozens of bishops' storehouses around the globe, but the Palmyra bishops' storehouse is unique because it is located near the Palmyra, New York area. Latter-day Saints believe church founder Joseph Smith spoke with God in that area in 1820, according to the LDS Church.
"On that day, the heavens opened and the God of the universe, along with his son, Jesus Christ, appeared and spoke to mortal man once again," Bishop Caussé said. "For members of the church, this is sacred ground."
"The legacy of Joseph Smith and his example of compassion for others has passed from generation to generation," he said. "Over the past 186 years, this commitment to reach out and help others has grown into a remarkable welfare program that is admired and praised by people of influence throughout the world."
The LDS Church grows food on over 100,000 acres of land, according to Bishop Caussé. The food is sent to a plant and is packaged, canned or processed before being shipped to over 100 bishops' storehouses in North America.
"Recipients receive assistance with a local bishop's approval," according to the LDS Church. "They are also given opportunities to work for what they receive, based on their abilities."
"Our local storehouses help lift people up," Dwight Garrow, who manages the storehouse with his wife, said. "Its purpose here is to provide local church leaders with available food to provide temporary assistance to members, to encourage self-reliance through home food storage, to assist in times of natural disaster and to support area service organizations through humanitarian donations."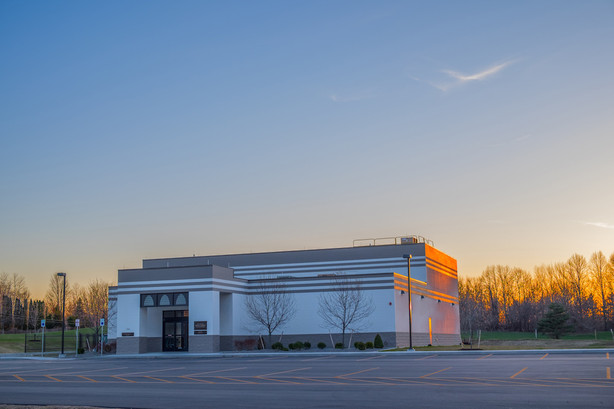 Church leaders speak
Elder Dale G. Renlund of the Quorum of the Twelve Apostles spoke with his wife, Ruth at BYU Women's Conference April 29, according to the LDS Church.
"Conversion to Heavenly Father and Jesus Christ and his Atonement is the key to developing charity, the pure love of Christ," he said at the conference.
The theme of the women's conference was "One in Charity." Over 10,000 women attended the conference, where they listened to inspiration from church leaders, attended classes and performed service projects, according to the LDS Church.
"As a phrase, 'one in charity' can be used as an exhortation — encouragement to join with other individuals to be unified in being charitable, such as the newly introduced 'I Was a Stranger' effort," Sister Renlund said. "When we think about this phrase as an exhortation, we, as individuals, are strongly encouraged to voluntarily join together to help those in need."
"Charity is more than an act or action," Elder Renlund said. "Charity is an attitude, a state of heart and mind that accompanies one's actions. It is to be an integral part of one's nature. In fact, all things are to be done in charity."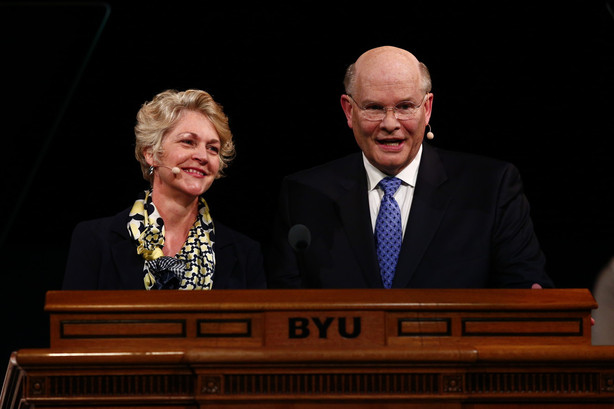 Elder Richard J. Maynes of the LDS Church's Presidency of the Seventy addressed young adults at a worldwide broadcast May 1, according to the LDS Church.
He encouraged them "to follow the example of the faith's first leader and ask questions, seek truth and find purpose for their lives," the LDS Church reported.
Elder Maynes talked about Joseph Smith's First Vision and said the First Vision is the source of many truths.
"We learn that God knows us personally and is aware of our needs and concerns. He called Joseph by name (in the vision)," Elder Maynes said.
"We learn that when we care enough to desire God's input in our life, he will reveal a refining course for us," he said.
The church leader discussed the historical details "of the accounts of Joseph Smith's vision and its unprecedented documentation," the LDS Church reported.
"Joseph wrote or dictated four known accounts of his First Vision," Elder Maynes said. "Additionally, his contemporaries recorded their memories of what they heard Joseph say about the vision; five such accounts are known. It is a blessing to have these records. They make Joseph's First Vision the best-documented vision in history."
×
Photos
Related Stories