Estimated read time: 3-4 minutes
This archived news story is available only for your personal, non-commercial use. Information in the story may be outdated or superseded by additional information. Reading or replaying the story in its archived form does not constitute a republication of the story.
SALT LAKE CITY — Salt Lake City Mayor Jackie Biskupski, in reconvening the Homeless Services Site Evaluation Commission last week, urged all stakeholders "not to give in to give into stereotypes, fear or NIMBYism."
"If we are to be successful, our work must demonstrate the compassion we are well known for," Biskupski said, addressing the commission at the start of a two-hour meeting at the Salt Lake City Main Library.
The process will culminate with the commission, by September, delivering to Biskupski and Salt Lake County Mayor Ben McAdams recommendations for sites for two resource centers in Salt Lake City to serve specific subpopulations of people experiencing homelessness.
Resource centers would be places "where individuals can find more than a bed. They can find treatment, job training and additional needs that need to be met," Biskupski said.
The road leading up to the site recommendations will include months of study by the commission and small groups of commission members, meetings with community members, analysis, and releasing a list of possible sites to the public for more input before the commission's deliberations on the options it will present to the mayors.
Acknowledging the difficult task ahead, Biskupski asked members of the community "to engage respectfully with this commission. I ask you to share your opinions and ideas. As we engage in difficult conversations, I also ask that we remember we are setting an example for the rest of the state to follow."
Commission co-chairman, former Salt Lake City Mayor Palmer DePaulis, said the second phase of the process would build upon the work of the commission in 2015. Its recommendations were braided with work of the Homelessness Services Collective Impact Council empaneled by McAdams.
Key among those recommendations was that future facilities that serve the homeless are located in scattered sites, are smaller, serve specific populations. There should also be greater efforts to prevent homelessness or divert people, when it is safe and appropriate, from emergency shelter to other alternatives.
The groups' collective work became the backbone of legislation adopted earlier this year by the Utah Legislature. State lawmakers appropriated $9.25 million to fund the first of a three-year, $27 million statewide housing and homeless reform initiative.
"This is a very rare opportunity and moment that is very unique where we have community, city, county and state level support to effect change. We have received buy-in for our ideas and now it's time to implement them," she said.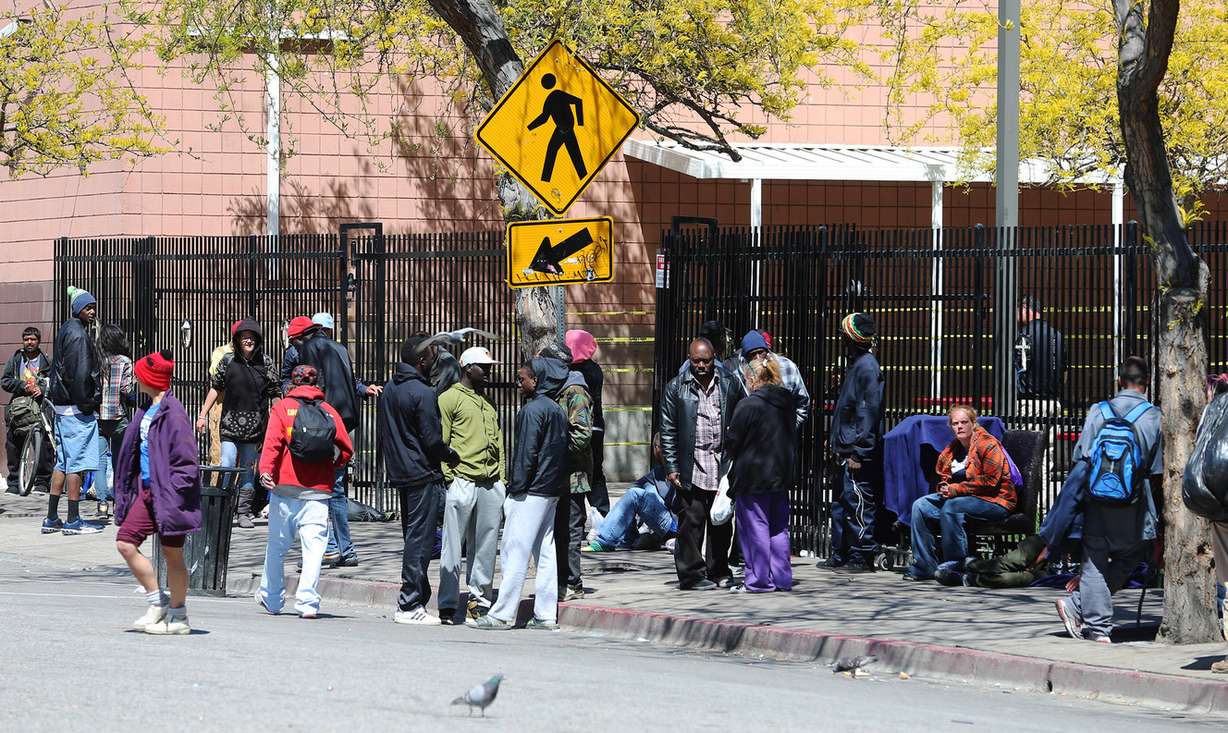 As community and state partners came together recently for Gov. Gary Herbert's signing of HB436, Biskupski said she was struck by the words of commission co-chairwoman Gail Miller, who is owner of the Utah Jazz.
"She said, 'You can't learn to love if you don't serve.' That is her quote. It wasn't anything she stole. She is absolutely right. It needs to be the guiding force of what we're doing here today. That's really what we're all about, love and to serve those who are impacted by homelessness," Biskupski said.
DePaulis said the commission "will move as quickly as we can. We know we have a heavy lift and it's pretty daunting. But we are going to make sure that our community and the community at large has this opportunity to give its input."
The Legislature wants to see progress, he said.
"I think they will be persuaded by the fact, that if we've done our homework right and we have a good public process, even though we may have not achieved that final decision, I think we're showing good progress," DePaulis said.
While the commission will work on a tight deadline, Miller said it is important that the group not "stampede" through the task but approach its work deliberately, efficiently and compassionately.
"These are real people who need real places to be," Miller said.
The commission's next large-group meeting is tentatively scheduled on June 20, said David Litvak, Biskupski's deputy chief of staff.
×
Photos
Most recent Utah stories