Estimated read time: 2-3 minutes
This archived news story is available only for your personal, non-commercial use. Information in the story may be outdated or superseded by additional information. Reading or replaying the story in its archived form does not constitute a republication of the story.
SALT LAKE CITY — Utahns continue to show their lack of support toward Republican Donald Trump as a presidential candidate, according to a new survey released Monday.
In a hypothetical matchup between Trump and Democratic candidate Bernie Sanders, Utahns would vote Democrat in November for the first time since 1964, according to a survey by UtahPolicy.com, which was conducted by Dan Jones & Associates. A similar poll was conducted in March by the Deseret News/KSL, which found an almost identical result.
The Utah Policy survey found that 49 percent of respondents would vote for Sanders, while 34 percent would vote for Trump. Of those that answered the survey, 17 percent were undecided.
Should Hillary Clinton secure the Democratic nomination, the race between Trump and Clinton would be a toss-up, with 38 percent of respondents supporting Clinton and 38 percent supporting Trump, with 25 percent undecided.
Trump does find favor among Republican voters, but fails to claim a majority with 49 percent of Republican voters choosing Trump. Of Republican voters, 27 percent supported Sanders, with 24 percent undecided. Trump does slightly better against Clinton with 54 percent of the Republican vote. Only 17 percent of Republicans said they'd support Clinton.
Among independent voters, Sanders is the clear winner with 64 percent of the vote, with 23 percent choosing Trump and 13 percent undecided. Clinton, too, is the clear favorite among independents over Trump, with 51 percent supporting Clinton and 23 percent supporting Trump.
Should Trump not secure the Republican nomination, either Ted Cruz or John Kasich would easily carry the state of Utah no matter the Democratic opponent.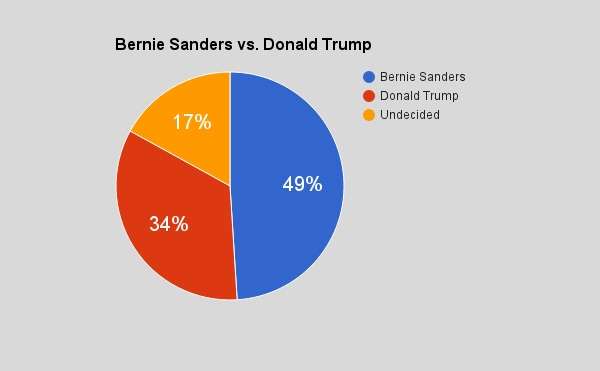 Although Utahns selected Cruz the winner in the state's caucuses in March, Kasich would hold the most support against either Clinton or Sanders. Kasich would beat Clinton 69 percent to 23 percent, with 9 percent undecided, and would beat Sanders 64 percent to 30 percent, with 7 percent undecided.
Cruz would beat Clinton 67 percent to 26 percent, with 7 percent undecided, and would beat Sanders 63 percent to 32 percent, with 5 percent undecided.
The survey also found that Clinton would be the favorite to win the party's nomination among Democratic voters.
×
Most recent Utah stories