This archived news story is available only for your personal, non-commercial use. Information in the story may be outdated or superseded by additional information. Reading or replaying the story in its archived form does not constitute a republication of the story.
SALT LAKE CITY — It has been a fun couple of weeks trying to find the "best" city in Utah, but it's got to come to an end eventually.
We're now down to the final two cities, but it wasn't easy getting here, particularly because there was some cheating leading up to this final poll. Someone or multiple people decided to manipulate the system and created some bots to artificially add votes to Mapleton and Hurricane to give them a win.
Our great friends at Boombox alerted us of the issue and spent a couple hours working to find the real votes cast. We thank them for their hard work to make our super serious poll all the more legitimate (take that cheaters!).
Although Hurricane and Mapleton are both great cities, they were no match to the perceived favorites, No. 2 St. George and No. 16 Park City, in the end.
A total of 68 cities competed in this amazingly scientific poll, but only one can come out on top. Voting for this final round will go through the weekend and will be officially stopped at midnight on Sunday, April 3. The winner will be named Monday, April 4, likely after some "certification" from our friends at Boombox.
Once again, this is completely subjective and fun poll. Although one city will be named the "best," we think all cities in Utah are wonderful and add to this great state. How you come to decide upon the best city is entirely up to you. Share the poll and help your selected city win it all.
Enjoy and remember to look for the announced winner on Monday.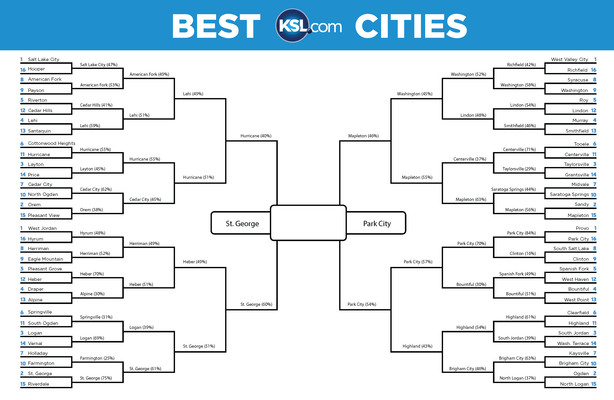 ×