Estimated read time: 3-4 minutes
This archived news story is available only for your personal, non-commercial use. Information in the story may be outdated or superseded by additional information. Reading or replaying the story in its archived form does not constitute a republication of the story.
PROVO — BYU's coaching staff has had all spring to focus on putting in a new offense and defense during the first 13 practices of spring camp.
When Tuesday rolled around, it was time for a new look: Arizona's, to be exact.
The Cougars opened up the final week of spring practice by turning their scout team over to simulate the Wildcats' offense and defense, getting a jump start on BYU's season opener Sept. 3 at University of Phoenix Stadium in Glendale, Arizona.
"I think it's good to see how our offense stacks up against a scheme like Arizona's," quarterback Tanner Mangum said. "We've got a ways to go, but it's good to see it so that we are familiar with it, how our plays look, and have that planted in our heads mentally. I think it will help us come fall camp."
The new challenge, which turned every player outside of the top positions on the depth chart over to Arizona's schemes, also breaks up the monotony of spring ball three days after the Cougars' spring game at LaVell Edwards Stadium.
It's also possible because the Cougars have adapted well to the new staff and a few position changes, both on offense and defense.
"Generally, we're on track," BYU coach Kalani Sitake said. "I'm pleased with how well everyone's adapting to what we're asking them to do.
"I feel comfortable with what our coaching staff is demanding from our players and how they are responding. I think we're right on track with where we need to be."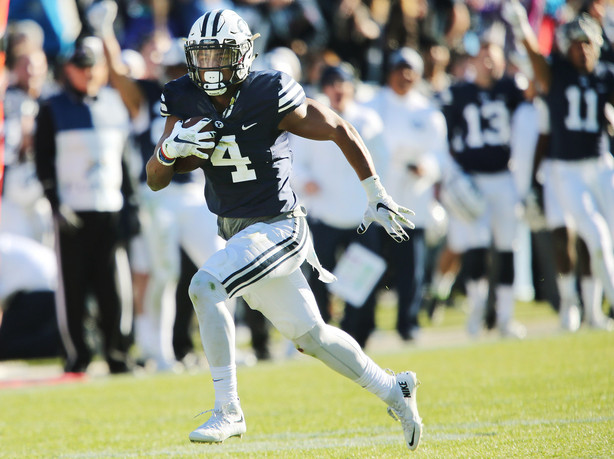 The changes also add another element to what has been a fun spring session, which Mangum rated a "9.9" after Tuesday's practice.
"It's not always perfect all the time, but you've got to enjoy it," Mangum said. "It can be a grind, but if you're not having fun, you're not doing it right.
"Sometimes you get so caught up in the grind of spring ball that you forget the reason why (you are practicing)," Mangum added. "We want to get ready for Arizona, the fall and the games that really count. It's a different look, and a good reminder and refresher of why we are preparing."
Linebacker Fred Warner said coaches will continue to monitor how the players adjust to their film from the spring game, with a specific focus on fundamental technique.
But simulating the Wildcats adds another necessary challenge.
"They're really eager to get us going on Arizona staff," Warner said. "We practiced our offense as Arizona against the No. 1 defense, and vice versa.
"We're doing that this week, and still working on fundamental stuff individually."
The new-look defense has been fun for Warner, who added younger brother Troy to his squad for the first time since high school.
"I think we're looking really good," Fred Warner said. "We have a lot of guys returning and a lot of guys making plays all spring. I think it will all come together in the fall."
Listen to post-practice interviews from Sitake, Mangum and Warner in the "Cougar Cuts" section below.
×
Photos
Related Stories