Estimated read time: 4-5 minutes
This archived news story is available only for your personal, non-commercial use. Information in the story may be outdated or superseded by additional information. Reading or replaying the story in its archived form does not constitute a republication of the story.
OGDEN — The surreal. The nightmarish. Images born in the recesses of the human mind.
"There's a lot of art in the state that isn't really traditional, and they didn't really have a venue for that," said Jane Font, owner of Pandemonium Art Gallery.
Here, illusions find a home.
Frank Arnall was drawn to this unique gallery after hearing of these illusions. He came on a quest to find a home for his wife's work.
"We just clicked," he said, speaking of his wife, Augusta, whom he met through a Rotary Club gathering. "She was cold, it was a cold night, and she needed a coat. What better opening can a guy have?"
Frank and Augusta moved to Utah just before the Olympics, when she was hired to rehabilitate the historic Peery Hotel in downtown Salt Lake City. He describes her as a "brave lady."
Augusta passed away in December after a long battle with Parkinson's. Frank's still amazed by her artistic ability.
"She had never been trained to draw, never been trained in the techniques of art, but out they came," he said.
The story of how his wife's art came to be is difficult to comprehend, even for Frank. For in an art gallery that gives a home to imaginary, Augusta's images are different--in many ways, they're real.
"We were walking down the street, and she asked me if I saw the two people ahead of us that didn't have any heads," Frank said.
Hallucinations.
"She knew they were not real, but they were real to her," said Frank.
Figures looking at her. Watching her. Staring at her, often with leaves and flowers bursting from their heads.
"They don't tell people at first, because they're afraid that people will think you're crazy," Frank said.
Doctors diagnosed Augusta with what's called Charles Bonnet Syndrome, likely connected to her Parkinson's and other ailments like glaucoma. It's not a mental illness, and often strikes when a person suffers some sort of vision loss from diseases like macular degeneration.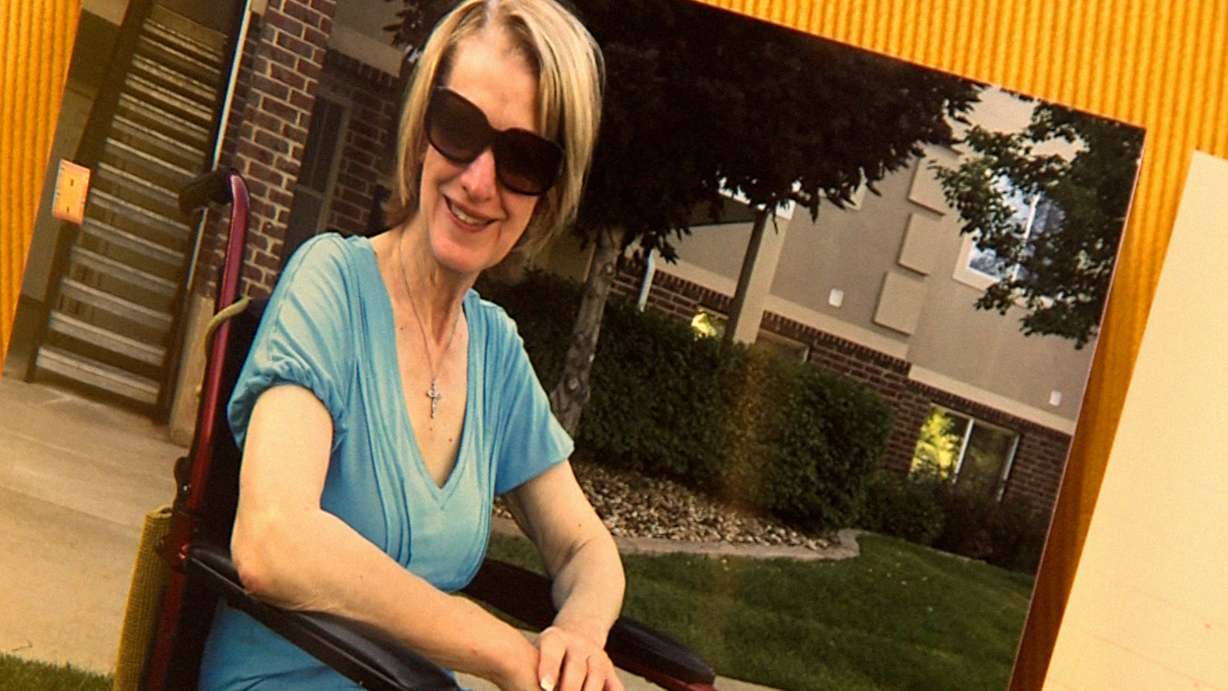 There is no cure. Some research claims as many as 60 percent of those who begin losing their sight endure these hallucinations. Frank says about half of those people are never diagnosed and receive no support, simply because they're ashamed to talk about it.
"I'm sure she saw a lot of visions before she started talking to me about them," he said. "The doctors finally told her 'Well, you aren't crazy, this is a syndrome that comes from your memory banks.'"
Charles Bonnet Syndrome is sometimes referred to as "phantom vision syndrome," similar to when an amputee experiences phantom pain from a lost limb — the human brain misfires, compensating for the lost sight by "filling in the blanks" with distorted images from its own memories.
Augusta often saw the figures amid the plants at her home, and many took on botanical traits. They never spoke, but she saw them everywhere.
"I came in one day, into the kitchen, and she was drawing this washer/dryer, and I said 'What in the world are you doing?'" Frank recalled. "She said 'Well, there's a little girl in the dryer, and she's watching me.'"
Augusta's drawings may have been a way for her to cope.
"She had a desire to express what she was seeing," Frank said. "She says, 'I've just got to capture these and put them on paper.'"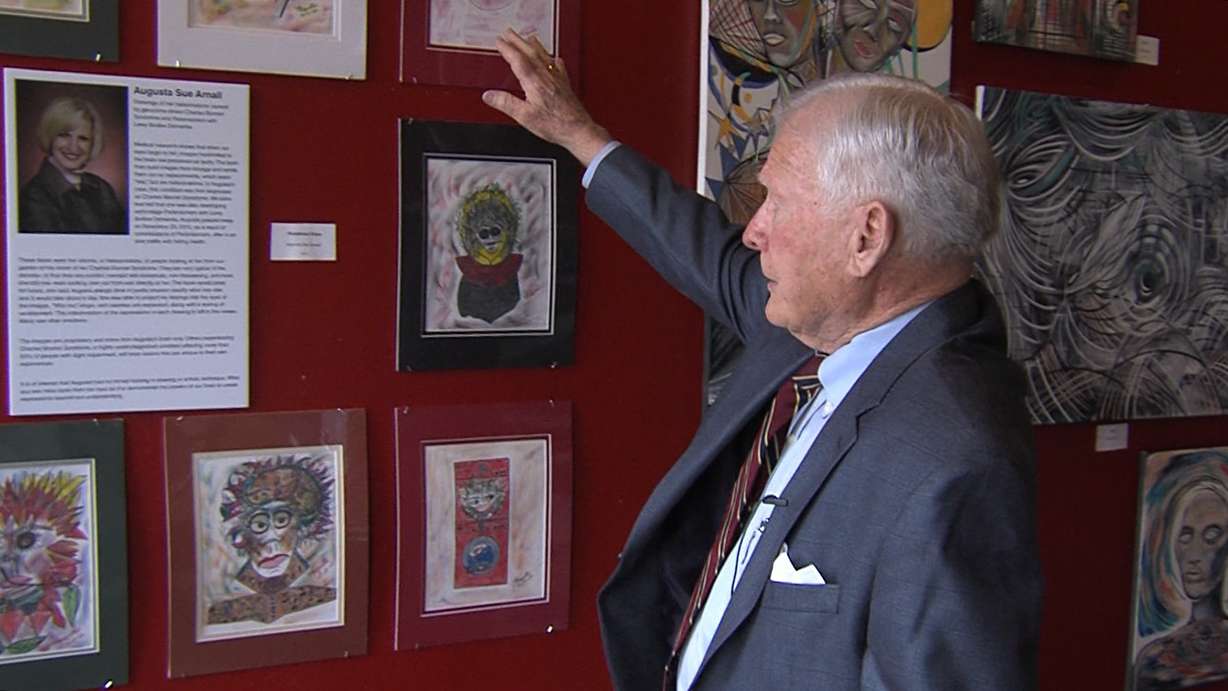 Before she passed, Augusta seemed to have thought the art had served its purpose.
"She said 'Just put them in the closet, there'll be a need someday, maybe the kids will want them or something,'" Frank said. "Finally, I just couldn't leave them there any longer, and so I took them out.'"
For Frank, bringing her art to the gallery was a way of expressing how much he misses his wife.
"A lot," he said, his eyes watering. "This keeps me together."
Frank pulled the art from the closet, and found a home for it alongside the surreal. If the drawings served their purpose for Augusta, they now serve a new purpose for Frank: a way to let those who suffer from similar visions know they're not alone.
"It's been great therapy for me," he said. "I lost her over the holidays. I'm still working for her. She knows what I'm doing, and I'm proud of it."
×
Photos
Most recent Utah stories