Estimated read time: 3-4 minutes
This archived news story is available only for your personal, non-commercial use. Information in the story may be outdated or superseded by additional information. Reading or replaying the story in its archived form does not constitute a republication of the story.
DENVER — Sophomore Jakob Poeltl may have suited up for the Runnin' Utes for the last time Saturday following a lopsided victory for the Gonzaga Bulldogs to advance to the Sweet 16 of the NCAA Tournament.
Coming into Saturday's matchup, the overarching storyline was that of how Poeltl would do against Gonzaga forward and likely NBA lottery pick Domantas Sabonis. Unfortunately for Poeltl, there were few highlights to attach to his game film as Gonzaga got the better of the Utes in a 82-59 victory.
"I'm not going to make excuses for anything that took place," Utah head coach Larry Krystkowiak said. "But I know Jakob tweaked his ankle pretty good. Sabonis got the best of Jakob in the situation. You know, there were some different double-teams — we sent double-teams. I think Sabonis got it going a little bit with offensive rebounding. When our bigs came to help, we didn't do a good job of boxing him out."
Poeltl ended the night with only five points, four rebounds and two assists, most of which came in the 9 minutes of playing time in the first half. Sabonis, however, finished with 19 points, 10 rebounds and three assists in the Bulldogs' dominant performance.
Holding back emotions after the game, Poeltl said he wasn't sure if Saturday night was his last time playing as a Ute, but that he planned to make the decision in the coming days and weeks after the sting of the loss wore off and after he had some time to evaluate his options with his parents and the Utah coaching staff.
"Right now I really don't want to leave," Poeltl said. "But I'm going to look at this decision I have to make over the next couple of weeks, days, whatever, and see what I do."
"It was a tough game for us," he said. "The fact that it could be my last game here just makes it even harder."
Prior to the NCAA Tournament, Krystkowiak indicated that he was under the assumption that Poeltl would likely not be coming back.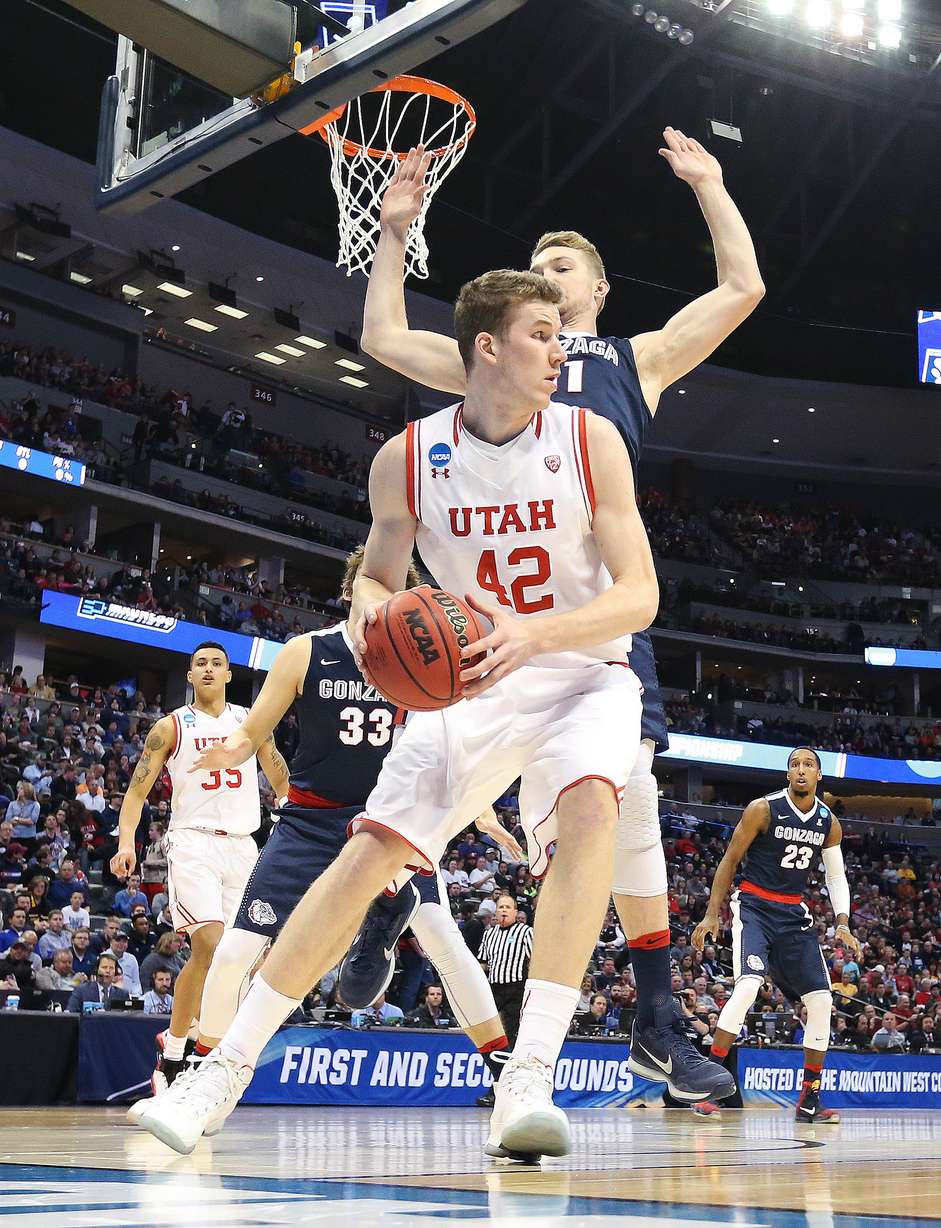 Although the likelihood of Poeltl coming back is slim, Poeltl said he was most upset about no longer being able to play with the same group of guys, no matter whether he comes back or declares for the NBA draft.
"These guys are my brothers," he said. "Even the thought that it could be my last season with them — it's definitely going to be my last season with our seniors. It's tough."
Looking back on his decision to come play at Utah for a second season, Poeltl said he doesn't regret any of it and that he was happy to get to play another year under Krystkowiak and continue to develop the friendships he did with the other players on the team.
"The experience and one more year here with these guys was totally worth it," he said.
Poeltl now has until April 24 to declare for the NBA draft. However, new rules by the NCAA allow underclassmen to participate in the NBA draft combine and one NBA team workout without hurting their NCAA eligibility should the player choose to withdraw his name from draft consideration.
Should Poeltl declare for the NBA draft, he could still work out with the Utah coaching staff for up to 20 hours per week and participate in the NBA combine, where he'll receive feedback from NBA team scouts and executives. Poeltl would have until May 25 to withdraw his name from the draft, at which point he would be eligible to play his junior season at Utah.
It's likely that Poeltl will at least declare for the NBA draft and see where teams project him. Poeltl is currently projected to be in the top 15 picks of the upcoming draft, but that is before the combine and the individual team workouts.
×
Related Stories