This archived news story is available only for your personal, non-commercial use. Information in the story may be outdated or superseded by additional information. Reading or replaying the story in its archived form does not constitute a republication of the story.
OREM — More than 1,000 high school girls filled up the Utah Valley University UCCU center Friday.
They were there for SheTech Explorer, a STEM event put on by the Women Tech Council and Utah Valley University. It was sponsored by Ancestry.com and the Utah STEM Action Center.
To kick off the conference, STEM-advocate Thelina Smith and Angela Trego addressed the girls. Trego told them, "it's about you discovering things you like and don't like."
The girls could discover their interests through an interactive TechZone exhibit and an assortment of female-led panels and workshops. Ninth-grader Sidnee Meyers said she liked the TechZone the most because "you get to experience engineering hands-on."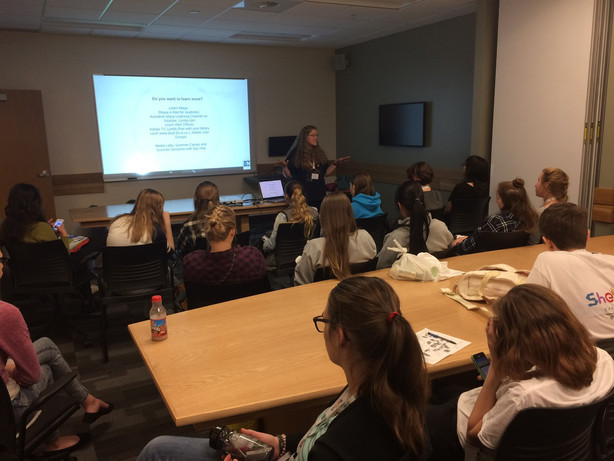 That hands-on and real-life experience is what organizer Trego wants SheTech Explorer to be about.
"Too often kids look at STEM and think math and computers," she said. "It's not about math; it's not about computers; but it is about creativity, problem-solving and curiosity. If you have those skill sets you can be successful at STEM."
Trego went on to say one of the goals of SheTech is to show students "successful pathways." High school student Sydney Carson said that even though she might not go into engineering, SheTech was "definitely a cool experience."
SheTech Explorer is not the only event this month with a focus on getting more girls interested in STEM. Expanding your Horizons, a national nonprofit, collaborated with Salt Lake Community College and other partners to put on a conference on March 5th. Another event with Utah Valley University will be held on March 26.
Related Story
Women are underrepresented in STEM fields with the greatest deficiencies in engineering, computer science and physical sciences, according to the National Girls Collaborative Project. Events like SheTech and Expanding your Horizons hope to decrease the gap in female workers.
One of the volunteers at SheTech, an engineer at Hill Air Force base named Kenyon Jenning, said he participated in the event because he believes "that the inclusion of alternative perspectives provides great value to our community."
SheTech has been put on for three years, growing from 300 participants to 1,200.
"It's gotten bigger and better every year since (the first time)," said Ruth Bell, a mother of teen girls.
Trego said they are at "maximum capacity" and hope to expand, but "it takes money and sponsors to make that happen." More information about SheTech Explorer can be found by contacting Trego at angela.trego@uvu.edu or visiting the organization's website.
---
![](http://img.ksl.com/slc/2585/258536/25853698\.jpg ?filter=ksl/65x65 )

About the Author: Carrie Rogers-Whitehead -----------------------------------------

Carrie Rogers-Whitehead is a senior librarian at Salt Lake County Library. In addition, she is an instructor at Salt Lake Community College and CEO and co-founder of Digital Respons-Ability. Carrie can be reached at carrie@respons-ability.net

×
Photos