This archived news story is available only for your personal, non-commercial use. Information in the story may be outdated or superseded by additional information. Reading or replaying the story in its archived form does not constitute a republication of the story.
SALT LAKE CITY — A few years ago, John Wilkes ended up the last place he expected to be — in a homeless shelter.
"That was just a product of a lot of heavy drinking, losing a job and being told by my partner to get out of his house and I had nowhere to go," he said.
He was staying at the Road Home shelter when he wandered across the street to a then-new storefront program begun by Salt Lake Community College English associate professor Tiffany Rousculp.
"She let me sit in there and check my email," he said. "Asked me a lot of questions about, you know, do you like to write, what kind of things do you write?"
It was Salt Lake Community College's newly established Community Writing Center.
"John would come in to write," Rousculp remembered. "He'd engage in writing consultation with our writing assistants and he just became part of the fabric of the writing center."
"I was drinking, doing a lot of drugs," Wilkes said. "It was great to have a space where I could go and get online, sit there and write some things out."
He wrote about his life — his homelessness and his depression.
"It just kind of cleanses your soul and keeps my mind active, which is sometimes hard to do. Dealing with clinical depression is a pain," he said with a laugh.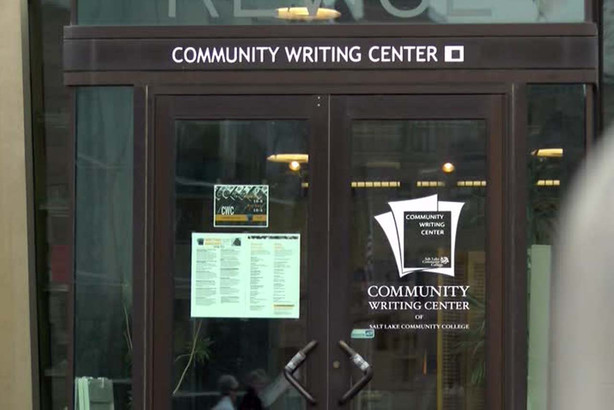 Rousculp said she watched Wilkes change. In the beginning he was sick, shaky and nervous, she said. "He seemed scared, he seemed unsure."
He got help and found a place to stay. He found a voice.
Wilkes became a regular contributor to the center's literary magazine, Sine Cera. He became a center volunteer — he moderated the center's Gay Writes writing group. He was invited to serve on the board of the Fourth Street Clinic, which provides medical care to the homeless community, and he now serves on Salt Lake County's Homeless Services Collective Impact Steering Committee.
Wilkes is now working on a novel about a homeless protagonist trying to solve a murder.
Wilkes said writing was "a big confidence builder. I feel like I'm accomplishing something, like I'm able to share things of importance."
"When you enter into writing in a regular way you can find out things about yourself, you can find your voice and you can learn how to share that voice with others," Rousculp said. "And when you can see that writing in print and shared with others there's something about that that makes you feel validated."
Wilkes said writing, in a roundabout way, did nothing less than save his life.
"I can recall days lying there in Pioneer Park just thinking, 'You know, I'm gonna lie down and take a nap here. If I don't wake up that would be OK,'" he said. "I feel quite differently about that now."
×
Photos