This archived news story is available only for your personal, non-commercial use. Information in the story may be outdated or superseded by additional information. Reading or replaying the story in its archived form does not constitute a republication of the story.
WEBER COUNTY — Driving on I-15 north of Ogden, a prominent sun-bleached billboard featuring a pair of cartoon cowboys rises near the pavement. A sign on the front of the building proudly reads "We have anything you want … if we can find it."
"I always say we have a unique mix of everything," said Craig Smith, who's spent most of his life amid a cornucopia of products. "Wasn't smart enough to go anywhere else," he jokes.
From coonskin caps to Kylo Ren lunchboxes, from ice cream makers to manuals on the AK-47, Smith and Edwards has pretty much anything you can think of.
"If we could make room for it, we'd sell cars," Smith said.
If horses are your thing, this is the place.
"We build headstalls, build saddles, build … you know, anything that can go on a horse," Smith said.
And it's the ideal spot to get equipped for an invasion of the dead — a sign above one aisle reads "Zombie Apocalypse."
"If you're going to put a sign up that says 'Survival,' that's boring," Smith said.
Unique marketing ideas aside, there's really no way to describe what the store sells, though Smith gives it a shot.
"Guns, saddles, clothing, sporting goods, tents, a lot of the camping gear, we've got a full Ace Hardware store in here, Western, makeup, candy. …"
The list goes on and on. Toys are a popular item, and there's also a wide variety of spices and an assortment of products sold on cable TV infomercials at 2 a.m. So is there anything at all you couldn't find here?
"There's probably some things that there's some regulations against that we couldn't sell," Smith said. "I can't think of anything off the top of my head."
The store is divided into departments, each with buyers who decide what the store carries.
"It's just getting into the industry, knowing what you can sell, what you can't sell," Smith said. "Reps come in and bring you things, and say, 'Hey, think you can sell this?' and based on what you've sold before, you go 'Oh, okay, we probably could sell that.' It's a guessing game, really."
It may seem odd to the onlooker, but to Smith, it makes perfect sense.
"I kind of grew up here in the store," he said.
This hodgepodge is in Smith's blood — the spirit of his grandfather, Bert Smith, lives on every shelf.
"He was in here every day," Smith said.
Bert founded this jumble: a place where even a tank seems normal. In fact, there's one sitting near the gate to the store's wildly unusual outdoor acres, featuring old ammo boxes, gas-powered generators, and various pieces of shaped metal, whose purposes are long forgotten to time.
"We all had bets on whether it would tow or not, and it towed," Smith said, recalling when his grandfather had the tank towed to its current resting place. "He was right. Again."
The business was born when Bert returned home from serving in the Marines during World War II.
"They had big lots of things," Smith said, speaking of how his grandfather started buying products. "They'd just have striped lines, Grandpa would go down there and he'd look through the lot, and he'd say, 'Oh, I can sell that and that,' and you had to buy the whole lot."
Military surplus: the mishmash is beginning to make sense. So much surplus was left after the war, sometimes it was cheaper for the government to destroy it than ship it back to the states.
"Yeah, a lot of stuff they did." Smith said. "They just dumped it in the ocean."
Where some saw garbage, Bert saw opportunity.
"Grandpa would have a truck and trailer," Smith said. "He'd go around to ranches and sell the surplus off the truck. Lot of times he'd sell the truck and trailer too, get a bus ticket home."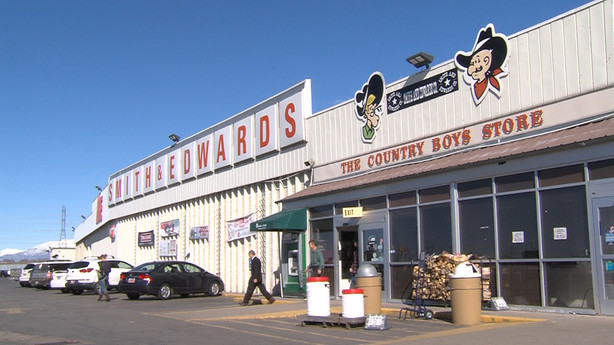 The store started as a couple of old Army barracks, and grew piece by piece, not entirely unlike Frankenstein's monster. Parts of the current building itself is made of old military surplus — some of the rafters came from missile launchers.
Smith says the store's been in its current location since before I-15 went through. "They had a place in downtown Ogden, and downtown Ogden kicked them out," he said with a smile. "It was surplus, it was 'junk,' they seen it. Luck would have it, I-15 came in."
But in a store that sells everything, there's one item that's never left: Bert.
"I don't know what retirement is," he said.
Bert's spirit lives on every shelf, because he has his fingers in everything.
"You have to keep your hands on what's going on and who needs to do what," he said.
At 96 years old, Bert's still here nearly every day, and has no plans of stopping.
"How many people want to take 65 years to get a good well-oiled business?" he asked.
Bert's been relentless in crafting this business. His original partner in Smith and Edwards, Lawrence Edwards, split off when Bert decided to purchase over 13,000 Navy buoys in 1962, declaring Bert too "wild." Bert says part of his success comes from his ability to manage his money.
"Young people are being taught poor economics," he said. "They teach them to borrow money and go to school, and that's the wrong thing to do. You borrow money, you've got to pay interest. I don't pay interest. I've never paid interest on any of my houses that I've ever owned. I trade up."
But in a store where horseshoes share space with webslinging Pez dispensers, Bert's proof that there's one thing you can't buy: a work ethic.
"He worked hard," said Smith. "Provided a good service to the community, gave back to the community, and worked hard."
×
Photos