This archived news story is available only for your personal, non-commercial use. Information in the story may be outdated or superseded by additional information. Reading or replaying the story in its archived form does not constitute a republication of the story.
SALT LAKE CITY — Students in Jennifer Boehme's sixth-grade class have taken several tests since Christmas break, and they've got several more to come.
"Right now, my kids, it's like once a week they're having a pretty major test and they get tired of it," she said.
By the end of the year, they will have completed 40 hours of testing. By the time they graduate from high school, they will have taken 113 standardized tests, according to a nationwide study by the Great City Schools, which is aimed at addressing the test burden.
Many students have resigned themselves to testing as a way of life.
"Now that I've been in the system for three years, I've gotten used to it," said ninth-grader Ty Davis. "I've learned the ropes."
But teachers and parents are concerned that tests stress out students and take up too much valuable learning time.
"It doesn't make them any better to test them more," said seventh-grade science teacher Dawn Monson.
Testing has become high stakes now that schools are publicly graded and teacher pay is tied to the results.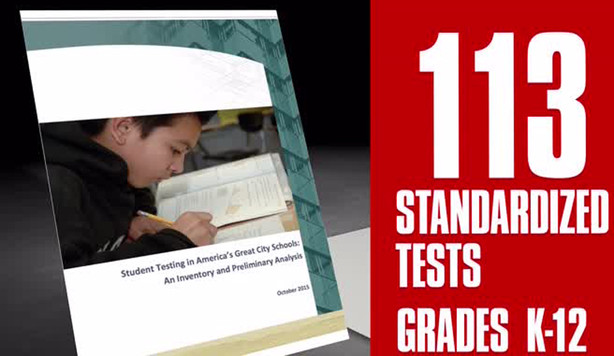 Limited technology is one of the frustrations because it forces teachers to begin year-end tests as early as March 21. They haven't even taught the curriculum by then, but it's the only way to get all the students enough computer testing time.
"We have two computer labs for about 740 students, so that's a lot of kids to get through during testing time," said Heritage Elementary principal Suzanne Bolar.
Opting out
Some parents are pushing back against testing demands by opting out. Utah law allows parents to sign a written statement to the school principal requesting their child be excluded from various tests. Currently, about 1 percent of parents have made the request.
Opting out presents a set of challenges. Teachers say they're penalized because students who don't take the test lower the class average score. And teachers say they have a harder time monitoring yearly progress when there is no data to compare.
"It's discouraging," said Boehme. "It's also hard because then you can't see how those children improved because their information is not there to compare to the previous year."
What do you think?
What's your opinion about testing for Utah students? Take our poll at the end of this story.
And still the test burden keeps coming.
Many have the misperception that the federal government adds to the burden, but it is actually the decision of the state and the district to choose specific tests they administer.
"Right now, we have legislators, bless their hearts, that think they know what's best for students," said Monson. "But they have no idea what the trench is like day in and day out."
For example, just last year Utah legislators mandated students pass a citizenship test to graduate from high school.
Finding balance
Nearly everyone agrees testing offers valuable information, but the key is finding a balance.
"If you can keep testing to a minimum, where it measures the progress and gives you the data you need to establish learning, then we're good," said South Hills Middle School principal Ben Jameson.
He initiated one measure to find that balance by using discretionary funding and Trust Lands money to buy more inexpensive Chrome Books, allowing more students to take their standardized tests in a shorter time, and thus provide a longer learning window.
Other efforts are underway to address the problem.
Salt Lake Legislator Marie Poulson sponsored a state resolution last year for the state to study ways to reduce testing. She was frustrated that little came of it. So this year, she is sponsoring specific bills.
One measure that would prohibit tying teacher pay to testing performance. And she's sponsoring another bill to allow the ACT college readiness test that many high schoolers already take to suffice as a year-end test.
On a national level, the Obama Administration called on the nation's schools to reduce unnecessary tests. With the overhaul of No Child Left Behind, states have more flexibility that would allow tests like the ACT to qualify.
Educators like Jameson believe those kinds of reforms have ushered in progress, but there is still room to reduce testing.
"Yes, I think it's helped," he said. "I think we've seen a reduction in testing in the last year and a half especially."
×
Photos
Related Stories