This archived news story is available only for your personal, non-commercial use. Information in the story may be outdated or superseded by additional information. Reading or replaying the story in its archived form does not constitute a republication of the story.
OGDEN — There was a buzzer beater on Senior Night in Ogden by senior guard Leyton Davis. It wasn't a game-winner, but you couldn't tell by the reaction of those who witnessed it.
The moment showed high school sports aren't always about winning and losing, but the lessons a group of young men can take into life.
To the rest of the Tigers, Leyton Davis is a senior at Ogden High with a passion for basketball. Being a child with special needs hasn't kept him being a part of the team as one of the managers.
"There are no limits for him, and we've raised him that way," said Amy Davis, Leyton's mother. "It doesn't matter what sport it is. If he wants to try out, we'll let him, and we'll go from there."
The Davis family has tried to give Leyton the same opportunity as any other child.
"We as a family dreamed about that part of it,' said Tracy Davis, Leyton's father. "All we want for Leyton is opportunity."
On Senior Night against Woods Cross, the Tigers' team captains had a special request for Ogden coach Shawn MacQueen: let Leyton play.
"I thought we needed to find a way to get this done," MacQueen said. "We played him in the JV game, and wanted to make sure he could get some time on the floor.
"Well, he scored 14 points in the JV game and hit four threes."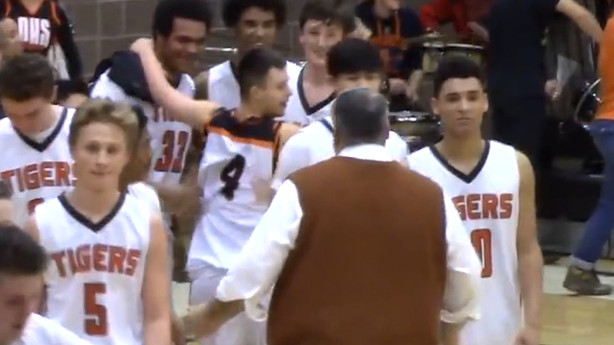 With 90 seconds left in the varsity game of what would go on to become a 76-47 win for the Wildcats, the outcome was no longer in doubt.
Then the crowd and student section at Ogden High swelled with chants of "We Want Leyton." Amy Davis recalled, "that's when we pretty much lost it" at the emotional calling of her son's name.
"He was the last sub of the night," MacQueen said. "I thought we had to get him on; I would love to see him get on and have the chance to play.
"It was one of those perfect moments."
Coach Kasey Walkenhurst and the Woods Cross players also had their hand in the special moment for one Ogden student. Many of them gave Leyton a fist-bump as he walked onto the court ahead of the final minute.
"Their players, their community, they really contributed to the sportsmanship of a great high school athletic event," MacQueen said. "It was just a special moment."
The game touched everyone in the gym, driving many players to tears.
"We couldn't have asked for anything better last night," Tracy Davis recalled. "It was amazing. It was powerful."
Leyton's first shot attempt of the game was off the mark. But his second — nothing but net.
"His face was like Christmas morning, coming downstairs," Ogden guard Spencer Johnson said.
---
I told our kids after the game, not every champion gets a trophy. Last night's gym was full of champions.
–Ogden High boy's basketball coach Shawn MacQueen
---
Then, as time ran out on the final home game for the 8-13 Tigers, Leyton got one final chance. His shot arced through the air from the 3-point line, beating the buzzer as it swished the bottom of the net for his sixth point of the game, the third-highest on the team.
The crowd erupted, and after the buzzer sounded, Leyton found himself on the shoulders of his teammates as they carried him off the court.
"After the game in the locker room, he started crying because he knew it was his senior year," Johnson said. "It really put into perspective how much this kid cares about us as a team, and how much we care about him."
Leyton will never forget his senior night, and neither will those who witnessed it.
"I told our kids after the game, not every champion gets a trophy," MacQueen said. "Last night's gym was full of champions."
For Amy Davis, one game of basketball brought out everything good in the Ogden High community.
"It's so much bigger than a game of basketball at that point, and we're so grateful," she said. "We were blessed with a son that can bring that kind of spirit out of people."
Contributing: Sean Walker
×
Photos