This archived news story is available only for your personal, non-commercial use. Information in the story may be outdated or superseded by additional information. Reading or replaying the story in its archived form does not constitute a republication of the story.
SALT LAKE CITY — This dressing is easy, and so good, you'll want to drizzle it on everything in sight. The beautiful, crunchy Asian slaw is just a pretty means by which to consume this tasty condiment.
The video below shows how I made this recipe. It may have taken me a bit longer than three minutes in real life, but not much more. For more fun cooking videos, sharable food and recipes visit TaraTeaspoon.com.
I used rice wine vinegar as the base for this dressing because it's light and adds a tangy zing without overpowering the other flavors. As with all vinaigrettes, the trick is to get all of your flavor ingredients together before adding the oil to them. The oil breaks into little teeny tiny parts when you whisk it. This separates the other ingredients and makes them float happily amidst the little oil parts. (Some people call that emulsification, but I prefer my more technical description.) The point being that your flavorful ingredients need to be nicely mixed and combined so they disperse evenly. Whisk together the honey, soy, ginger and vinegar, and then taste the mixture. If you like it stronger, add a bit more soy sauce; sweeter, add more honey. When the flavor is just right, slowly whisk in the canola oil and let it break into teeny tiny parts.
Savoy cabbage and Napa cabbage tend to have leaves that are a bit curly, even dark green. They can both be used in Asian slaws and are tender and mild in flavor. In a pinch, you can substitute standard cabbage, but it has a stronger taste and takes a bit more effort to chew.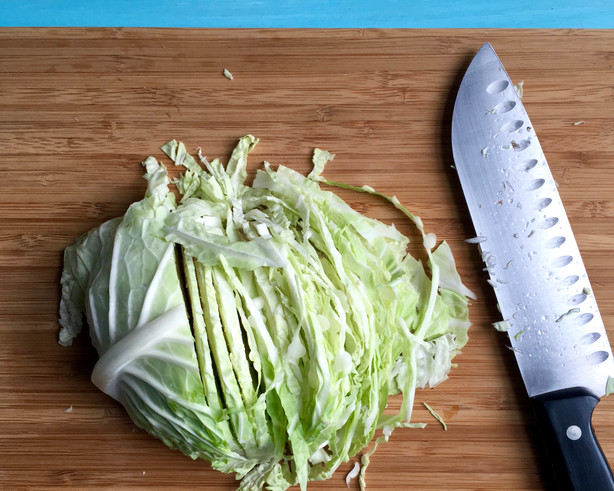 It only takes a few simple chops and slices to work through your cabbage, peppers, snow peas and scallions. You can thinly slice your cucumber as well, but I love these little paddle slicers. They make quick work of veggies, but use the guard for safety, and watch those fingers.
The mandarins add juicy sweetness, but if they aren't handy at your store, slice some orange segments into the salad instead.
I added some grilled chicken to make the salad filling enough for dinner. In the cold winter months, I grill indoors on a grill pan or electric griller. For lighter meals, or to serve the salad as a side dish, I leave the chicken off.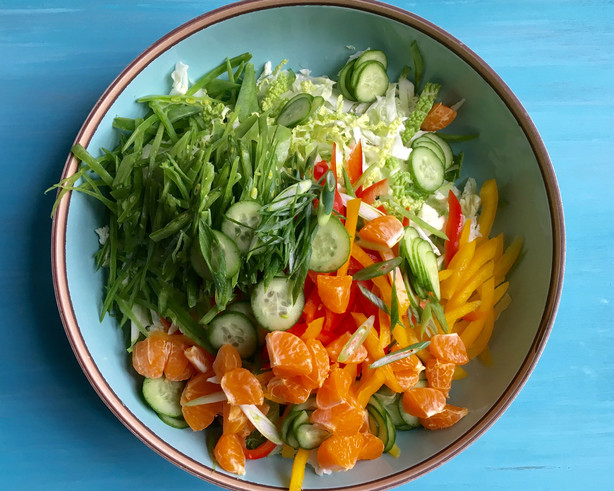 Sesame Ginger Dressing with Asian Slaw
Savor this seriously tasty salad with an authentic vinaigrette for a fresh, delicious dinner.
Makes about 1 cup dressing
Salad serves 6
Work time: 20 minutes Total time: 20 minutes
Dressing:
1 cup rice wine vinegar
1 tablespoon low-sodium soy sauce
2 tablespoons honey
1 teaspoon fresh grated ginger
1 teaspoon sesame oil
2 teaspoons toasted sesame seeds
2/3 cup canola oil
Salad:
4 cups Napa and, or Savoy cabbage, sliced
1 red bell pepper, sliced
1 yellow bell pepper, sliced
1 cup snow peas, sliced
1 small cucumber, sliced
1 scallion, sliced
2 mandarins, segmented
1/3 cup cilantro leaves
Grilled chicken, optional
1. For the dressing, stir together all the ingredients except the canola oil until well combined. Slowly add the oil, whisking constantly. Set aside.
2. For the salad, toss everything in a large serving bowl, top with sliced chicken if desired. Whisk the dressing again just before drizzling on salad.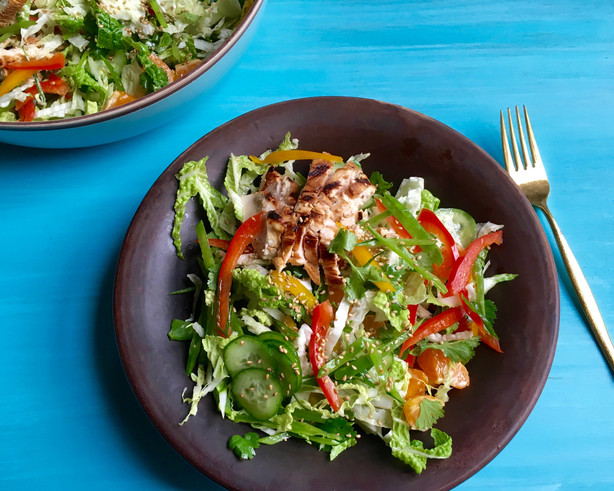 Veggies in the winter are so tasty and healthy. For a great dinner, try my Roasted Vegetable Pizza, or serve my Vegetable Trio with Orange Thyme Dressing on the side of your main dish.
---
![](http://img.ksl.com/slc/2581/258173/25817393\.jpg?filter=ksl/65x65)

About the Author: Tara Bench ----------------------------

Tara is a Utah native who has been a food editor for Martha Stewart and Ladies' Home Journal. She contributes delicious recipes to websites and cookbooks from her home in New York City, and has appeared on the Today Show and Studio 5. Find more great ideas on TaraTeaspoon.com.

×