Estimated read time: 9-10 minutes
This archived news story is available only for your personal, non-commercial use. Information in the story may be outdated or superseded by additional information. Reading or replaying the story in its archived form does not constitute a republication of the story.
SALT LAKE CITY — It's real. Multiple league sources say that the Utah Jazz are indeed considering trading for Atlanta Hawks point guard Jeff Teague before February's trade deadline. While no formal contact has been made between the two sides, the Hawks primary decision maker Mike Budenholzer has a good relationship with both Jazz GM Dennis Lindsey and head coach Quin Snyder from their time together with the Spurs.
This comes after ESPN and Yahoo reported that the Hawks are listening to offers for either Teague or the German point guard Dennis Schroder, though the team would prefer to deal the older Teague.
There's a lot to consider for the Jazz, though, before making a move. Let's break down Teague's game and what he would bring to the Utah Jazz, before considering what the Jazz would have to part with in such an acquisition. These are the questions the Jazz are wrestling with before the deadline.
Offensively, at his best, Teague is a deserved all-star. He's a good pick-and-roll creator who can drive to the rim and either finish or find open shooters. He has an incredibly quick first step that allows him to blow by defenders, especially with the help of a screen. Once at the rim, he can either finish, get fouled, or find one of his teammates in an open situation. That's very valuable, and the Jazz don't currently have a player who can really beat defenses with speed rather than guile. Teague excels at initially creating the advantage that forced defenses to move, the advantage that resulted in either wide open three point shots or open layups.
In the 2015 playoffs, though, teams started to gameplan for Teague a bit better than they had in the regular season. The Cavaliers, especially, dared him to shoot by always going under his pick and rolls, short-circuiting Atlanta's previously incredible machine offense. Teague got his: he led the Hawks in scoring during last year's postseason, but the rest of the Hawks struggled as a result.
This year, Teague has struggled. His PER is down from 20.6 to 16.3, and he's shooting career-worst percentages from inside the restricted area and the paint. He has balanced that out with career-best 3-point shooting, shooting a very respectable 38 percent from beyond the arc.
More teams seem to be using the Cavaliers' approach to defending Teague, but that actually hasn't changed his shot distribution all that much: he's still taking about the same ratio of 2-point to 3-point looks as last season. He's still driving the ball about the same number of times per game, good for sixth in the NBA. It's just that once he gets to the rim, he isn't able to finish as well.
Teague has been dealing with a recurring left ankle injury, the result of spraining it multiple times over the past two seasons. It's the sort of injury that isn't severe enough to stop Teague from playing, but may be hampering his effectiveness once he gets to the rim. It's also worth noting that some feel Teague is "sandbagging" because he's unhappy with his situation in Atlanta.
Those sort of excuses can be looked at in two ways: on one hand, recovering from his injuries and a change of scenery may help Teague become the player that he was in the 2014-15 season, a legitimate All-Star. On the other hand, the Jazz could be acquiring an injured malcontent.
Teague's assist totals and percentages are also down big this season, though it's an open question as to how much of that is due to his teammates' newfound struggle to hit open shots. Kyle Korver, especially, has dropped off a cliff in terms of shooting effectiveness, and it's hurting both the Hawks' spacing and Teague's ability to rack up assists. Check out this graph: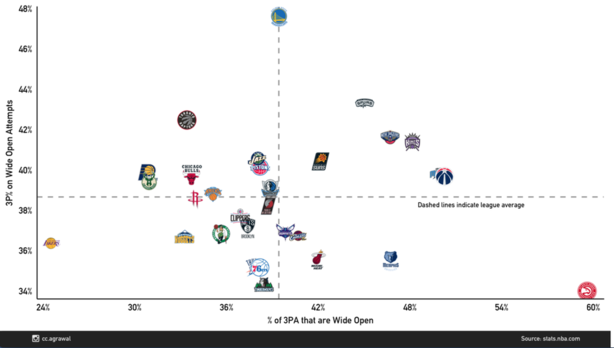 It's not Teague's fault that his teammates can't make open shots.
More worrisome might be Teague's defensive play this season. Last year, Teague earned plaudits as one of the best defensive point guards in the NBA. After allowing opponents to shoot just 40 percent on shots when Teague was defending last season, he's now allowing 43.7 percent.
His on-court defensive impact has slid further than that. Last season, ESPN's Real Plus-Minus listed Teague as the NBA's seventh-best defensive point guard. This season, he's 66th.
That difference is pretty easy to explain, statistically: the Hawks are 8 points worse per 100 possessions when Teague is on the court compared to his backup, Schroder.
Watching Teague, though, the statistics for this season are probably more accurate than the numbers for last year. Teague does have bouts of lost focus, and he is small, so he's not ever going to envelop and shut down point guards on the other end. He's probably a little bit better than the Jazz's Trey Burke on the defensive end (Burke is 82nd out of 84 PGs in defensive plus-minus this season), but he's below-average, overall.
If the Jazz can get consistent effort out of him, and fix whatever injury issues he's having that are limiting his lateral movement, Teague might be salvageable on defense. But it's never going to be a strength, and whether or not he could ever fit into Utah's defense-first philosophy is a real question.
Teague's contract is extremely friendly: he's slated to make $8 million per season, and is under contract this year and next. That's literally perfect for the Jazz, for a few reasons. First, the contract length means that Teague won't tie up long-term cap space for the Jazz beyond the summer of 2017, when Gordon Hayward will be a free agent and Rudy Gobert will likely receive a max-money deal.
Secondly, Teague won't compete with Dante Exum long-term as Exum develops into the long-term answer at the point guard spot. If Exum develops, you thank Teague for his service and move forward with Exum receiving 36 minutes per night in the 2017-18 season, his third season on the court. And if Exum doesn't show any progress in 2016-17, then Teague is a viable candidate to resign with the team at age 29, if he's proven to fit well with the rest of the core.
That $8 million salary also means that the Jazz's salary cap flexibility won't be limited in this upcoming offseason. They'd still have the option to offer a maximum deal to most players, or would have money to spread to multiple bench-helping reserves.
That flexibility will be important, as the Jazz look to replace whatever talent they would give up in such a deal. What are the Hawks looking for?
The Hawks are willing to trade Teague because of their relative strength at the point guard position: Schroder would be the presumptive starter, and is showing that he's too talented to simply be a backup point guard. Likewise, their third PG, Shelvin Mack, is himself a qualified backup point.
What the Hawks do need, though, is help at the wing. Their starters are Kyle Korver, who is struggling and now 34 years old, and Kent Bazemore, who is more of a possession finisher-type that doesn't excel at creation on his own. Backups Thabo Sefolosha, Lamar Patterson, and Justin Holiday, either have one dimension or exactly zero dimensions.
The Hawks have lots of good power forward options, but their very-big men, Tiago Splitter and Walter Tavares, have disappointed this season.
Saving money isn't likely of interest to Atlanta, though, as they too have a good cap-sheet moving forward. First round picks would be wanted, though, as the Hawks look to increase their upside with young players and fill in bench production at a cheap price.
Given its needs, Atlanta's likely going to begin negotiations by asking for Gordon Hayward or Rodney Hood. Hayward, though, is simply more valuable than Teague, and is really the Jazz's best player. Hayward's the full package offensively and defensively, unlike Teague.
And Rodney Hood is simply showing too much for the Jazz to relinquish what would likely be six more years of team control for Teague's shorter deal. Hood has scored over 20 points in four of his last five games.
Alec Burks is a different story. Burks is a talented player: his elite skill of getting fouled and going to the free throw line is a valuable and efficient one. He's fulfilled an important role as Utah's bench scorer. But beyond that, his secondary skills are limited, and his defense has always left a little bit to be desired. Burks is in the first year of a four-year extension with the team.
Jeff Withey is a nice asset who would help the Hawks, but he's not a sure-fire upgrade over Splitter. He is much cheaper than Splitter, though.
Beyond that, the Jazz don't have a lot of talent assets to offer Atlanta. Burke, Neto and Lyles play in Atlanta's positions of strength; Trevor Booker, Chris Johnson, Tibor Pleiss, Erick Green, and Joe Ingles probably don't have positive trade value, and the Jazz just aren't going to trade Rudy Gobert, Derrick Favors, or Dante Exum.
The Jazz do have two additional first-round picks in their coffers: Golden State's first-round pick in 2017, and likely Oklahoma City's lottery protected first-round pick in 2018. Golden State's pick is the lesser asset, as the Warriors will still likely be elite next season, but with the Thunder's upcoming free-agency situation, their pick might turn out to be a decent one, though probably not enough to acquire Teague on its own.
Utah also has it's own first-round picks to trade, but the team would feel very squeamish about doing so. Those picks are the Jazz's insurance policy in case a season goes drastically wrong.
Still, the point of the breakdown above is that it's difficult to imagine the Jazz acquiring Teague without including Burks in the deal. That's the big question, then: is acquiring Teague for the next season and a half worth giving up three seasons of Burks? Teague is the better player, but Burks is younger.
If the Jazz did give up Burks, they'd need to find a third wing in the long term to play with Hood and Hayward. There are a few options available in this summer's free agency class, though: Bazemore will be a free agent, as will Charlotte's Nicholas Batum, Washington's Jared Dudley and Portland's Gerald Henderson. Chandler Parsons and Wesley Johnson may also be available if they exercise their opt-outs.
It all probably does come down to whether or not the Jazz feel they can get Teague to playing back at his All-Star level of last season. If he's there, he'd be a fantastic pickup, even at a high price. If he's not, the upgrade over Burke and Neto just isn't worth the sacrifice.
×