Estimated read time: 2-3 minutes
This archived news story is available only for your personal, non-commercial use. Information in the story may be outdated or superseded by additional information. Reading or replaying the story in its archived form does not constitute a republication of the story.
LOS ANGELES — Lexi Eaton Rydalch knows of BYU's history of prolific scoring talent on the basketball court, and the subsequent history of the Cougars' new conference from the guard line.
And she added herself to the top of the list Thursday night.
Rydalch became the West Coast Conference's all-time leading scorer in the Cougars' 82-75 win over Loyola-Marymount in Los Angeles. Rydalch finished with a career-high 31 points and a season-high 12 rebounds to lead BYU, which got 19 points and four assists from Makenzi Morrison Pulsipher.
Kalani Purcell added 14 points, 14 rebounds and eight assists for BYU (17-4, 9-1 WCC) in the win, her third near-triple-double in two weeks.
"Lexi is the most talented kid I've ever coached," BYU women's basketball coach Jeff Judkins said. "When she lets it come, she's great."
The former Springville High standout who still owns the Red Devils' career scoring record passed former LMU guard Alex Cowling, who held the previous record with 2,219 career points.
"I knew when I came to BYU that I would need to score, and that was my role," Rydalch told TheW.tv. "For me, passing and becoming the No. 1 scorer is a great honor because it means I've been doing a job with my role. I'm doing what the team wants me to do.: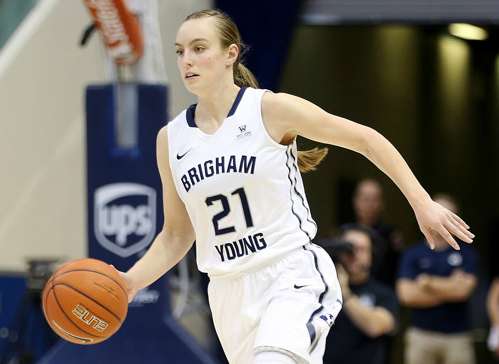 Prior to the game, Rydalch needed just 16 points to take the top spot in conference history. The senior from Mapleton earned the record on a 3-pointer with 7:35 left in the third quarter that also gave the Cougars a 50-44 lead.
"There have been a lot of great scorers in this conference like Alex Cowling," Rydalch said. "I played against her, and she was a veteran player. It's awesome to be among those honored names in the conference."
Rydalch's 31 points now give her 2,235 for her career. The Cougars have eight regular-season games remaining on the scheduling, giving Rydalch — who averages a league-leading 23.4 points per game — plenty of time to improve on her all-time mark.
Rydalch moved to No. 3 on BYU's all-time scoring list last Saturday in the Cougars' win over Pepperdine. Her next milestone is the mother of former BYU teammate Jennifer Hamson, Tresa Spaulding Hamson, who totaled 2,309 points from 1983-87.
Tina Gunn Robinson owns the BYU all-time scoring record with 2,759 points from 1976-80. The 6-foot-5 center averaged 27.3 points during her career, including two seasons of nearly 31 points per game as a junior and senior.
Rydalch is one of just five players in BYU history to amass more than 2,000 career points.
×
Photos