This archived news story is available only for your personal, non-commercial use. Information in the story may be outdated or superseded by additional information. Reading or replaying the story in its archived form does not constitute a republication of the story.
SAN FRANSISCO — For those on pins and needles, eagerly anticipating Netflix's reboot of the classic 1987 series "Full House," a recent behind-the-scenes look at the new show "Fuller House" will be a pleasant surprise.
In just under two minutes of a featurette released by Netflix Tuesday, here are a few things we learned about the upcoming spinoff series.
The gang is excited to be back together
As previously announced, a whole slew of Tanners, Gibblers, and Katsopolises are back for round two, with the notable exception of Michelle Tanner — played by 90s super twins Mary-Kate and Ashley Olsen. Even Mr. Woodchuck shows up at the table read. The Netflix featurette was full of our favorite TV family members speaking effusively about the experience.
"'Fuller House' carries the same emotional loving family tone through the show that the original did," assured Candace Cameron Bure, better known as her character DJ Tanner.
"We are a family and have been since we started doing the show 28 years ago, and have only gotten closer," Jodie Sweetin added.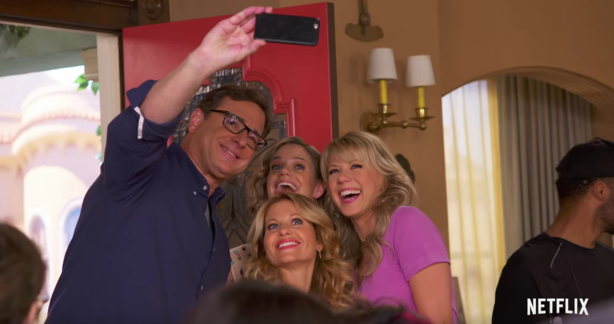 There's a switcheroo
The premise of the show is somewhat of a gender flip from its parent programming. Instead of three men raising three girls, it's three women raising three boys. According to the cast, when they rejoined for filming, they picked up right where the Tanner family left off when "Full House" left the air in 1995.
Though the power structure has changed, the transition was seamless, cast members said. Andrea Barber, who played Kimmy Gibbler said, "The first time we were all together as a cast again was at the table read and it was kind of like we never left."
Catchphrases are back, too
Lest you worry, it seems as though there will be a plethora of callbacks to the catchphrases so frequently featured in the original series. In just the one minute and 49 seconds that made up the preview, we hear "Have mercy," "How rude!" and even a Kimmy Gibblerism. Now, we'll have to watch and see if we get a "Cut it out!" from Uncle Joey or if someone will say "You got it, dude!" despite Michelle's absence.
Everyone has aged surprisingly well
Aside from Aunt Becky and Uncle Jesse looking as though they haven't aged a day (seriously — Lori Loughlin is ageless), the participating members of the cast look like they've aged well.
Though it's odd seeing a grown Stephanie Tanner and a little more bedraggled Danny, everyone looks good nearly three decades after the show's finale.
"They say you can never go back home," said Dave Coulier, known for playing Uncle Joey. "But we came home."
"Fuller House" will be streaming on Netflix on February 26.
×
Related Links
Related Stories
More stories you may be interested in