This archived news story is available only for your personal, non-commercial use. Information in the story may be outdated or superseded by additional information. Reading or replaying the story in its archived form does not constitute a republication of the story.
SALT LAKE CITY — Several LDS temples around the world have made progress toward their opening dates.
The renovated Suva Fiji Temple opens for free public tours Jan. 25 and will remain open through Feb. 6, excluding Sunday, Jan. 31, according to the LDS Church.
Tours include a 10-minute presentation and a 30-minute walk-through. They will begin at the nearby Fiji Service Centre.
"We welcome everyone to come and see our temple," Vito Qaqa, a local church leader who is overseeing the open house, said in a statement. "We look forward to sharing with visitors why Latter-day Saints consider temples our most sacred places of worship."
The temple will be rededicated Feb. 21. It was originally dedicated in June 2000 and closed in October 2014. It serves more than 35,000 Latter-day Saints living in Fiji, Vanuatu, Kiribati and the Solomon Islands.
The flowers, beaches and jungles of Fiji inspired the temple's colors and design motifs, according to the LDS Church.
Sapporo, Freiberg, Philadelphia temple open house dates announced
The Church of Jesus Christ of Latter-day Saints has also announced the open house and dedication dates for the Sapporo Japan, Freiberg Germany and Philadelphia Pennsylvania temples.
The Sapporo Japan open house will run from July 8 to July 23, excluding Sundays. It will be dedicated Aug. 21.
The renovated Freiberg Germany Temple will be open to the public for tours Aug. 12 to Aug. 27, excluding Sundays. It will be rededicated Sept. 4.
The Philadelphia Pennsylvania Temple will open for tours Aug. 5 and run through Sept. 3, excluding Sundays. It will be dedicated Sept. 18.
Each of the temples will be dedicated in three sessions at 9 a.m., 12 p.m. and 3 p.m. The dedications will be broadcast to LDS meetinghouses in the respective locations. Cultural celebrations will take place the day before each dedication.
Passing of Colleen Hinckley Maxwell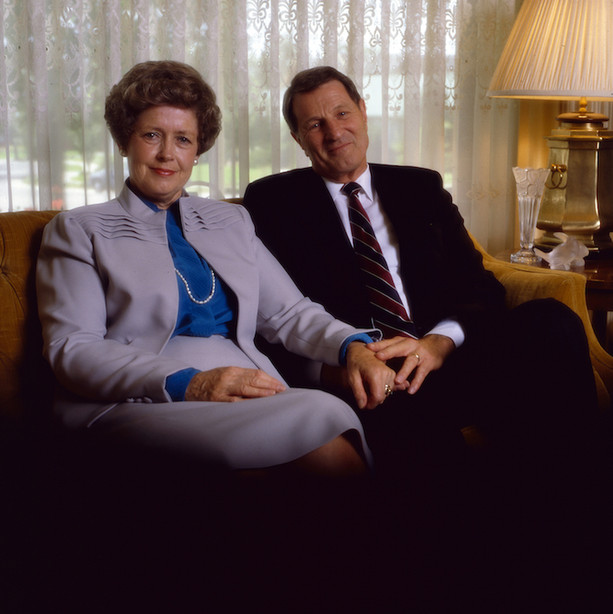 Additional news within the LDS Church this week was the death of Elder Neal A. Maxwell's wife, Colleen Hinckley Maxwell.
Colleen Hinckley Maxwell died at 87 years old Jan. 17. She was born April 8, 1928, to George Edwin Hinckley and Anna Fern Johnson Hinckley.
Colleen Hinckley Maxwell attended East High School and the University of Utah before teaching home economics at a high school in Thatcher, Arizona. She met Neal A. Maxwell at a party just before leaving to teach school and declined going on a date with him when she came home for the summer. He asked again, and she accepted.
The Maxwells married in the Salt Lake Temple on Nov. 22, 1950, and had three daughters and one son together.
Colleen Hinckley Maxwell encouraged her children to look for ways to serve and taught by example. Elder Maxwell described her as "a more complete Christian" than he.
She was also involved in many things, including serving on the advisory committee of the Department of Family Living and Consumer Studies and as a member of the alumni board at the University of Utah. She also volunteered for children with spina bifida and with at-risk children at the Guadalupe School and was a member of the LDS Church's Young Women general board.
Funeral services were held Jan. 23 at the Monument Park Second Ward, 1005 S. 2000 East, Salt Lake City. Interment took place afterward at the Salt Lake City Cemetery. Rather than sending flowers, the family suggested that people donate to the Missionary Department of The Church of Jesus Christ of Latter-day Saints or to Primary Children's Hospital.
×
Photos
Related Links