This archived news story is available only for your personal, non-commercial use. Information in the story may be outdated or superseded by additional information. Reading or replaying the story in its archived form does not constitute a republication of the story.
PROVO — Setting aside a misguided decision from a self-described hockey thug, BYU's two primary athletic programs are developing a bad reputation.
Circumstantial or just plain dirty? Review the facts and then decide.
In less than 12 months, the BYU football team and men's basketball team has had at least four incidents of a player punching an opponent during a game. Each was caught on tape, available for replay as many times as a viewer desired.
In today's world, even the slightest transgression is immediately put on the Internet for all to see and for media outlets to pounce on. Any way you spin it, the BYU athletic program does not come out looking good.
The latest display of bad form involved basketball player Nick Emery, who punched Utah's Brandon Taylor in the closing minutes of BYU's third consecutive loss to the Utes. According to Taylor and Utah coach Larry Krystkowiak, Emery stood over the fallen player and uttered an obscenity.
Krystkowiak, who attributed his 10-year NBA career in part to a hockey-thug style, drew widespread attention to BYU's reputation by [deciding to cancel next year's game with Utah's rival](<Krystkowiak, Utah stand by decision to pause 'toxic' rivalry >). He took heat for backing out of next year's game scheduled for the Marriott Center but also drew some support.
Tony Kornheiser and Michael Wilbon, co-hosts of the daily ESPN PTI show, both understood Krystkowiak's reluctance to continue the series. Each pointed to BYU as the agitators.
As expected at the time, the punch lit up social media, complete with a video of the play.
The Sporting News website included a headline that said: Emery ejected for sucker punching. The Big Lead, which is a blog owned by USA Today, published a story that indicated Emery has a history of dirty play, dating back to his time at Lone Peak High. Sports Illustrated called Emery's action a "vicious sucker punch."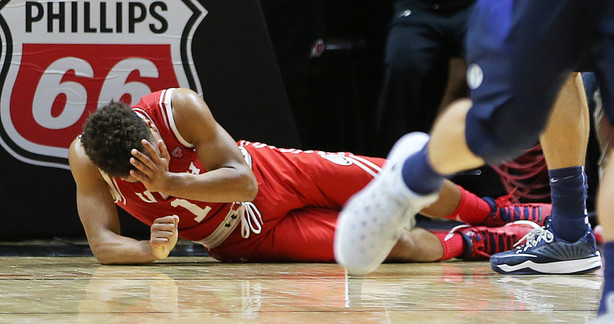 On PTI, Wilbon said of Emery: "He was doing the Joe Frazier left hook move." He then asked, "How many games (suspended) do you get for that?" Kornheiser responded: "I would say five, but that's just me."
BYU could have taken whatever action it deemed appropriate against Emery, but the school issued a statement that said the suspension was for one game. By NCAA rule, any player throwing a punch is subject to an ejection and one-game suspension. Emery also issued a public apology.
In effect, BYU did the minimum. In light of the BYU's recent reputation, a harsher penalty might have sent a stronger message to quiet the critics, the loudest of whom was Krystkowiak, who didn't believe the basketball program showed enough remorse.
Operated by the LDS Church, BYU holds its students and athletic programs to a specific standard. School officials have talked about the football program serving as an extension of the church's extensive missionary program. The rash of incidents haven't reflected well on BYU and by extension its founding institution.
In addition to two individual players punching an opponent at the conclusion of a play during two separate games this season, the biggest embarrassment came at the last season's bowl game. After the Cougars lost to Memphis in the Miami Beach Bowl, players on both sides engaged in a postgame brawl
The brawl generated widespread attention for BYU, almost all of it being negative. The one image that particularly stood out was of safety Kai Nacua coming up from behind to punch an unsuspecting Memphis player.
BYU again was back on the highlights when offensive lineman Ului Lapuaho punched a Boise State player in the groin last September. The play prompted The Washington Post to write "the Cougars are developing a bit of a reputation for over-the-line behavior."
BYU also had questionable hits against Nebraska and Utah State this season.
At a public function for Utah and BYU players leading up to the Las Vegas Bowl game between the two teams, Ute defensive lineman Seni Faounuku called out the Cougars during a welcome reception at the Fremont Street Experience.
"BYU, y'all a good team," Faounuku said after the two teams competed in a dance-off against each other, "but you're a dirty team."
No matter the opinion, there is no disputing that BYU has been involved in too many of these situations. Whether the players have been provoked to whatever degree, the time has come for administrators and coaches to demand the Cougars stop participating in such unsavory behavior.
To whatever extent, actions on the field don't line up with the often-professed mission of BYU. And if they continue, the consequence needs to be more than NCAA-mandated minimums. Tradition, honor and spirit are riding on it.
×
Related Stories