Estimated read time: 6-7 minutes
This archived news story is available only for your personal, non-commercial use. Information in the story may be outdated or superseded by additional information. Reading or replaying the story in its archived form does not constitute a republication of the story.
PROVO — During former BYU football head coach LaVell Edwards' 29-year reign in Provo, the Cougars racked up 257 wins, 19 conference championships and a national championship. I caught up with the legend recently to get his thoughts on the new coaching staff at BYU and some advice he would give them.
Dylan Cannon: What do you think of the hiring of Kalani Sitake?
LaVell Edwards: Well, I think it's a great hire. He's a BYU grad; he played for us. He's been coaching very successfully as an assistant coach at the University of Utah and up at Oregon State. He's developed a very good reputation. He's a guy that is going to do very well. He's got a nice personality and knows what he's doing. Being Polynesian I think helps, too, since 40-50 percent of the team is Polynesian.
DC: What, in your opinion, is the most important characteristic a head coach needs to have to be successful?
LE: I think he has to have a knowledge (of football) but the big thing that he needs is to be able to work with people and be consistent with how he handles situations both on and off the field. He needs to have good judgment. You can hire people that are quality X's and O's guys; guys that know the passing game or the running game or the defense or whatever to work for you on your staff. In fact, I always felt more comfortable when I hired people that knew more about the specific area than I did. I knew enough to know what I wanted and what we needed to have done. But I wanted experts in their field.
DC: When he was playing for you did you ever have the feeling that Sitake would make a good football coach?
LE: You know, I thought about that, and I don't remember that I ever thought of him as a football coach until after (his playing career was done) when he decided he wanted to be a graduate assistant and wanted to go in that direction. I got to thinking he probably would be (a good football coach). But I don't recall what my thoughts were about him becoming a coach when he was playing. I always liked him, though, because he was a hard worker and he was a tough kid. He loved to play.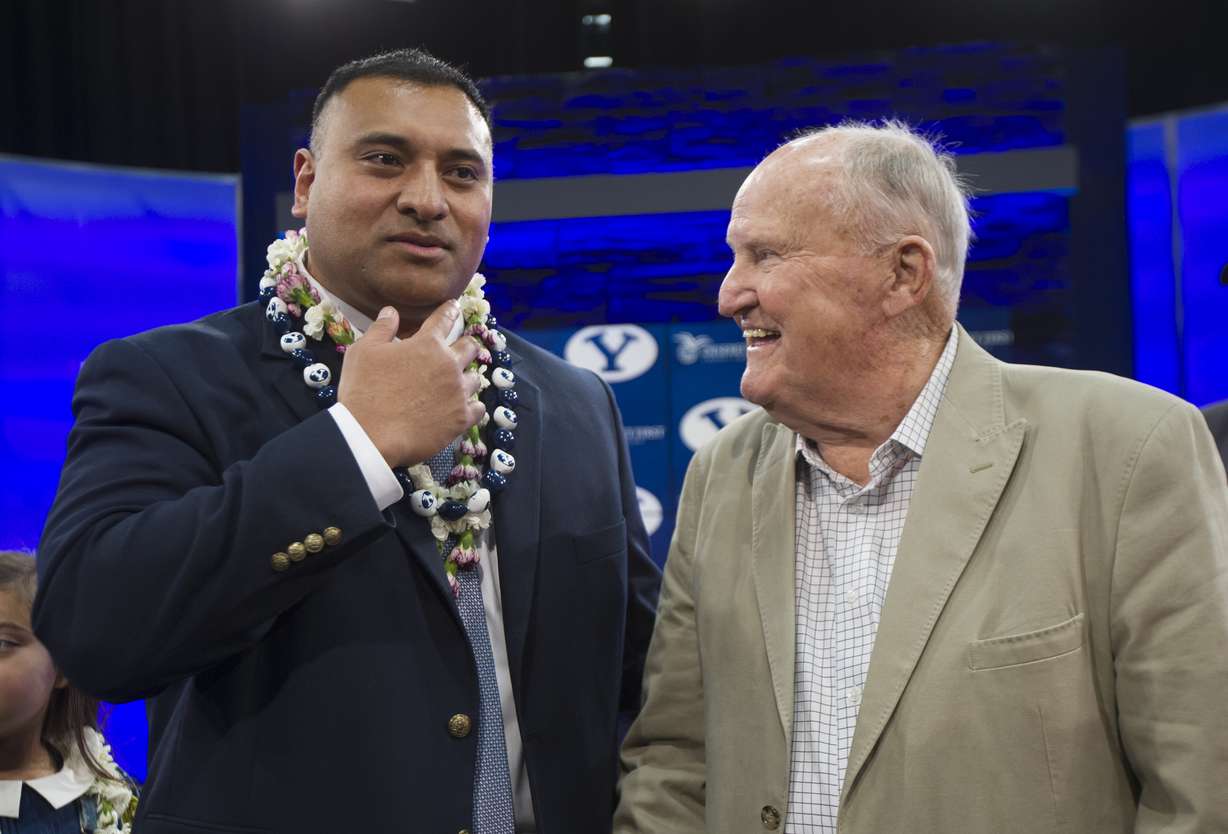 *DC:* If you could give one piece of advice to Sitake about being the head coach at BYU, what would you tell him?LE:** Trust your own instincts. Listen to people and get advice, but don't go against what you believe deep down or what you think is important. Whether it is about who to play or what to do with the program, you need to rely on your own instincts.
DC: You were known for being able to find and employ very talented assistant coaches throughout your career. What did you look for in potential assistant coaching candidates when you were filling out your staff?
LE: Number one, knowledge. As I mentioned earlier, they need to know the specific area they are coaching very well. They need to have a good reputation and good experience. Then, also, you want to get someone that will come in and work well with others. In this business, there are a lot of egos out there. Which is not bad, but you've got to be careful about getting somebody that has an ego that's out of control.
DC: Despite his not having any experience as an offensive coordinator at the college level, you voiced your approval of Ty Detmer as BYU's man in charge of the offense. What about Detmer makes you feel like he's ready to take on this responsibility?
LE: Well, you know, he played 14 years in the NFL and he never did throw a lot of passes or play a whole lot. But I've talked to coaches who had him on their team and they said it was like having an extra coach on the team. His knowledge of the game and his feel for the game was a big help for other quarterbacks and other people on the team. I think that is going to be a lot more important — that feel for the game — than lack of experience. So, I don't worry about (his lack of experience).
DC: Do you feel that Detmer will be a good recruiter?
LE: Yes, very good. Yes.
DC: Does it concern you that the head coach, offensive coordinator and defensive coordinator have no experience in their respective positions at the college level?
LE: I think it will be interesting. I'm not worried about that. I think they all have been coaching long enough that it will work out well. A lot of it is going to depend on who they hire. So far, I think they've done very well hiring good assistants.
Year in Review
*DC:* What do you think Southern Utah's former head coach Ed Lamb brings to the Cougars' coaching staff?LE:** I think the fact that he's been a head coach and a coordinator and has a good knowledge of the game will be invaluable to the team. He works well with other people. That's a good hire.
DC: There are rumors that Cougar quarterback Taysom Hill is contemplating coming back to BYU if he receives a medical redshirt. His replacement, Tanner Mangum, had a very strong season in his freshman campaign. There has been a lot of talk about what BYU should do if Hill decides to come back. You went through a similar dilemma with two very talented quarterbacks in Marc Wilson and Jim McMahon. What advice would you give to Sitake and Detmer about the quarterback situation?
LE: I think make a decision early on in the season who your quarterback is and go with him. Don't be changing back and forth. I went through a good portion of the year doing that (with Wilson and McMahon). The next year, I decided to redshirt Jim (McMahon) — he didn't like it. We went with Marc Wilson because he was a senior, then I had Jim for the next two years. That's what they (Sitake and Detmer) need to do — decide who they're going to go with and stick with it.
DC: Last question: Should BYU go back to wearing royal blue?
LE: Yeah, probably. I think they should, frankly. I never thought a whole lot about it. We changed (school colors) when I was there and looking back, I think it was a mistake. I like the old royal blue and feel like that's what we should have stayed with.
---
![](http://media.bonnint.net/slc/2539/253958/25395882\.jpg?filter=ksl/65x65)

**About the Author: Dylan Cannon** ----------------------------------

Dylan Cannon is a regular KSL.com contributor and can be reached at DylanCannon86@gmail.com or via twitter @DylanCannon11.

×
Related stories