Estimated read time: 7-8 minutes
This archived news story is available only for your personal, non-commercial use. Information in the story may be outdated or superseded by additional information. Reading or replaying the story in its archived form does not constitute a republication of the story.
OREM — Utah Valley's senior backcourt has a chemistry that's years in the making.
Around age 12, Marcel Davis and Jaden Jackson began playing together as members of a Utah Avalanche basketball team.
Their fathers, Rodney Davis and Rob Jackson, coached their Avalanche team — a squad that was largely put together by the guards — and the current Wolverines duo quickly learned how each another liked to play.
"We always were a run-and-gun type of team," Jaden Jackson said.
Davis running the point and Jackson stretching defenses with his 3-point shooting, they continued as teammates into their AAU years when they were featured for current SLCC head coach Todd Phillips as members of Utah Pump-N-Run between their sophomore and junior seasons in high school.
"They really got down the court," Phillips said. "Jaden just has a natural feel of where to be on the floor and how to get down the court to find his shot, and Marcel was really good at pushing the ball and getting guys shots."
The pair stuck out on a successful AAU team, Phillips said, which produced four Division I basketball players.
Jackson went on to be the state scoring champion at West Jordan High School as a junior, and as a senior Davis helped lead American Fork to the state championship final before losing to Lone Peak.
"State championship on my birthday — worst birthday ever," said Davis, the sting of the defeat still evident in his voice.
But AAU and high school were just the beginning of each player's achievements.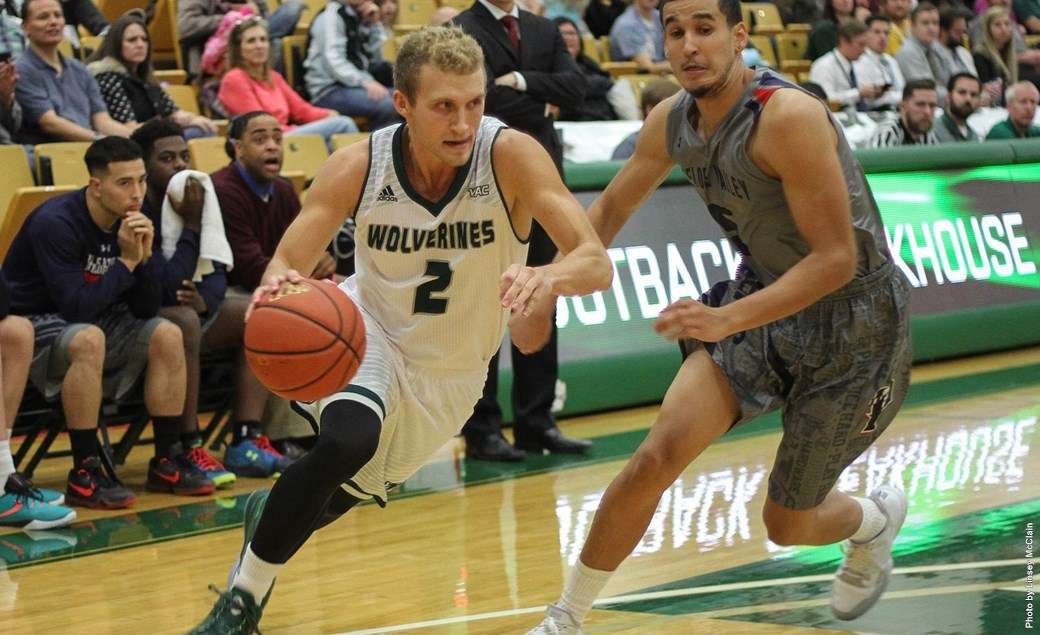 Davis committed to Utah State and played in his freshman and sophomore seasons as a part of 20- and 18-win teams. After his younger brother Matteo suffered burns to two-thirds of his body in a stove-fire accident, Davis decided he needed to be closer to his family and transferred to Utah Valley.
"We get together every Sunday and just have family dinner," Davis said. "I see them at every game. We get pizzas after every game. That's (Matteo's) thing: he loves pepperoni pizzas. Every time he sees me coming out with a pizza, he runs down to the court."
Matteo is doing well and growing, Davis said, before cheekily adding, "He's going to pass me up pretty soon."
While tragedy prompted Davis' move to Utah Valley, Jackson was thriving at SLCC before he was recruited to play for the Wolverines.
"I think Jaden's greatest asset is his game grows all the time, just gets better and better," Phillips said. "He came off the bench as a freshman and then was a big-time starter for us as a sophomore."
In Jackson's two years at SLCC, the Bruins finished first in Region 18 twice and made it to the NJCAA Sweet 16 in 2014.
Although the guards didn't purposefully end up on the same team as they had as youth players for the Avalanche, Jackson and Davis said they texted as they pondered the decision to enroll in Orem.
"I just wanted to stay close, but having Jaden here made it all that much better," Davis said.
Both became Wolverines prior to last season — Dick Hunsaker's last as head coach — and the NCAA granted Davis a transfer waiver that allowed him to play right away.
"You already know someone, so it's not so hard meeting all the new guys," Jackson said.
The reunion eased the transition for both players, who were not only adapting to a new school but also to an offense that primarily focused on executing its offense out of half-court sets.
This season, however, they're back to their old tricks.
"I just get the rebound, or get the outlet, and then I just listen to wherever Jaden is," Davis said. "He's like, 'Cel' and that's the first thing I'm looking for because I know once we get the rebound, he's gone. If he catches it on the 3-point line with his feet set, it's a bucket. I've seen it happen way too many times not for it to go in. And if it doesn't go in, I just tell him, 'hey, the next one's in.'"
Jackson is shooting just below 40 percent behind the arc and averaging 12.7 points per game. Davis, he says, sets up a number of his looks.
"He can get to the rim whenever he wants," Jackson said of Davis. "He's quick off his first step and he gets by people really well. He's really good at finishing around the hoop, so that's huge for us. He's a great passer as well. That's important for me, too, when he drives and draws everyone then he looks for me and finds me at the three if he doesn't have it."
Davis leads the Wolverines with 4.2 assists a night and is just behind Jackson with 12.1 ppg.
Their mutual understanding was perhaps never more evident than when Utah Valley trailed Weber State by seven with 2:20 remaining Dec. 9.
"Everyone's running the court and I passed it to Jaden, and no one picked me up, so I was wide open for a couple trail threes," Davis said.
The American Fork native sunk back-to-back 3-pointers to pull the Wolverines within one. Then, with 24 seconds to play, he found Jackson to for a go-ahead three.
Utah Valley went on to win the game in double overtime thanks in large part to Davis and Jackson, who finished with 16 and 23 points, respectively.
"We really needed it, and we knew that — that we were due," Jackson said of the victory. "I think it is a big turning point for us. We're kind of meshing now and playing how coach has envisioned."
Related Story
On a team with only one other player — Konner Frey — who had played in Division I prior to the season outside of Davis and Jackson, Utah Valley coach Mark Pope said their experience has meant "everything" and they've taken "on a huge burden of leadership for us."
"Seniors are special," he added. "I just believe that as much as I believe anything about this game. Seniors are special. They often play better than they are. They make really great things happen. They certainly stepped up when we needed them (against Weber State)."
Pope's noticed the "quiet trust" they play with for one another, and the winning tradition Davis and Jackson have established in their past is helping them impart wisdom on their teammates who are still adapting to the class of competition.
"It's weird because I feel like I'm still like a kid, but now everyone's looking up to me for my advice," Davis said. "I try to teach them as much as I can, and coach gives me the freedom to talk to guys and explain to guys why I made this read and why this is the correct read to make."
While the duo is happy to mentor younger players, they both want nothing more than a WAC tournament championship and the accompanying automatic bid to the NCAA tournament.
But even if they fall short of their lofty goal for the conclusion of the season, they want to leave a legacy of hard work and continuous improvement. Their coaches, former and current, see success in their futures.
"I think one of the biggest things that you can kind of see in certain guys — they're great basketball players, they're good students, but they're both going to be successful in life because they just have that demeanor about them," Phillips said. "I think as a college coach a lot of times you're looking for talent, but you're looking for kids that you know are going to be winners and be successful. I think both of those guys have those from AAU and their high school teams."
---
Kyle Spencer is a freelance journalist residing in Orem. You can find him on Twitter @kyledspencer or reach him by email at kspence04@gmail.com.
×
Photos
Related stories