This archived news story is available only for your personal, non-commercial use. Information in the story may be outdated or superseded by additional information. Reading or replaying the story in its archived form does not constitute a republication of the story.
SALT LAKE CITY — Football is a high-risk sport, and no one knows better than Jordan High School wide receiver Jackson Bolingbroke who suffered a concussion when he was blindsided in a game this past season.
"I don't remember it that much," he said. "I actually got knocked out when it happened. The hit kind of came from the side. I really didn't see it coming."
But imagine a different scenario if players like Jackson could wear a futuristic helmet currently being proposed by a team of University of Utah researchers. The "smart helmet," as it's called, would dramatically reduce the risk of a concussion by releasing air from bladders embedded throughout the inside of the helmet.
"Instead of getting hit hard by something really hard like a mallet it would feel more like getting hit by a hard pillow," said U. of U. mechanical engineer Mark Minor. "Like a shock absorber, the helmet would slowly dissipate the forces, providing a softer more gradual impact to the head."
Recognizing multiple forces to the brain, the helmet would transfer air from one side to the other, reducing energy not only from the direct hit, but also when the head hits the ground.
In addition to cushioning from air bladders, the smart helmet would have built-in radar. That monitoring would give a player a 200-millisecond advanced warning of an incoming blindside hit.
"We don't want to affect the game," U. of U. electrical engineer David Schurig cautions. "We want the helmet to be passive except when it really needs to trigger some mitigating action."
The audio alert through a helmet headset would not give the player a game advantage — enough time to get out of the way, but only to prepare two-tenths of a second before the hit.
U. of U. bio-mechanics engineer David Carrier says, "It's going to be a new sensory system that players may have to learn to make use of."
The warning should trigger an instinctive action where players clench the neck muscles, reducing whiplash to the head.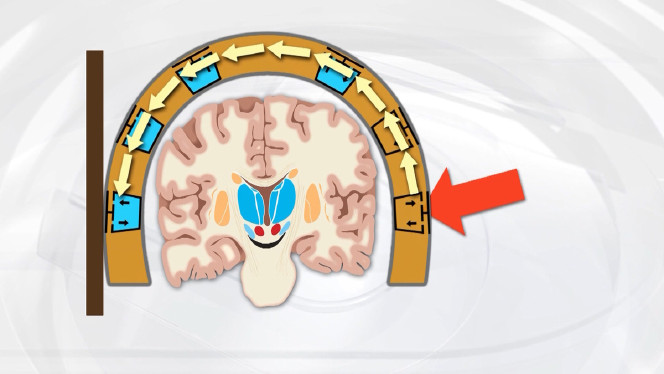 KSL-TV
"Part of the question is," Carrier said, "is that going to help protect the brain? Is that going to help the person about to be hit clench in a way that is protective?"
The helmet would provide a "smart" fit. According to Minor, "That could be something where when somebody puts it on the first time the helmet learns how to adapt, automatically adjusting to that player."
And it would be built to last, taking a hundred thousand hits or more before needing an overhaul or replacement. Researchers want the helmet to be comfortable so players focus on the game — not the high-tech.
"The proposed helmet kind of surprises me," said Drew Lisk, who was the quarterback for Jordan High School this past season. "But at the same time, with all this technology, why not take advantage of it if it can help?"
Bolingbroke, who got knocked unconscious, believes "such a helmet may have cushioned my hit better. Maybe it wouldn't have been as severe."
The U. of U. research team includes Andrew Merryweather, Carrier, Schurig, Minor, Brittany Coats, Neal Patwari and Colby Hansen. Together, they provide a novel mix of minds in bio-mechanics, biology, electrical engineering, mechanical engineering, robotics and medicine. The group has applied for a $2 million grant to study, design and build the smart helmet.
×
Photos