Estimated read time: 4-5 minutes
This archived news story is available only for your personal, non-commercial use. Information in the story may be outdated or superseded by additional information. Reading or replaying the story in its archived form does not constitute a republication of the story.
LOGAN — Two former junior college players who had to overcome obstacles to make it to the Division I ranks now have a chance to land on NFL teams following their time at Utah State.
Wide receiver Hunter Sharp and nose guard David Moala were key contributors to a team that reached its fifth straight bowl game before losing to Akron 23-21.
Both seniors said they enjoyed their time in Logan and will remember the friendships they formed over two seasons.
"The bond that I've built with some of the players," Sharp said of the memory he'll carry with him. "Not being from Utah, but spending some time out here, I think this will always be a place I can come and visit. I lived here, and I feel like I have family here in Aggie nation. It's very comforting here."
Rated the No. 14 receiver in the upcoming NFL draft by ESPN, Sharp finished 2015 with 71 catches for 839 yards and 10 touchdowns despite being suspended the first two games against Southern Utah and Utah.
The Palmdale, California, native nearly gave up football before his junior year in high school due to his love for skateboarding.
Sharp said the balance he developed on a skateboard has helped him in his role as the Aggies' No. 1 pass-catcher, but to make athletic plays like he did against Boise State and Air Force he added that there's a lot of thought that goes into it.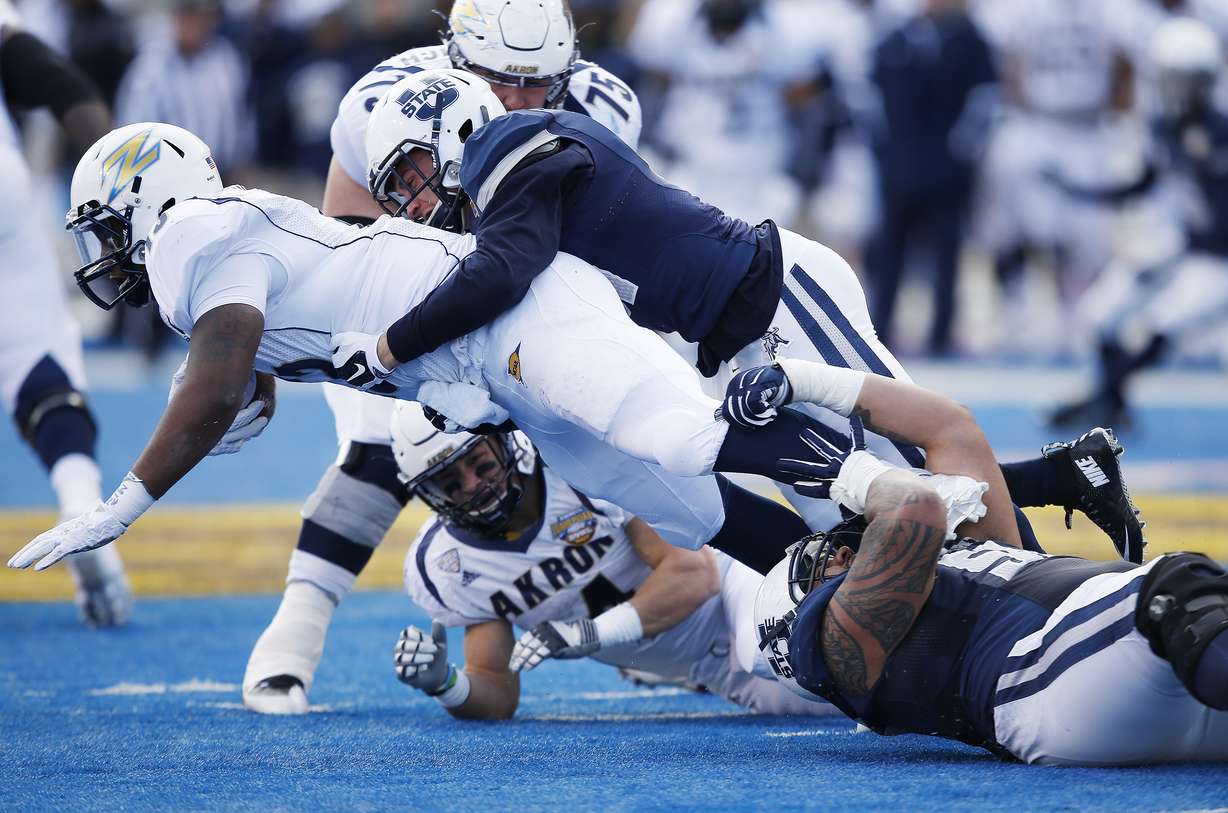 "I just try to slow the ball down with my eyes, look the ball all the way in and grab the ball – pluck it out of the air," Sharp said. "Do my best to try to not let it hit my body. I always have times that the ball just goes into my body and sometimes I'll be OK with that, but when I'm in traffic, I like to catch the ball with my hands."
While Moala understands his position isn't as celebrated as Sharp's, he led Utah State with 4.5 sacks even though he also missed two games due to a knee sprain.
"My motivation was to come in and live up to what I was recruited for," Moala said. "I didn't want to be a drop off with all the great defensive players that came to Utah State."
A crucial part of the Aggies' defensive line, the big man from Inglewood, California, said he regrets not getting into playing shape and learning the playbook in time to make an impact last season, but with the work he did over the offseason being sidelined this year was extremely difficult.
"Missing that time, it hurt because my brothers are out there battling and I couldn't be out there with them," Moala said.
Both players have relatives who are stars for NFL teams. Sharp's cousin, Derrick Johnson, plays linebacker for the Kansas City Chiefs, and Moala's cousin, Haloti Ngata, is a defensive tackle for the Detroit Lions.
"Around the time of my senior year in football, I went to a game and we got to talk after," Sharp said of Johnson. "He just gave me some inspiration. He told me to keep pushing forward no matter what and keep my head up. He told me that it's in my blood, so just got to work hard for it."
Moala's brother, Fili, plays for the Indianapolis Colts, and he also has two brothers, as well as a number of cousins, who played college football.
"I've always tried to pick their brains anytime I ran into them," Moala said. "Just going through this process – it's who you know. They've been through it and I'm going through it and why not ask somebody I'm close to, that I'm blood-related to, how the process goes and how they work out, what they did."
Famous Idaho Potato Bowl
Though Sharp and Moala have their sights set on playing professionally, they said their life perspectives have changed since welcoming newborn babies into their lives this year. For Sharp, a daughter born in April, and for Moala, a son born in September.
"Football's not bigger than life," Moala said. "That's something that we've got to live by. Life is way harder than what we go through in football."
They'll walk away from Utah State having played important roles in helping the Aggies continue their renewed tradition of bowl eligibility and cited the growth they've made as reasons they're grateful for the time they spent in Logan.
"Utah State's not known for recruiting the most talented guys," Moala said. "They bring guys in here and they do a good job of molding them into who they want to become – the Aggie way. That's something that Utah State has built their program on."
---
Kyle Spencer is a freelance journalist residing in Orem. You can find him on Twitter @kyledspencer or reach him by email at kspence04@gmail.com.
×