Estimated read time: 5-6 minutes
This archived news story is available only for your personal, non-commercial use. Information in the story may be outdated or superseded by additional information. Reading or replaying the story in its archived form does not constitute a republication of the story.
PROVO — Lexi Eaton Rydalch was feeling it — and so was the BYU women's basketball team for the first 10 minutes against rival Utah in Saturday's latest Deseret Duel clash.
Rydalch scored 14 of her game-high 29 points in the first quarter as the Cougars shot 54 percent from the field and made their first four 3-pointers to jump out to a 29-14 lead.
But when Utah mounted a late drive down the stretch, BYU was forced to hold off the charge without its top scorer and rebounder due to foul trouble.
Enter Cassie Broadhead and Makenzi Morrison Pulsipher.
The sharpshooting duo knocked down back-to-back shots after Rydalch fouled out with 3:26 left in the game, and BYU held on to take a 73-59 win in the 104th meeting between the two rivals Saturday at the Marriott Center.
"We knew we had to step up without our two scorers. But I think we came together as a team," said Broadhead, who finished with eight points, three rebounds and two assists. "We've had moments in the season where Kalani and Lexi have been in foul trouble, so we didn't stress too much about it.
"We pulled together, and knew we wouldn't be able to win unless it was with all five of us."
Rydalch and Kalani Purcell fouled out by the 3:26 mark of the fourth quarter — about three minutes after top rebounder Purcell fouled out. At that moment, Utah (5-3) put together an 8-0 run to pull within nine at 63-54 on a pair of free throws by Paige Crozon, who finished with 11 points and 10 rebounds.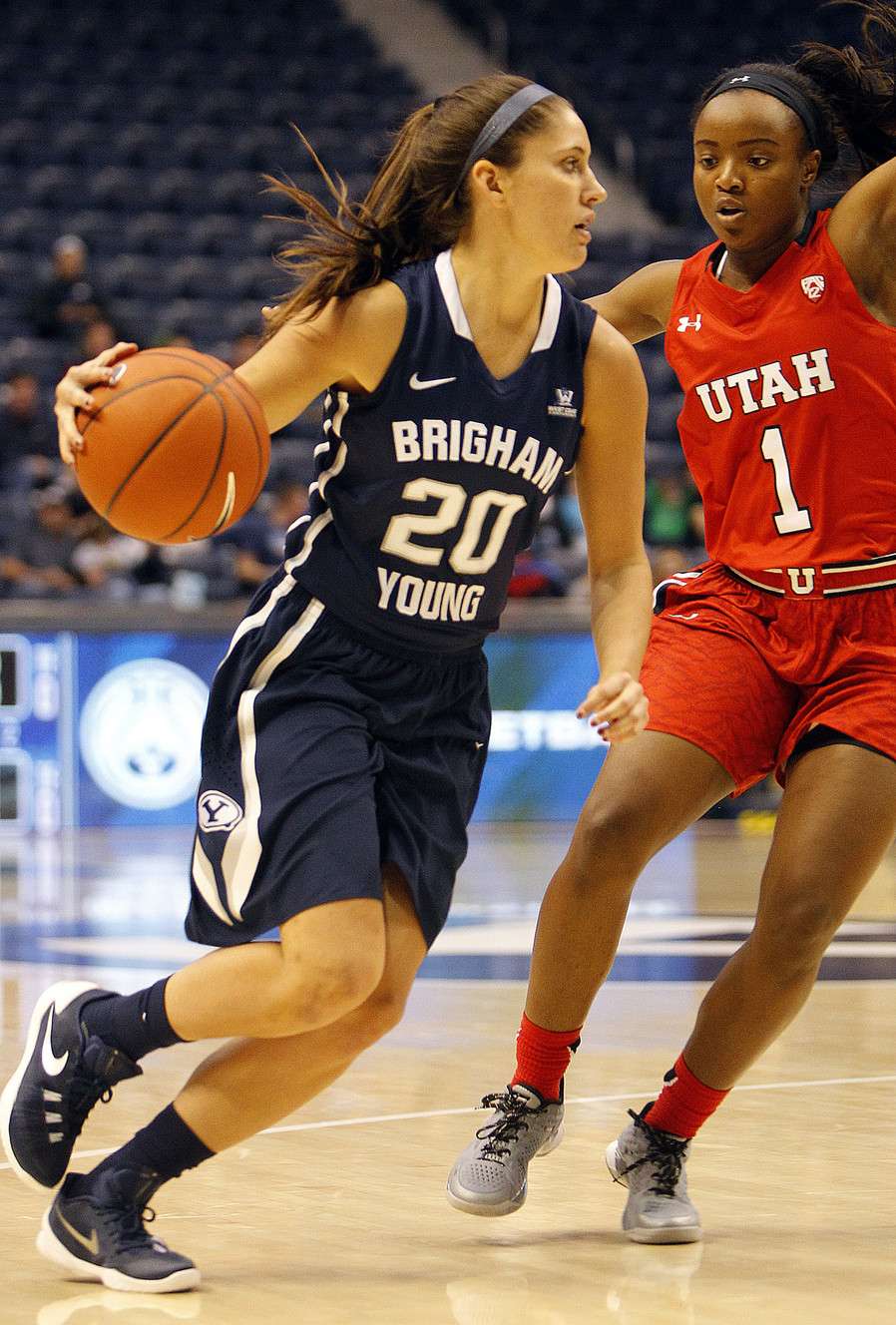 But Broadhead hit a long jump shot on the next possession to stretch the lead back to double-digits for BYU (8-3), and Pulsipher drained her first triple of the game with 2:01 left on the clock to push the advantage to 68-55. The Alta High alum finished with nine points, six rebounds and five assists for the Cougars.
"It was good for those two to learn how to play with four fouls in a game like this, and then to see my team bounce back when they fouled out was really nice," said BYU coach Jeff Judkins, whose team won its sixth straight game. "Cassie is going to be a really good player when she gets her minutes; she always plays big in games."
Katie Kuklok hit a 3-pointer from the right corner to pull Utah within 10 points again, 69-59 with 1:05 left on the clock. But the Utes could get no closer.
Rydalch also had six rebounds and two assists for the Cougars, and Purcell finished with nine points, 12 rebounds and four assists, including six points, five rebounds and three assists during the first quarter.
"I think we're seeing Kalani can be an All-American with the way she plays both ends of the floor," Judkins said. "She and Lexi are a tough duo. I'm glad I don't have to prepare for them. They are hard to guard. They're smart, and they know how to work really well together."
Emily Potter led the Utes with 24 points and 17 rebounds, including a first-half double-double at 19 points and 10 rebounds.
But the Cougars shot 54.5 percent from the field in the opening quarter, knocking down all four of their 3-point attempts, and Utah had no response on the perimeter while also trying to fight off Purcell — "a matchup nightmare" — in the post.
"She's a post player that can pass it like a guard, drive it like a guard, shoot like a guard, and she hustles," Rydalch said. "She just does it all. It's tough."
The Utes scored 12 of their 14 first-quarter points in the paint, led by Potter's eight and six off the bench from 6-foot-4 center Joeseta Fatuesi.
But when a team is knocking down shots at the rate BYU did Saturday afternoon, it's hard to keep up.
"I think coming in, we knew that we were hard to guard in our motion," Rydalch said. "As long as we set good screens for each other, and were patient on offense, we were going to get anything we wanted."
Potter led the Utes on a 10-0 run to start the second quarter, pulling within five, 31-26 with 4:44 left in the half. But Kylie Maeda's floater with eight seconds left gave the Cougars a 40-30 lead, and BYU took a 40-31 advantage into the break.
After the break, the Cougars got defensive. The home team sprinted out of the gate on a 10-2 spurt to push the lead to 48-35 with 6:15 left in the third quarter. Rydalch pushed the lead as high as 19 after taking back her own turnover and turning it into an opportunistic two points with 2:30 left in the period to go up 56-37.
A combination of Jasmine Moody and Purcell on double-team help held Potter scoreless in the third quarter, and a foul in transition on Moody sent the Utes' leading scorer to the bench with her third foul with 1:47 left in the penultimate period.
"I was really proud of Jasmine," Judkins said. "In the first half, she got beat up to a pulp and got schooled. But this is where kids learn, and we told her to quit being nervous at halftime and play her game. I thought she did a really good job of playing what we needed her to."
Related Story
BYU wrapped up non-conference play at 8-3, with eight of its 11 games on the road. The Cougars played only in-state opponents Utah Valley, Utah State and the Utes in the Marriott Center while also collecting additional wins over Power 5 squads Penn State in California and Texas A&M in Hawaii.
On the final day of fall semester, BYU finished 39-0 at home across all sports, and the Cougars' women's team was unbeaten against the Utes in the annual Deseret Duel.
The Cougars finished the first part of the season with the 10th hardest schedule in the nation, and a top-15 RPI that should bolster its bid for a third-straight NCAA Tournament bid this March.
"To go 8-3 and the majority of those games on the road, it was worth it," Judkins said. "We've learned a lot as a team and have grown close together. Hopefully it helps us in conference play to get us where we need to go."
×
Photos
Related stories
Most recent Sports stories