Estimated read time: 2-3 minutes
This archived news story is available only for your personal, non-commercial use. Information in the story may be outdated or superseded by additional information. Reading or replaying the story in its archived form does not constitute a republication of the story.
WEST VALLEY CITY — Al igual que muchos padres, Laura Cardoza estaba muy feliz de tener a su bebé y quería compartir su historia en línea con amigos y familiares. Pero lo que no sabía era que otra persona, que vive a miles de millas de distancia, tenía una historia diferente para compartir.
"Yo sólo quería mostrar cómo estaba, y su progreso y lo orgullosa que estoy de ella ... pero supongo que me salió el tiro por la culata", dijo Cardoza.
Fotos y vídeos capturados durante los primeros 2 años de Emma en la Tierra -fueron compartidos por Cardoza, al igual que muchas otras madres, en Facebook.
"Era la historia de mi hija y yo, y de todos los desafíos que ella pasó desde que nació", dijo la nueva mamá.
El sábado, Cardoza recibió un mensaje en línea de un extraño, que vive a más de 2.000 millas de distancia, en Syracuse, Nueva York. El hombre, llamado Andy, tenía un mensaje extraño para compartir.
Cardoza dijo que Andy le dijo: "Yo tengo una hija. Ella tiene 23 años. Ella fingió estar embarazada, y al parecer también fingió tener al bebé y el bebé supuestamente habría nacido muerto". Él dijo que Emma parecía muy familiar.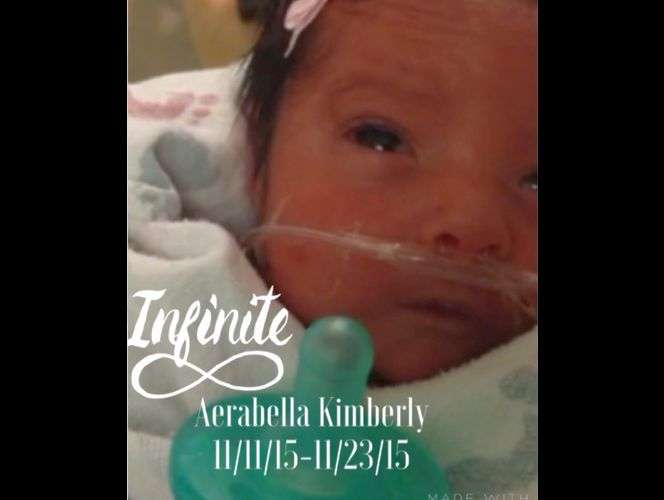 "Hicimos la investigación y nos enteramos de que son las fotos de su hija las que ha estado utilizando" Cardoza le dijo a Andy. También dijo que su hija estaba usando el dulce rostro de Emma para su propio beneficio personal, y agregó que la mujer obtuvo dinero para pagar el funeral del bebé imaginario.
Efectivamente, cuando Cardoza miró en el perfil de Facebook de la mujer ella vio por sí misma: una fecha de nacimiento y una de muerte, estampada en una foto de la cara de la bebé Emma.
Ahora Cardoza quiere compartir su historia, con la esperanza de que los padres de todo el mundo piensen dos veces antes de publicar fotos del bebé o videos en línea.
"No pensé que iba a sucederle a mi bebé", dijo Cardoza. "Uno siempre piensa que eso no va a pasarle a usted, y pasa".
Los expertos dicen que los padres nunca deben publicar fotos de sus hijos solos en línea - Siempre debe haber alguien más en la foto con ellos. También sugieren el control de su privacidad en Facebook estableciendo cada tres meses para asegurarse de que sólo está compartiendo con la gente que quiere.
Para obtener más consejos sobre cómo mantener tus fotos y vídeos seguros en línea, eche un vistazo a la sección de consejos de seguridad y Asesoramiento en www.connectcafely.org.
×
Most recent News stories