This archived news story is available only for your personal, non-commercial use. Information in the story may be outdated or superseded by additional information. Reading or replaying the story in its archived form does not constitute a republication of the story.
PROVO — A college football head coach's legacy can most easily be determined by what he does between the hashmarks of the football field every Saturday afternoon.
For BYU coach Bronco Mendenhall, his 99-42 record in 11 seasons speaks well to that end.
But Mendenhall's legacy is so much more than football-related, athletic director Tom Holmoe said.
"So much of what coaches produce is not on the field, and that's the part that the public never sees," Holmoe said after Mendenhall accepted the head coaching job at the University of Virginia. "So much of what he's done here can't be said, can't be reported, and those are the most valuable talents that Bronco possesses."
Mendenhall was promoted to head coach after just a few years as BYU's defensive coordinator, a 38-year-old college coach who had never taken the top job at an FBS institution before his hiring.
But far from "the default guy," Holmoe said Mendenhall was best equipped to manage BYU's football program after spending four years with a combined 26-23 record under former coach Gary Crowton.
Mendenhall is more than just a "BYU guy," Holmoe said, but BYU still left a major mark on his life — both personally and professionally.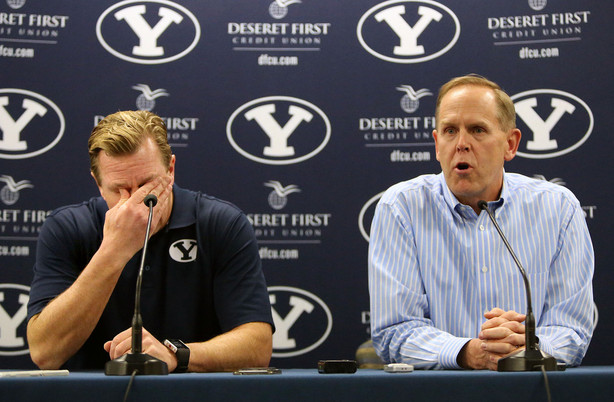 "People have asked me for years if Bronco could coach somewhere else. Yes, he can coach somewhere else," Holmoe said. "He is a very, very good football coach. Sometimes when you win 8-9 games in a down season, that seems unusual to me.
"His respect around the country is immense, and he has a great opportunity, and I think he is going to do a great job."
The Cougars were coming off three-straight losing seasons when they promoted Mendenhall from defensive coordinator, a similar move to when legendary coach LaVell Edwards took over the program decades previous.
In nearly a dozen years since, the Oregon State grad and American Fork native elevated the program to 10 straight winning seasons after finishing 6-6 in his first year. Indeed, that .500 year became something of an outlier for BYU in the Mendenhall era, finishing with at least nine wins six times.
"Bronco came in and changed everything," defensive end Bronson Kaufusi said. "Where the program is at is great, and it will continue to get better. That's one of the attributes of a great leader: When they leave, can the boat still sail?
"I know that Bronco is a great leader, and so I know this program will continue to progress and improve."
Mendenhall laid a groundwork for BYU's future coach, and his current players are confident the next top man will embody similar values as the new Virginia coach has for 11 seasons.
"This is a special place, so whomever it is, we'll be excited to play for," quarterback Tanner Mangum said. "Coach Mendenhall teaches us that, and it's something he's instilled in me: that football is just a game, and there's more to life than just football.
Related Story
"The mission of BYU football will always be to change lives through football excellence, and that's what coach Mendenhall has been about. I have no doubt that the new coach who comes in will continue that."
The chance to send Mendenhall to the East Coast with his 100th win — and against rival Utah in the Las Vegas Bowl, where Mendenhall earned his first bowl victory as a head coach in 2006 — is special for departing senior receiver Mitch Mathews.
"We want this guy to get that win and we want to send him out that way, and show this program how much we are going to miss this guy," Mathews said. "We're going to play harder for him. He's done so much for this program, and there will be an added level of commitment and intensity this week.
"We want to send him off with a win."
×