Estimated read time: 3-4 minutes
This archived news story is available only for your personal, non-commercial use. Information in the story may be outdated or superseded by additional information. Reading or replaying the story in its archived form does not constitute a republication of the story.
DANCE FACTORY — It's that time of year again to don our red and green seasonal sweaters and get a little jiggy with the dulcet beats of pop Christmas song covers.
At least that's what the Orgill family from Highland, Utah, is doing for their fourth annual family Christmas dance video. But this year is different — this year their amateur but fun-loving and goofy video struck a chord online after Ammon Orgill posted the family's video on his Facebook page. In four days it has garnered almost 2 million views with comments from all over the world.
Ammon Orgill said that making videos in general is something the family has always done together.
"Our family has actually loved making videos together since we were very young. Our parents would have us put on funny little plays and then videotape us just for fun. With eight young children, they were always looking for ways to keep us busy," Ammon said in an email. "So it was really a natural, everyday sort of thing when we decided to do our first Christmas music video back in 2012."
Ammon said that first video wasn't meant to start a tradition, but when Christmas rolled around in 2013, they couldn't help but try to recapture the fun they had the previous year. Thus their Christmas family dance party tradition was born.
"Each year has gotten a bit more elaborate, involving more planning than the year before. And more family members have been involved each year after seeing how much fun we had the previous year," Ammon said.
But that's not to say all family members are on board. Sometimes there is "begging" and "pep talks" involved when the production day hits its natural lows, Ammon said, but "overall we have such a blast, especially seeing the finished product in the end."
The aforementioned blast to be had is more than obvious in this year's video, as the family moves and shakes to Justin Bieber's version of "Santa Claus Is Comin to Town." Sure, some dancing talents are … more elegant than others, but that doesn't stop the video from being a perfect delight.
If you're worried about the taste level of some of the sweater choices, perhaps even with thoughts of calling the fashion police, don't worry, it's all part of another Orgill family tradition.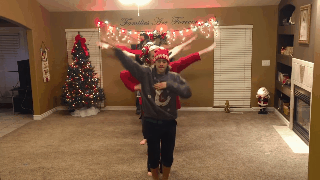 "Our mom has accumulated an exorbitant amount of Christmas sweaters/vests, which are all, in our opinion, 'ugly,'" Ammon said. "The first year we made the video, we thought it would be hilarious to bring out the collection of Christmas sweaters. The sweaters were the perfect touch for our video — and it has been tradition to include them every year since."
Even though the videos are all about having fun, Ammon said the family noticed that the videos are also indicative of the bigger picture that makes up the Orgill family.
"With five siblings by birth and three adopted siblings, new spouses, and now lots of grandkids, we are all really different individuals in many ways and have our share of familial stress and conflict. But the really great thing about our family — and that our parents really need to be given credit for — is that we know how to put these differences aside and just love each other. We would all do anything for each other, and I think that love and togetherness really shows in our video," Ammon said. "In fact, our parents have a quote hanging on their wall that really describes our family well: 'We may not have it all together, but together we have it all.'"
Features: Have You Seen This?

Click here to watch more funny, odd and amazing videos curated from the Internet just for you.
---
Martha Ostergar is the former video productions manager of KSL.com. She has moved on to write elsewhere, but she can't seem to break her habit of cruising the Internet for amazing videos and writing about them. Follow her on Twitter at @monstergar.
×
Photos
Related links
Most recent Utah stories