Estimated read time: 5-6 minutes
This archived news story is available only for your personal, non-commercial use. Information in the story may be outdated or superseded by additional information. Reading or replaying the story in its archived form does not constitute a republication of the story.
SALT LAKE CITY — New regulations could be coming down the pipe for Utah's e-cigarette industry.
Among them: safety warnings, ingredient labeling and childproof packaging.
"We are protecting the health of children, which is really the main purpose of this rule — to prevent child poisonings," said Luke Chalmers, a tobacco control policy analyst at the Utah Department of Health.
While the hand-held, battery-operated devices have exploded in popularity, lawmakers and public health officials have scrambled to rein in what they say is an industry operating largely without regulations.
Earlier this year, state lawmakers gave the Utah health department the power to create new standards for the manufacture and sale of e-juice, also known as e-liquid — the liquid concoction of nicotine, flavoring and other chemicals that goes into vaporizers.
Among the proposed rules:
E-juice cartridges must have child-resistant packaging.
E-juice cartridges must have a label that states nicotine is "addictive and poisonous," and the label must take up at least 30 percent of the largest panel of the container.
Retailers must not sell e-juice that contains pharmaceuticals, caffeine or any vitamins or additives that give the impression the liquid has health benefits.
Chalmers said the health department will likely require retailers to produce a certificate that states their products do not contain these substances. The proposed rules also limit the amount and concentration of nicotine per cartridge.
The committee that proposed these rules spoke extensively with e-cigarette industry representatives to make sure the rules didn't put "an undue burden" on the industry, according to Chalmers.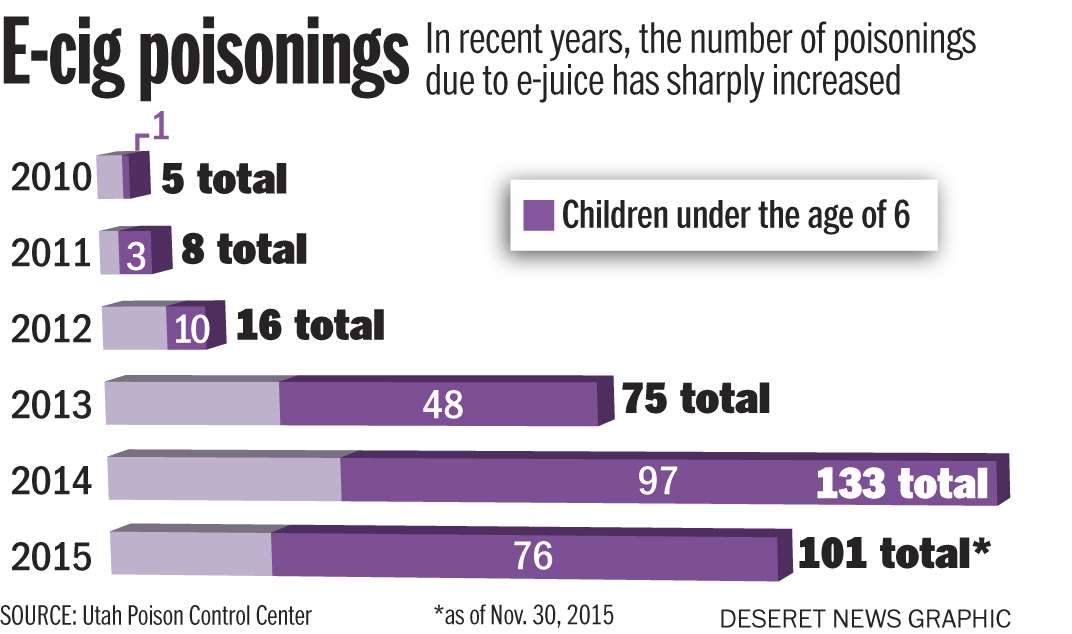 As far as the new rules go, Shaylee Jackson, the manager of Vape Juice, an e-liquid manufacturer based in Ogden, said she was "waiting for it to happen."
Jackson said Vape Juice already puts warning labels and childproof caps on all of its juices.
"It's very strict," she said. "We have our own lab, and it's very clean; everything's disinfected, everything like the nicotone is separated from the flavorings."
And business, Jackson said, is booming. The wholesaler, which produces the in-house e-juice brands Drag'n Juice and Black Drag'n, recently opened four retail stores in Texas, Colorado and Arizona that "have turned into million dollar stores."
"It's a very nice business to be in," Jackson said.
The Utah health department publicly called for stronger regulations on the e-cigarette industry at a news conference in August, describing it as an unregulated new technology that is undoing the work of decades of anti-tobacco messaging.
Joseph Miner, the executive director of the health department, cited statistics that showed e-cigarettes had overtaken traditional cigarettes in popularity among Utah teens. In two years, the number of Utah students who reported using e-cigarettes had doubled, mirroring data from across the country.
Miner said he was concerned that e-cigarettes entered the market as a new technology with little oversight or quality control.
Data from the Utah Poison Control Center shows poisonings from accidental ingestion of e-liquids has spiked over the past few years, from 16 cases to 2012 to 133 cases in 2014. Children under age 6 made up the majority of the exposure cases.
But Michael Berry, the owner of Blackhouse Vapor Co. in Sugar House, said lawmakers and public health officials misunderstand what vaping is about. He said e-cigarettes, which were initially introduced into the market as a tool to help people quit smoking, can actually benefit public health.
"The goal is to get people off of cigarettes. No matter what people say, the idea is to get people to quit smoking," Berry said.
The 43-year-old started Blackhouse Vapor after his father and grandfather both died of tobacco-related diseases, both at very young ages. Berry used e-cigarettes to help wean himself off chewing tobacco and said he saw it work for friends who wanted to quit smoking.
With its palette of exposed brick, industrial lighting and warm, distressed wood, the upscale "vapor lifestyle shop" looks more like a high-end coffee bar than a smoke shop. Pick an e-juice flavor from the chalkboard, lean back into one of the tufted sofas — even order coffee or food from nearby Trolley Wing Co. or Este Pizza.
Berry said his employees help customers step down to e-juices with lower and lower concentrations of nicotine and eventually help them quit vaping.
"I know that doesn't seem like the best business model to get your customers to quit, but that truly is the idea," Berry said.
As for the proposed rules, Berry said his shop already complies with them. He only sells e-juice with childproof caps and safety warnings, and manufacturers aren't likely to go above 240 mg of e-juice per container anyway.
But he fears that any legislation, especially talk of a tax on e-cigarettes and e-juices, will throttle growth in an industry that is just taking off.
"They're stepping over dollars to pick up dimes," Berry said. "Rather than allow the industry to take off and save billions in health care — let alone the tax revenue from a growing industry — they want to damage it by imposing a sin tax before it's even gotten out of the gate."
The potential harms and benefits of e-cigarettes are still being debated. Most health care providers agree that e-cigarettes, which produce vapor, are likely healthier than cigarettes, which burn tar.
But early research also supports the theory, advanced by many public health officials, that e-cigarettes are causing more adolescents to experiment with traditional cigarettes later in life. A large national study is underway that will test this theory.
Chalmers said the proposed rules, if they pass, are still "nowhere near" the regulations on cigarettes, which are subjected to premarket government review and federal and state taxes.
"E-cigarettes don't have any federal regulation imposed upon them at this time, so states and different local areas have been filling that void," he said.
Chalmers said the department received 64 comments during the public comment period from Oct. 15 to Nov. 16. Officials are sorting through those comments and may make further changes to the proposed rules.
They hope to have final regulations in place by the beginning of next year. Email: dchen@deseretnews.com Twitter: DaphneChen_
×
Photos
Most recent Utah stories