This archived news story is available only for your personal, non-commercial use. Information in the story may be outdated or superseded by additional information. Reading or replaying the story in its archived form does not constitute a republication of the story.
HYRUM — The annual Elk Festival will be held Saturday, Dec. 12, giving families the opportunity to participate in a variety of outdoor activities and to see a herd of wild elk up close.
The festivities will be held at the Hardware Ranch Wildlife Management Area on state Route 101 and will run from 10 a.m. to 2 p.m., according to the Division of Wildlife Resources. The Elk Festival will include a variety of family activities including making Christmas ornaments from sagebrush and other plants, painting a wooden fish and making a bird feeder from a pinecone.
Horse-drawn sleigh rides will also be offered through a meadow at the ranch, where participants may be able to view wild elk. About 200 elk migrated to the ranch on Nov. 25 and ranch managers said they can often hear the bull elk bugling in the evenings, DWR said.
Sleigh rides to view the elk will be offered starting Friday, Dec. 11 from 12-4:30 p.m. Saturday during the Elk Festival, the rides will be offered from 10-4:30 p.m. Rides will also continue Sunday from 10-4:30 p.m. and Monday from 12-4:30 p.m.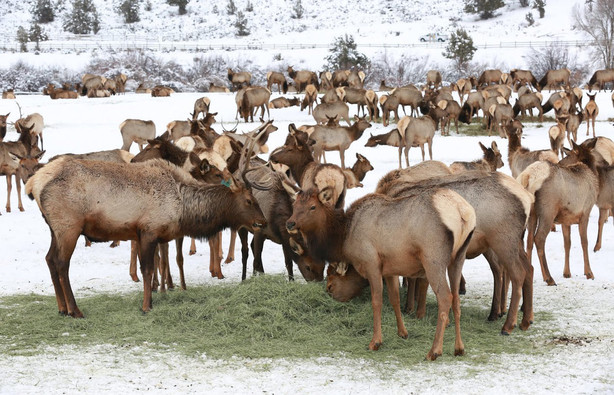 DWR will be offering a new activity as part of this year's Elk Festival: the Willy Wapiti's Smoke Pole Biathlon. Those who participate in the biathlon will move along a wooded trail that has five target shooting areas and competitors will fire two shots at each target. Those who hit the most targets in the least amount of time will win. Prizes will be offered in three different categories, DWR said.
Participants are encouraged to bring their own muzzleloader and snowshoes because the ranch staff have a limited number. Participants should also bring snow boots in case the snow isn't deep enough to use snowshoes, DWR said.
People can register for the Elk Festival activities on the DWR website or get more information by calling the Hardware Ranch 435-753-6206. All of the activities are free except for the sleigh rides, which will cost between $3-$5.
Food will not be offered at the event, but participants are invited to bring a picnic lunch, DWR said. People are also encouraged to bring binoculars to view the elk.
×
Photos
Related Stories