SALT LAKE CITY — Kick off your holiday season with tree lightings, Santa sightings and lots of concerts. Here's your 2015 guide to holiday festivities around the state.
Now-Dec. 23: Santa's Reindeer at Thanksgiving Point: Meet some of Santa's reindeer at the Water Tower Plaza. Runs Monday through Saturday from noon until 10 p.m. Admission is free.
Now-Dec. 23: Ogden City Christmas Village: Stroll through the lighted village, visit Santa in his castle, take a ride on the Polar Express Train and enjoy live entertainment. The village will be lit every night from 5 p.m. until midnight.
Now-Dec. 24: Heber Valley Railroad North Pole Express: The 90-minute ride features hot chocolate and cookies from Mrs. Claus. See website for prices and ticket information.
Now-Dec. 27: Holiday Lights at Thanksgiving Point: Come see 1 million sparkling lights and light-up displays that include angels, snowmen and reindeer. Keep warm in your car or view the lights by wagon or trolley.
Now-Dec. 28: Downtown Jingle Bus in Salt Lake City: Take this bus to see all the sights downtown. This holiday-themed ride will circulate between the Gateway, Temple Square, City Creek Center Gallivan Plaza and Capitol Theatre. The bus runs from 5 p.m. to 10 p.m., seven days a week, free of charge. Courtesy of the SLC Downtown Alliance, City Creek Center and The Gateway.
Now-Dec. 31: Lights on Temple Square: Christmas season begins when millions of lights are turned on the day after Thanksgiving. All events on Temple Square are free and the lights will stay on until Dec. 31. No tickets necessary.
Now-Jan. 2: Savior of the World on Temple Square: This musical production is based on scriptural events surrounding the birth of Jesus Christ. Tickets are required. Evening performances are $8 and matinees are $5.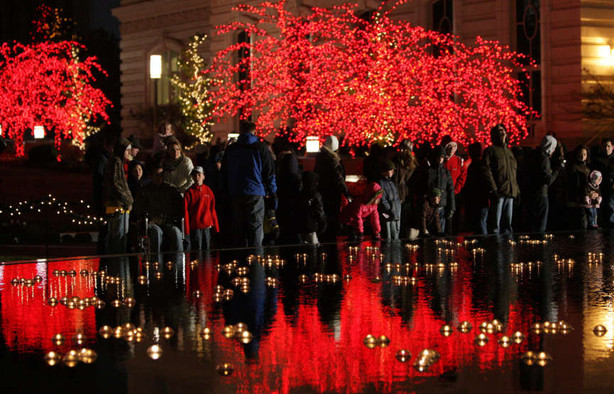 Now-Dec. 31: Draper City Park Tree of Lights: The tree lighting ceremony has already happened but stop by and enjoy thousands of lights and see the famous willow "Tree of Lights" take center stage.
Now-Dec. 31: Montage Hotel Christmas Tree: This Park City hotel features the biggest Christmas tree in the state, standing at 55 feet with over 10,000 lights. Enjoy walking through a winter wonderland before you get to the main attraction.
Now-Dec. 31: Utah State Capitol Christmas trees: For the first time ever, the Utah State Capitol has decked its halls. Enjoy Utah-themed Christmas trees all season, found inside the building.
Dec. 1: Kids and Christmas at Peery's Egyptian Theater: Featured performers include Choral Edition, The Kids are Music Children's Choir, Weber High School's Chamber / Bell Choir, Kim Florence from the musical, "SCROOGE," Energy Dance Co. and more.
Dec. 1-23: Christmas Cruise at CLAS Ropes Course in Provo: See thousands of lights reflecting off the water as you enjoy a boat ride about 25 minutes long with lighted holiday scenes along the shore. Santa will also make an appearance in his canoe. Blankets and warm clothes are encouraged since the boats are uncovered. Tickets are $8 per person and kids 2 and under are free.
Dec. 1- Dec. 31: Deck The Hall at Sandy City Hall: Visit City Hall during the month of December to see the thousands of lights outside, an old-time village and a huge Christmas tree that can be found inside.
Dec. 2: Nativity in the Glen: This live Nativity scene started as a joint effort between First Baptist Church, the Wasatch Presbyterian Church, St. Ambrose and Lady of Lourdes Parish churches and The Church of Jesus Christ of Latter-day Saints, Bonneville Stake. Held for one night only, it goes from 6 p.m. to 9 p.m. at 1050 S. 1500 East in Salt Lake City.
Dec. 2-5: Dickens' Christmas Festival- St. George: Not just a craft show, this festival also has unique live performances. Enjoy period costumes, old shops, fortune tellers, royalty and the real Father Christmas, $7 adults, $6 seniors, $5 kids ages 4-12 and children 3 and under are free.
Dec. 2-5: Festival of Trees in Sandy: Come see over 700 beautifully decorated trees, wreaths, centerpieces, gingerbread houses, quilts and playhouses in the festival's 45th year. Every penny raised helps the Primary Children's Hospital; $6 per adult, $3 for kids ages 2-11. Tickets for adults 65 and older cost $5. Family tickets for up to six people allowed on Wednesday, Dec. 3, for $15. Discount tickets can be purchased at most Zions banks.
Dec. 2, 9, 16: Winter Nights at Natural History Museum of Utah: Enjoy discounted shopping and live performances every Wednesday night starting at 6:30 p.m. Bells of Joyful Sound choir performance on Dec. 2, How the Grinch Stole Christmas live performance on Dec. 9, SLC school musical performances on Dec. 16. Performances start at 7 p.m.
Dec. 3-4: Christmas Storytelling with Utah Valley Symphony: Storyteller Steffani Raff returns with the Utah Valley Symphony to help you celebrate the holidays with a night of stories and music at the Covey Center for the Arts in Provo.
Dec. 3-5: UVU Let Christmas Shine Ballroom Concert: See a high-energy Christmas concert featuring music, dancing and dazzling costumes. Visit uvu.edu for ticket information.
Dec. 3-5, 7: Alpine Living Nativity: This live Nativity scene is offered at 317 Heritage Hills Drive in Alpine. Tickets are required.
Dec. 3-31: Zoo Lights at Hogle Zoo: The Zoo Lights at Hogle Zoo return for its ninth year with more than 250 animated light displays. Wear hologram glasses to walk in the 135-foot lighted tunnel. Every night features a fun family activity. Santa will also be at Macy's Santa Station until Dec. 24. Lights went on at 5:30 p.m on Nov. 29.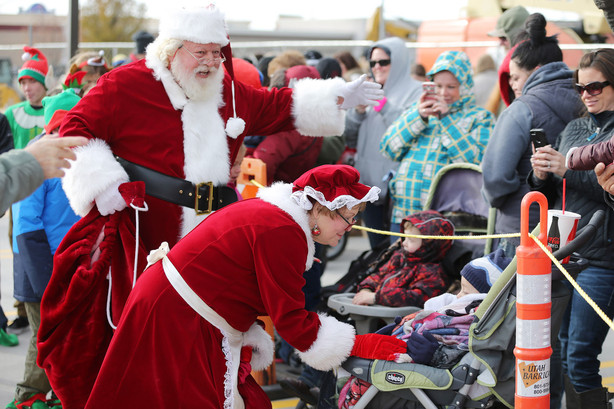 Dec. 4: Christmas at the BYU MOA: A Norman Rockwell Holiday: Enjoy a festive, art-focused evening at the BYU Museum of Art featuring the exhibition American Chronicles: The Art of Norman Rockwell. Refreshments, Christmas music, and interactive activities will be provided. All exhibits are free this evening. From 7 p.m. to 10 p.m.
Dec. 4: Holiday Stroll by the Salt Lake Gallery Stroll: Find the perfect art gift for any budget. Galleries across Salt Lake will be stocked with modestly priced pieces and craft items. Visit gallerystroll.org for more information.
Dec. 4: Light the Night in South Jordan: It's the annual Christmas tree lighting ceremony for South Jordan. Enjoy free hot chocolate and cookies, free ice skating rentals and free wagon rides. Come and see Santa, who will arrive in a fire truck. Starts at 6:30 p.m. at the South Jordan City Plaza.
Dec. 4: Moab City Holiday Tree Lighting: Live music with local choir and bands, Santa, cookies and hot cocoa will be provided at the tree lighting in Moab. From 5 p.m. to 8 p.m. at Swanny City Park.
Dec. 4-5: BYU's Christmas Around the World: More than 200 dancers will demonstrate this year's theme "The Gift." Visit BYUtickets.com for ticket information.
Dec. 4-5: Willow Park Zoo Reindeer Trek: Enjoy games for kids, holiday displays and decorations and animals of the zoo. Kids can visit with Santa and pet two of his reindeer. A photographer will be on hand to take pictures. Price is $3 for adults and $2.50 for kids ages 2 and up.
Dec. 4-8: Weber County Holiday Festival: View holiday memorabilia from all over the world at the Weber County Fairgrounds. There will also be a live Nativity scene. Held from noon until 8 p.m., and admission is free. Donations of new unwrapped toys and food pantry items will benefit the Children's Justice Center, The Christmas Box House and the Ogden Food Bank.
Dec. 4-5, 11-12: Sandy Arts Guild Christmas in Concert: Enjoy an intimate Christmas concert at the Sandy City Chamber Theater. Featuring Sam Payne, Joslyn, Josh & Lindsey Wright and Mercy River. Ticket prices vary per show.
Dec. 4-5, 7, 11-12: Riverton City Holly Days: Santa will be on hand every night to see the kids. Wander through all the light displays and see the giant-sized pages of "The Night Before Christmas." Enjoy a concert from students and residents from concert producers Chris and Bruce Lawrence on Dec. 4.
Dec. 4-5, 8, 11-12, 15, 18-19: "The Dickens Christmas Carol Show" by Sugar Factory Playhouse: Bring your family to see this holiday classic play at the Midvale Performing Arts Center. Tickets are $5 to $8. See sugarfactoryplayhouse.com for ticket information and show times.
Dec. 4-19: The Forgotten Carols Christmas tour: See the timeless Christmas classic during its tour in Utah. Performances will be held in Ogden, Orem and Salt Lake City. Visit the website for exact dates and times.
Dec. 4-23: "A Christmas Carol," a musical by Hale Center Theater Orem: See the original musical retelling of Charles Dickens' "A Christmas Carol." Visit haletheater.org for ticket information.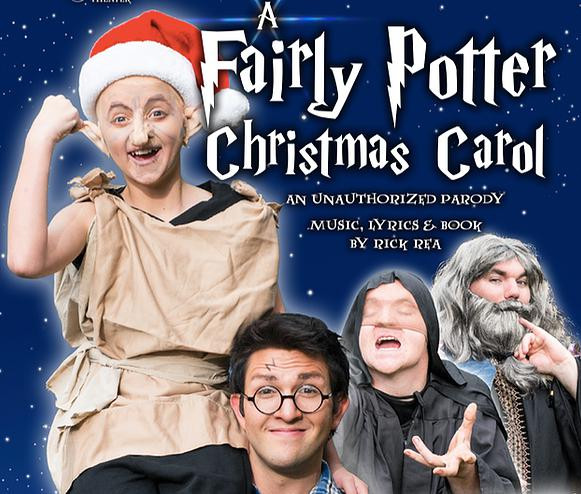 Dec. 4-12: A Fairly Potter Christmas Carol: This is an unauthorized parody following the success of Fairly Potter in 2013, at the Ziegfeld Theater in Ogden.
Dec. 4-31: Candy Windows in South Jordan: View 10 difference holiday scenes created entirely from candy pieces in shop windows along Towne Center Drive.
Dec. 5: Christmas Electric Light Parade in Moab: The parade begins at dark on Main Street. Meet Santa and enjoy live entertainment. Hot cocoa will be provided.
Dec. 5: Morgan City Ol' Time Christmas on Commercial Street: This event includes a tree lighting ceremony, music, activities, Santa and a gingerbread decorating contest. Admission is free and it goes from 2 p.m. to 6 p.m.
Dec. 5: Provo Santa Run: Here's your last chance to run in Santa garb. This 5K starts and finishes at The Shops at Riverwoods in Provo. Fuel up at milk and cookie aid stations. The race will be followed by holiday fun. Pre-race day registration is $36.
Dec. 5: South Jordan City Sounds of the Season concert: A choir and orchestra, conducted by Marlene Stanley, will play holiday favorites at the Bingham High School Auditorium. Jazz singer Bonnie Harris will also perform. Performances at 2 p.m. and 7 p.m, both are free.
Dec. 5-6: Red Butte Garden Holiday Open House: 19 local artists will have handmade gifts for sale, including jewelry, pottery, photography and more. There will also be free cider and hot chocolate to enjoy as you walk through the winter wonderland garden. Open 10 a.m. to 5 p.m., free admission, thanks to ZAP.
Dec. 5, 12, 19: Breakfast with Santa at Thanksgiving Point: Enjoy breakfast with Santa, Mrs. Claus and other North Pole characters. Kids can participate in dance contests, sing-a-longs, games, crafts and cookie decorating. Tickets can be purchased in advance for a discount.
Dec. 5-24: "A Christmas Carol" by Hale Center Theatre in West Valley City: See the holiday classic's 31st annual production. Visit hct.org for ticket information.
Dec. 6: Wasatch Community Symphony Orchestra Holiday Concert: The holiday concert will feature classic Christmas songs like Tchaikovsky's Nutcracker Suite and Handel's Messiah. The symphony will also play Hanukkah music. Admission is free and the concert will be held at All Saints Episcopal Church in Salt Lake City at 7 p.m. Stay after for free cookies.
Dec. 7: Christmas Tree Lighting at West Valley City Family Fitness Center: Visit with Santa and go on a candy cane hunt. The tree lighting will start at 6 p.m. and be followed by a Walk with Santa. Free hot chocolate and cookies will be provided.
Dec. 8: Morgan Valley Chamber Orchestra Winter Concert: This free performance will be held in the Morgan High School auditorium at 7 p.m. Enjoy holiday music and free cookies.
Dec. 10-12: Dickens' Christmas Festival, Sandy: Catch it again in Salt Lake City if you missed it in St. George: period costumes, old shops, fortune tellers, royalty and the real Father Christmas, $7 adults, $6 seniors, $5 kids ages 4-12 and children 3 and under are free. At the South Towne Expo Center.
Dec. 10-12: Holiday Night Live at UVU: This comedy show is written and directed by UVU students and features original sketches, songs and digital shorts.
Dec. 10-12: A Kurt Bestor Christmas: Bestor will perform with his band The Collective and a chamber orchestra, featuring Nathan Pacheco and Ryan Innes.
Dec. 10-27: "The Nutcracker" by Ballet West: Come see the longest-running full production in America. Evening matinee performances run throughout the month at the Capitol Theatre in Salt Lake City.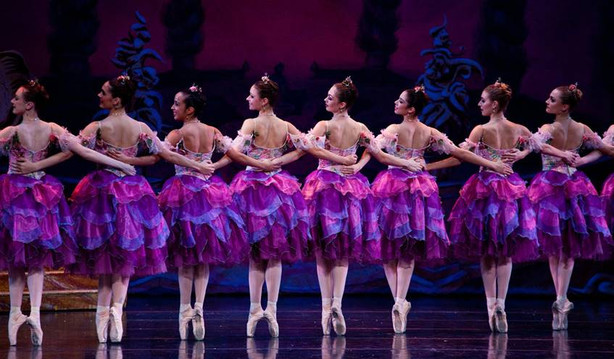 Dec. 11-12: The Night Before Christmas by the Salt Lake Dance Center: See the annual Christmas showing of this fantasy ballet performed by Ballet Jeunesse and community dancers. Visit arttix.com for ticket information.
Dec. 12: Christmas Jam of Utah: Bring the entire family to this all-ages show featuring familiar holiday tunes performed by local musicians and vocalists. Celebrating its sixth anniversary in 2015, this annual event is produced by Christmas Jam of Utah and proceeds from every performance benefit local charities. See christmasjamofutah.org for ticket information and show times.
Dec. 12, 14: "Nutcracker" by the Tooele Valley Academy of Dance: See this holiday classic for just $5 per person or $20 per family.
Dec. 12, 19: Breakfast & Brunch With Santa: The whole family can eat a warm breakfast with Santa at Discovery Gateway. The brunch will also include holiday crafts and play time in the museum with Santa. Tickets can be purchased online. From 8 a.m. to 10 a.m.
Dec. 14: Candy Cane Hunt at Draper Historic Park: Thousands of candy canes will be hidden around the park for kids to find. Open to boys and girls 3 to 6 years old. Santa and Mrs. Claus will arrive on a fire truck. Take your own pictures with Santa for free under the gazebo. Starts at 4 p.m. sharp.
Dec. 14: Christmas Carole Sing-a-long: Joshua Creek will be leading this sing-a-long at Vivint Arena. Admission is free, and it starts at 7 p.m. Doors open at 5:30 p.m.
Dec. 14: Millennial Choir and Orchestra Christmas concert: This holiday performance will be held at the Abravanel Hall in Salt Lake City. Ticket prices start at $22.50. Visit arttix.com for more information.
Dec. 18-22: "Nutcracker" by St. George Ballet Company: In association with Westside Studio of Performing Arts, the cast features over 120 local dancers.
Dec. 21: A Christmas Concert featuring Bonnie Harris and the Valley Jazz: Presented by the Utah Cultural Celebration Center, located at 1355 West 3100 South. Concert starts at 7 p.m. and admission is free.
See something missing? Leave a comment or email tsnowder@deseretdigital.com to add your event.
×
Photos