This archived news story is available only for your personal, non-commercial use. Information in the story may be outdated or superseded by additional information. Reading or replaying the story in its archived form does not constitute a republication of the story.
This story is sponsored by Jean Brown Research. To see if you qualify for the bunion removal study and schedule an appointment, please call 801-261-2000
When was the last time you saw a man in high heels? For many of you reading this, it was probably at the KISS concert you attended in the '70s when you told your parents you were going to see "The Shaggy D.A." with your friends.
Beyond that instance, it's probably been a while since you've seen men in heels. Granted, ranchers, farmers and the guys you see at the country-dancing club every week wear cowboy boots, and those boots clearly have a bit of a heel on them, but for the ranchers and farmers, that heel is there strictly for pragmatic reasons — reasons that include not slipping out of the stirrups and landing underneath the horse's hooves while riding. (The guys at country dancing have no excuse.)
And with the exception of men in the music scene who decided to push the retrospectively ridiculous fashion limits a bit further, namely Prince, Elton John and "the eternal" David Bowie, it's been quite some time since high heels for men were a mainstream fad — about 300 years or so, to be exact, according to Elizabeth Semmelhack, senior curator of the Bata Shoe Museum exhibition "Standing Tall: The Curious History of Men in Heels."
Let's walk through the history of high heels and men.
The rise
In centuries past, practicality was thrown out the window, replaced by sex appeal and the appearance of wealth. Just as being overweight was considered a sign of wealth and plenty during the Renaissance, high heels were representative of wealth and holiness — wealth because you were able to afford shoes that would keep you stilted above the waste-covered streets and holiness because, as the adage goes, "the higher the heel, the closer to God," as Jenni Avins notes for Quartz.
Originally, the Persian cavalry donned high heels. At the time, the reason behind wearing them had absolutely nothing to do with style — it had everything to do with war. "When the soldier stood up in his stirrups, the heel helped him to secure his stance so that he could shoot his bow and arrow more effectively," BBC News quotes Semmelhack as saying.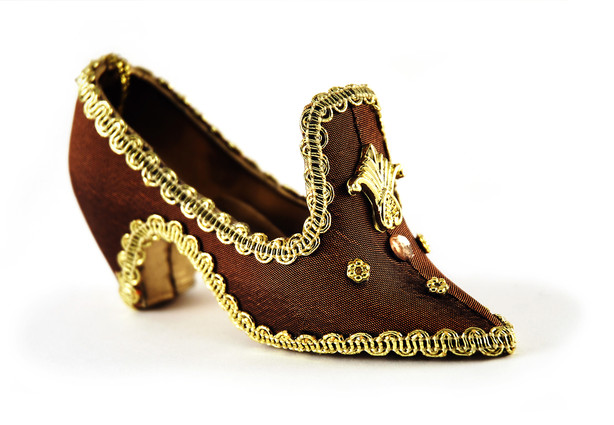 The fall
During the early 1700s — a time characterized by high fashion and red heels — another fad was quickly gaining in popularity: the Enlightenment. Some people have incorrectly believed it was Napoleon who brought about a widespread fashion revolution. But this change can actually be attributed to the Enlightenment, as Avins continued in Quartz — it was the Enlightenment's attitude of "We think fashion is frivolous and feminine" and "Intellect is manly" that saw men's shoes become less and less elevated, not Napoleon's distaste for high heels.
But there's another theory that could explain the reason for the decline of heels.
Bunions
According to Jean Brown Research, a specialized research organization in Salt Lake City, women are 10 times more likely to get bunions than men. While bunions are caused in part by conditions inherited from parents, high-heeled shoes can be blamed as the culprit. Now, if this study had been conducted four centuries ago, men would have been more likely to get bunions. But because of current fashion trends, women's feet are being smashed to the front of their shoes — smashed because of the angle of the shoe, gravity and body-weight movement when walking.
If you love high heels but are dealing with bunion pain, Jean Brown Research is looking for participants who would be willing to be part of its bunion removal study. Visit their website for more information on how to enroll.
×