This archived news story is available only for your personal, non-commercial use. Information in the story may be outdated or superseded by additional information. Reading or replaying the story in its archived form does not constitute a republication of the story.
SALT LAKE CITY — Instead of using window blinds, what if you could adjust the windows themselves to make them darker or lighter as needed?
That's the idea behind a project at the University of Utah that involves a student who has a compelling personal angle: Jeffrey Copeland is a 38-year-old homebuilder who decided to take a break from his business to go to college.
Copeland said he believes standard homebuilding materials are way out of date, and he'd like to help invent better ways to do things.
"I was disappointed in how few people were making changes, even though there are new materials out there," said Copeland, a materials science and engineering student at the University of Utah.
The project actually started with skiing, and an aggravating problem faced by every skier: Light conditions are constantly changing, so the goggles skiers wear are often too light or too dark.
"I moved to Utah to go skiing, actually," said Max Gallant, one of the students involved in the project. Along with students Nicholas Flinner and Carina Hahn, Gallant has been experimenting with materials that have so-called "electrochromic" properties.
"When you apply an electric current through the material, that changes its tint from either a dark state to a light state or anywhere in between," he said.
That gave rise to the possibility that ski goggles of the future could have lenses covered by electrochromic molecules. The goggles would be equipped with batteries and a switch to regulate the flow of electricity.
"Then the tint could become instantaneously what you desired it to be," Gallant said.
Later, Copeland joined the team. As a partner in a construction company, he'd long been frustrated by the lack of innovation.
"In the home industry, there's very little movement on what changes are taking place," Copeland said. "We're building the same way we've been building for the last couple of decades."
He's especially interested in energy efficiency. So when he had a business downturn, he decided to go to college for the first time and leave the company for his partner to handle.
"There was enough work for one of us but not both," Copeland said. "I had served in the military for a long time and had VA benefits. That allowed me the opportunity to come to school."
The student researchers realized that adjustable goggles and adjustable windows might have a common solution — "a membrane that we can apply to a glass," Copeland said.
Assistant professor Taylor Sparks oversees the research and said he admires Copeland's unusual career move.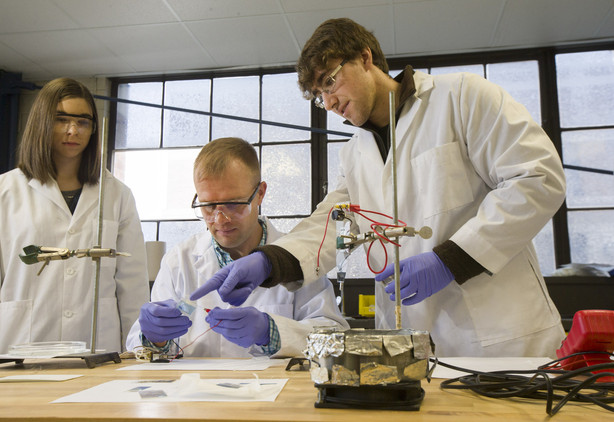 "He had a company. He was successful, had a good thing going for him," Sparks said. "But he saw an opportunity for taking a risk."
Window glass with variable shading is already on the market. But the existing products have light-changing molecules embedded in the glass itself. Creating that kind of glass requires a costly vacuum-chamber manufacturing process, according to Sparks and his students.
"It's extremely expensive, because you have to buy the windows as a single unit and then install them," Gallant said.
The innovation the team is working toward is to incorporate the electrochromic material into ultrathin sheets of plastic. The resulting film would be rolled onto existing windows, with an electric switch for the homeowner.
"So you can adjust the light coming in or out of your home or your car," Copeland said.
If the idea can be made to work reliably, the team believes it would be far cheaper than replacing the windows themselves with variable-shade glass.
Electricity consumption would apparently be negligible. The student research team has used the same two batteries to power all their experiments over the past year.
Even if the team proves the variable-shade film will work, that wouldn't end the research, Sparks said.
"The next question will then be: How do you integrate that with a system? Are you sure that you can roll this stuff up and have any old installation technician put it on someone's home and accurately set this up? Those will be some of the next challenges to address over the next year," he said.
The continuing research is getting a financial boost — a $15,000 grant — from the state Office of Energy Development.
For his part, Copeland believes the research has the potential to significantly improve the industry he intends to return to.
"If we can bring the costs down," he said, "I think it can be done in every single home — even old homes can be retrofitted with it — and make a huge difference and impact on the existing homes in Utah."
×
Photos