Estimated read time: 8-9 minutes
This archived news story is available only for your personal, non-commercial use. Information in the story may be outdated or superseded by additional information. Reading or replaying the story in its archived form does not constitute a republication of the story.
SALT LAKE CITY — It had been raining for a few days in Baghdad, obscuring terrain and hiding the large roadside bomb that would cost Sgt. Michael Lukow, then 21, his right foot and lodge a large piece of vehicle armor in his left ankle.
Lukow was providing personal security for his battalion commander in June 2007. On a routine trip to a meeting, he was in the passenger seat of the lead truck of a convoy when an "explosive formed penetrator" — an explosive designed to decimate armored vehicles — went off just outside an Iraqi Army checkpoint.
Lukow said he was unconscious for about 30 seconds after the explosion. He then managed to radio in the damage, extent of others injuries and all other radio traffic before dealing with his own wounds.
"I was a little angry at the medic for losing the piece of metal," Lukow joked. "I think it would have made a great belt buckle."
His left ankle is now held together with screws and metal plates. But Luckow, now a 29-year-old member of the USA Para Archery Team, hopes to receive metal of a different sort, preferably a gold medal at the 2016 Paralympics in Rio de Janeiro.
"I just do what I do," Lukow said with a shrug when asked how he overcame his injuries. "I've always been a fighter."
The fighter
Lukow had no previous experience with archery and didn't touch a bow until he arrived at Brooke Army Medical Center in Fort Sam, Texas, for treatment. That's where he met Skip Dawson, an archery coach and Vietnam veteran, who got him interested when he began work at a nearby archery range.
Lukow was told that soldiers were given jobs while at the medical center as a way to keep focused and motivated in rehab. He was given the choice of working at an archery range at the medical center or to check IDs. He chose the former.
"I wasn't about to sit around all day checking IDs," Lukow said.
He started working at the archery range in May 2008. As a professional soldier, he said his attraction to the sport was natural.
"They handed me a weapon and told me to get good at it," Lukow said. "It's kind of my job to do that, so I took it in stride as something that I needed to figure out."
Lukow said archery didn't necessarily come naturally, but rather it has been a constant fight to transition from injured veteran to Olympic hopeful.
"Even disabilities don't hold you back," Lukow said. "You might just have to work a little harder."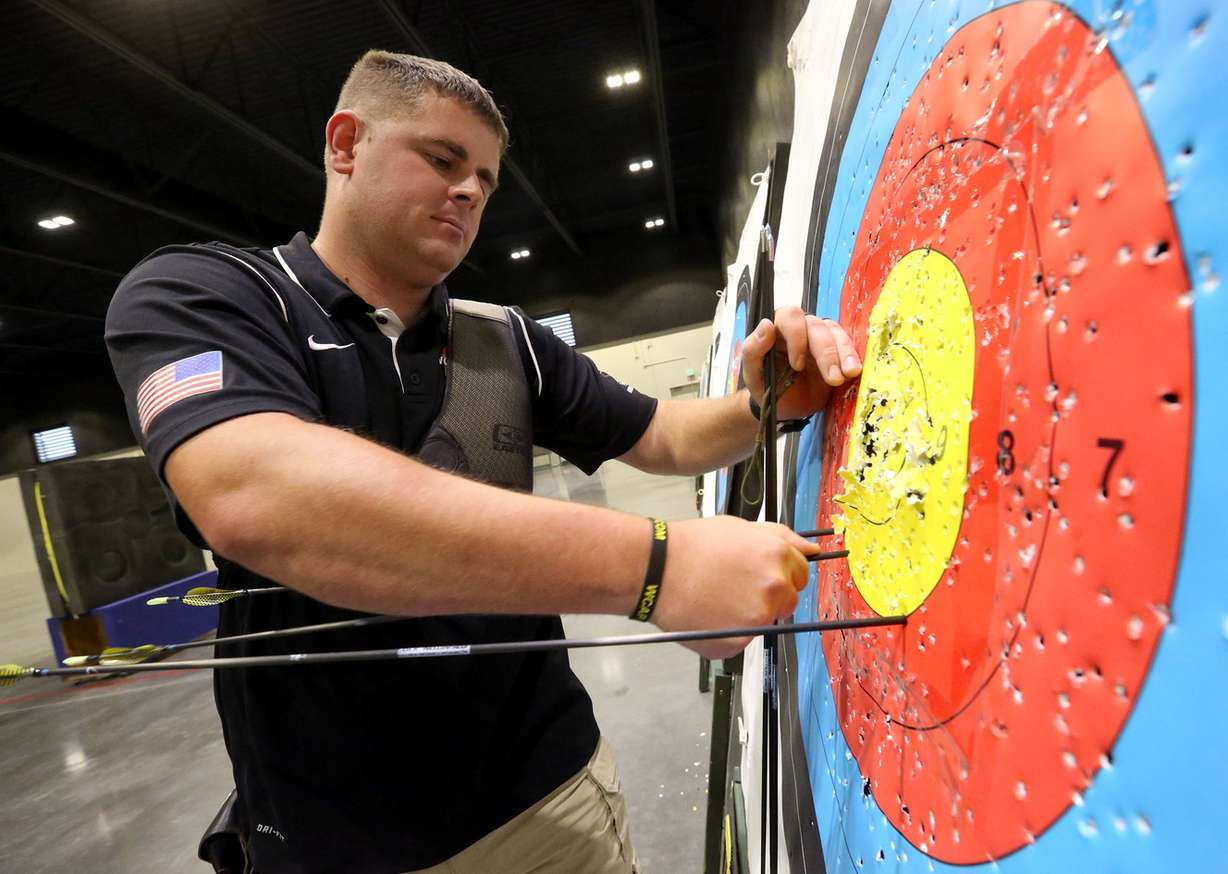 Preparation
Lukow spends most of his time training. He spends four to five hours a day, six days a week at the Easton Salt Lake Archery Center.
He said he shoots his 50-pound draw recurve bow a minimum of 200 times a day and only periodically stops to note results and tweaks to technique in a journal.
Lukow says his fighting spirit and a snarky, if not dark, sense of humor manifested itself at a young age when he resolved to join the military as a third-grader, something that his mother spent the next several years trying to talk him out of.
He was born and raised in Alamosa, Colorado, a small town about 35 miles from the New Mexico border. He said there were only about 30 people in his high school graduating class.
He joined the Army infantry in June 2005, two months after graduating high school. He received "one-stop training" at Fort Benning, Georgia, where he says he learned to do one thing: fight and fight well.
"I had expectations of much worse," Lukow said. "It was hard work and mentally draining, but I expected a lot more physical reaction from those training me."
He said that he expected to get "beat on" by trainers and was frankly relieved when he learned this wasn't true. "They're not supposed to swear at you. But it's the infantry. You need to be put in those high-stress situations to see if you can do the job," Lukow said.
He graduated from training around Thanksgiving 2005 and was stationed at Fort Riley in Kansas and assigned to the 2nd Battalion, 16th Infantry Regiment. He was deployed as some of the first troops sent to Iraq in the 2007 troop surge.
"In Jan. 2008, the good people of Iraq said I could go home early with a nice fireworks show," Lukow joked.
He was the only one hurt in the explosion, he said. By luck or intuition, he said he told the driver to take a turn wide, thus avoiding greater damage or damage to other vehicles.
The explosion mangled his right foot beyond recovery and it was amputated. A large piece of truck armor also lodged itself in the right side of his left ankle, cutting all the ligaments and breaking the bone that attached the foot bones to the lower leg. An ensuing infection further weakened the reattached ligaments, requiring a brace to be worn at all times.
Moving forward
Learning archery, getting a prosthetic and learning to walk again all served to reinforce progress. Archery and rehab helped Lukow regain his balance, which was difficult due to the loss of some sensation in his badly damaged foot and his prosthetic foot.
Spending time shooting on the archery range, he said, got him moving more outside of rehab. He started by shooting from a chair. He didn't have a prosthetic when he first competed in a national event as a para-archer.
He was fitted for his first prosthetic a year after his arrival at the medical center, he said.
"It was so much easier shooting standing up," Lukow said of transitioning to standing shots because of its more natural feel.
He won first in his first archery event by default — he was the only competitor in his category. But, he said his stats got the attention of those around him.
A fellow archer who was part of the Army's World Class Athletes Program told his leaders that Lukow would make a serious contribution to the program and convinced Lukow to apply.
That event and his scores from other events qualified him for the Army's World Class Athlete Program, Lukow said,
"I got decent pretty quick. So, I was getting noticed," Lukow said. "But I wasn't outstanding. It's been an eight-year struggle to get good at it."
As part of the application process, Lukow said he needed to show enough potential to be a realistic qualifier for Olympic competition. He made the national para-archery team, accepted into the program in Feb 2010.
Willie Wilson, chief of the Army's World Class Athlete Program, said the program was established at Fort Carson, Colorado, in 1997 to help world-class athletes compete at a world-class level, particularly the Olympics.
The Army gives competitors access to teams, coaches and gear to allow them the best chance to make Olympic teams and to represent well the military in competitions, he said.
Wilson said Lukow was stationed in Utah to be close to U.S. paralympic archer coach Randi Smith. Lukow also said he works with Smith at Smith's archery range and shop in Sugar House.
"The opportunity for soldiers to train, compete and qualify for the Olympics has been around for years. Gen. George Patton competed as lieutenant as a world-class athlete in 1912," Wilson said.
Patton competed in the modern pentathlon in the 1912 Olympics in Stockholm. The pentathlon consists of five events: a pistol shoot, distance swimming, fencing, an equestrian event and a distance run.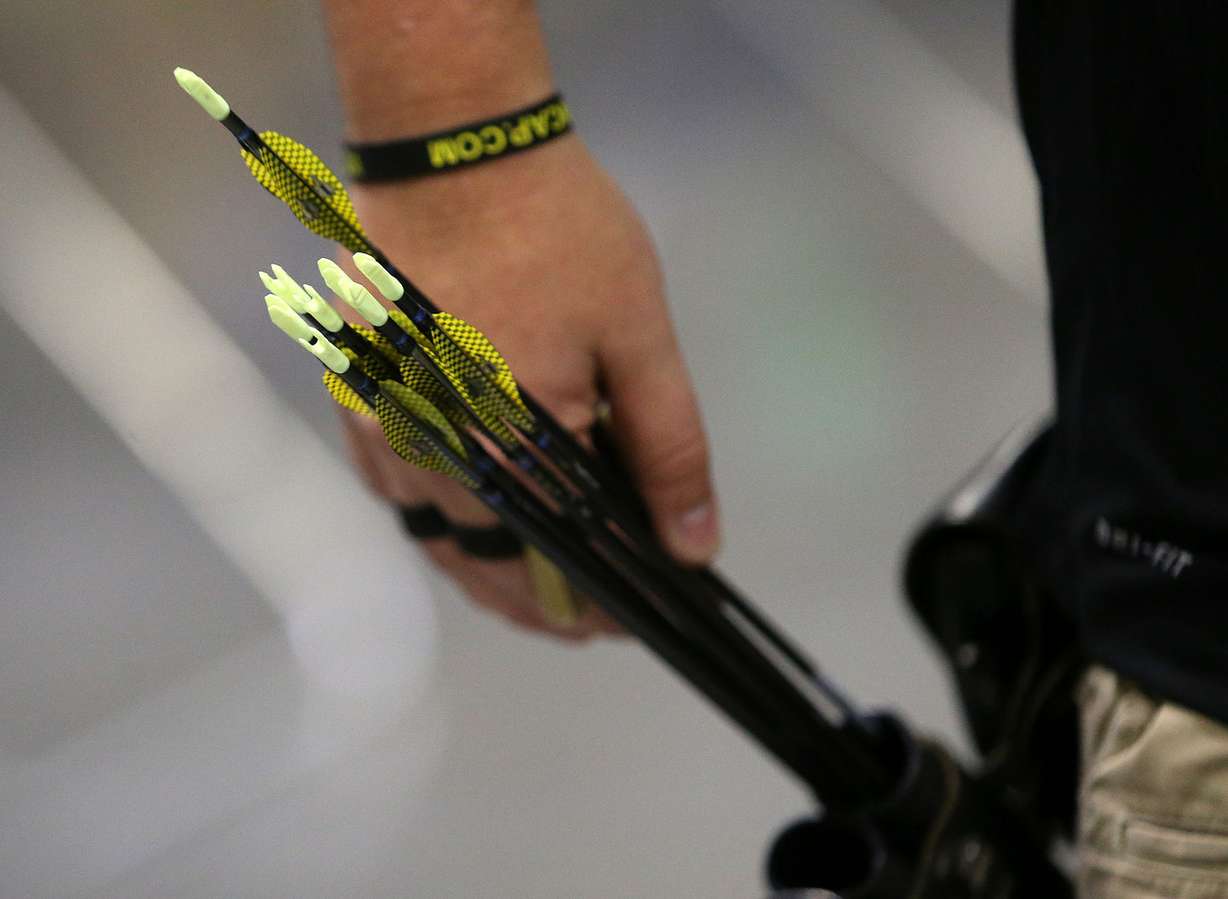 In the 2014 Winter Olympics in Sochi, Russia, Army Capt. Christopher Fogt won a bronze medal in bobsled, Wilson noted.
"Capt. Fogt, probably 14 or 15 months prior to the Olympic games was deployed as a soldier in the Army in Afghanistan," Wilson said. "They often share their pride in representing not only the Army and their fellow soldiers that are serving around the world in harm's way, but also to represent themselves … on the largest stage for their sport."
Sacrifice
Lukow said that he has already put thousands of dollars into his sport and that the support of the Army has made it feasible to keep training.
Recently, the Army bought Lukow an all-access pass to the Easton center, according to center manager Trevor Thornton.
Since joining the program, he has competed in the last three World Archery Para Championships with he U.S. national team. He has yet to medal but has always had strong ranking rounds for each competition before going out in elimination rounds, breaking into the top 20 each time, he said.
His focus now is on getting a spot on the U.S. Paralympic Archery team. He said that there is one more spot available on the team in his category.
Lukow said the determination will be made on a point system based on different aspects of performance all throughout the trials process. The person with the highest score at the end of trials gets the spot, he said.
He married his wife, Nikita, in June 2008 and they have a 2 1/2-year-old daughter named Luna. They first met in high school but didn't have a relationship until Dec. 2007.
He said his travel and training has been hard on his wife, but he says that she has come around to understanding that he is home a lot more than if he was on regular unit functions. And now when he shoots his new weapon of choice, no one's firing back. Email: chlarson@deseretnews.com Twitter: cdlarson15g
×
Photos
Most recent Utah stories