This archived news story is available only for your personal, non-commercial use. Information in the story may be outdated or superseded by additional information. Reading or replaying the story in its archived form does not constitute a republication of the story.
SALT LAKE CITY — Hoping to build excitement for its spring event in time for holiday gift-giving, Salt Lake Comic Con rolled out its first wave FanX guests Tuesday.
Convention co-founders Bryan Brandenburg and Dan Farr promised a string of guest announcements leading up to Christmas, hinting specifically at upcoming guests from TV hits "Doctor Who" and "The Walking Dead."
The lineup so far includes "The Walking Dead" fan favorite Norman Reedus; Peter Davison, who plays the fifth incarnation of the Doctor in BBC's "Doctor Who" series; John Rhys-Davies, the dwarf Gimli from "The Lord of the Rings" franchise; Summer Glau, who has starred in "Firefly," "Serenity" and "Arrow"; Dean Cain, who portrayed Superman in the series "Lois & Clark"; and film and TV star Curtis Armstrong, with roles including "Risky Business" and "Revenge of the Nerds."
"We have a long way to go to have a stronger lineup than what we've had in the past," Farr said, promising more guest announcements in coming weeks. "Every lineup we've had has just been fantastic, and they all have come together in a very unique way."
For fans of "real science" as well as science fiction, Brandenburg revealed that a NASA astronaut, to be announced in coming weeks, will be a guest at the event.
Coming just six months after the third Salt Lake Comic Con event, which drew more than 120,000 guests in September, the "boutique-style" FanX event is promising a small, high-quality event packed with a wide range of stars and hand-picked vendors. The founders also announced that Funko Pop! and their distinctive figurines will be returning, having signed a three-year contract with the convention.
FanX is scheduled for March 24-26 at the Salt Palace Convention Center. Anyone who purchases tickets before Nov. 30 will receive their passes and other goodies in time for Christmas, Brandenburg promised.
In time for the holidays, Farr and Brandenburg announced a new program allowing fans to purchase a pass that will then be donated, choosing from a number of "local heroes" and organizations including the Make-a-Wish Foundation, Firemen & Friends for Kids, the VA hospital and other veterans organizations. Passes can also be bought and donated to a teacher.
Announced celebrities attending Salt Lake Comic Con's spring event:
More information about ticket donations will be released in the near future, according to a comic con spokesman.
As it consistently draws thousands of guests downtown for each event, Salt Lake Comic Con also announced a partnership with the Utah Transit Authority that will allow attendees to buy discount transit passes and use their FanX wristbands to ride. An unlimited one-day pass costs $5 or a three-day pass costs $10.
Tuesday's news conference also included an update on the legal saga playing out between Salt Lake Comic Con and San Diego Comic-Con, which has sued the Utah convention over use of the title "comic con" in its name.
Brandenburg updated fans on a meeting that took place in Southern California's U.S. District Court on Monday, where representatives from both conventions made steps toward hammering out a settlement.
"The devil is literally in the details, so we're hoping that will be very promising," Brandenburg said. "Now, we continue to operate as Salt Lake Comic Con."
Brandenburg touted the decision by the U.S. Patent and Trademark office to put on hold an objection from San Diego Comic-Con. The complaint opposes a copyright awarded to Salt Lake Comic Con for its own name in July, but calling the term "comic con" too generic to trademark.
San Diego Comic-Con, a fixture in pop culture, filed a trademark violation lawsuit against Salt Lake's startup event in August 2014 after the Utah convention's immediate success. In the lawsuit, the San Diego convention claims legal ownership over the term "comic con" in its various forms, though similar events around the country use it.
San Diego Comic-Con holds the trademark on "comic-con," with a hyphen, but abandoned its 1995 bid for the rights to "comic con" with a space.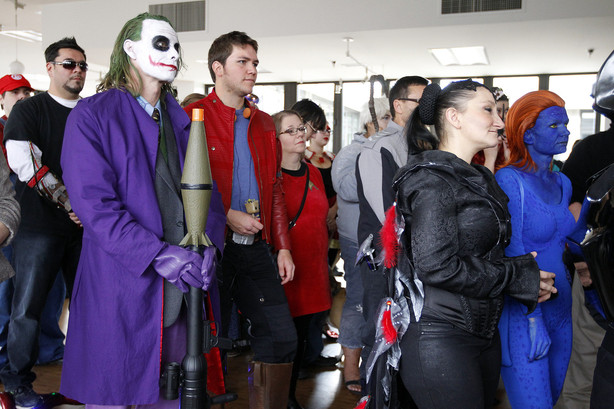 ×
Photos
Related Stories