This archived news story is available only for your personal, non-commercial use. Information in the story may be outdated or superseded by additional information. Reading or replaying the story in its archived form does not constitute a republication of the story.
WEST VALLEY CITY — The video shows West Valley police officers pursuing a fleeing vehicle with sparks flying out the back because it was down to its rims.
Without warning, a white pickup truck not involved in the chase can be seen as its driver apparently tries to stop the vehicle by performing a PIT maneuver.
"I've got a white Toyota getting in the way and interfering here. I don't know what he's doing. He's trying to PIT the car," the officer is heard telling dispatchers on the video.
"A citizen just tried to hit our car," a second officer in another pursuing patrol car says.
The alleged driver, Rachelle Jean Fernandez, 28, of West Valley, was charged Thursday in West Valley Justice Court with interfering with an arresting officer, a class B misdemeanor, and failing to stop for an emergency vehicle, a class C misdemeanor. An arraignment is scheduled for Dec. 7.
On Monday, West Valley police released the body camera video from two of the pursuing officers, partly in response to inquiries by some as to why Fernandez, who was attempting to help police, is now being penalized.
"Ms. Fernandez has publicly cited her interest in helping officers as the reason for interceding in a police pursuit. She has publicly cited her military background as the impetus which compelled her to intervene. These statements do not coincide with the statement that Ms. Fernandez gave to officers immediately following the incident, at which time she told police that she saw the pursuit and 'blacked out,'" police said in a statement Monday.
In this case, military training is not a substitute for the training local officers have received for their city, said West Valley police spokeswoman Roxeanne Vainuku.
"You also would not have the appropriate equipment. You would not be in communication with the pursuing officers. So no, not unless you are one of the pursuing officers should you full-on intervene," she said.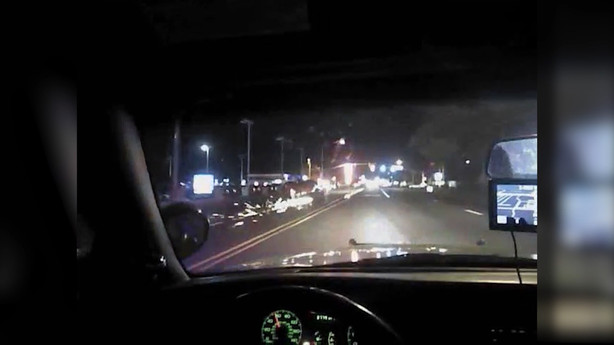 The incident began the morning of Nov. 15. Officers attempted to stop a stolen vehicle near 4700 South and 5600 West. While attempting to avoid spike strips set up by officers, the fleeing vehicle "drove directly toward a … sergeant who was outside of his vehicle," forcing the sergeant to dive to safety, according to police.
"The suspect crashed into a large landscaping boulder at the Tuscany Cove Apartments" before continuing to flee, investigators said.
While pursuing the vehicle on 3500 South, Fernandez apparently tried to stop the fleeing vehicle herself.
Vainuku said there have been incidents in the past where other vehicles, such as semitrailers, have tried to slow a fleeing vehicle by blocking the road. But Fernandez went beyond that.
"This was a lot more than just trying to help," Vainuku said. "What we're talking about is someone who passed officers, put themselves in between officers and a fleeing suspect, rammed into the side of a fleeing suspect causing them to go into oncoming traffic."
Officers can be seen in the video waving to Fernandez to get out of the way.
Andre Cruz Martinez, 26, eventually pulled over in the fleeing vehicle and was arrested for investigation of attempted murder of a peace officer, three counts of aggravated assault, fleeing in a vehicle and being in possession of a stolen vehicle.
"We encourage citizens to become more aware of the goings-on within their communities. However, we discourage our citizens from taking action that places themselves or others at risk of serious injury or death," Vainuku said. "We can neither condone nor ignore the actions of Ms. Fernandez."
Contributing: Sam Penrod
×
Photos
Related Stories