This archived news story is available only for your personal, non-commercial use. Information in the story may be outdated or superseded by additional information. Reading or replaying the story in its archived form does not constitute a republication of the story.
EAST RUTHERFORD, N.J. — Former BYU linebacker Uani 'Unga was a long shot to make the New York Giants' roster in training camp. But considering what he had to go through to make it to camp, he was just grateful for the opportunity.
"I've got to make this team," 'Unga said about his chances. "Whatever I've got to do, I have to get it done and make this team.
"Things didn't work out on draft day — I didn't get put on any team at all. I thought my career might've been done."
Instead, his journey was just beginning. 'Unga made the New York Giants' roster in September, but he was far from "making it" in the National Football League.
His wife Lachelle and three kids went along for the ride.
"It's been a roller coaster of emotions," Lachelle 'Unga said. "It's been exciting. We've been trying to just live in the moment, because we don't know what is going to happen next."
Uani Unga was out of football for almost a year, rehabbing his injured knee and attending one tryout after another, but he faced constant criticism. He spent days and weeks separated from his wife and children.
"I was just focused," 'Unga said. "Nothing mattered."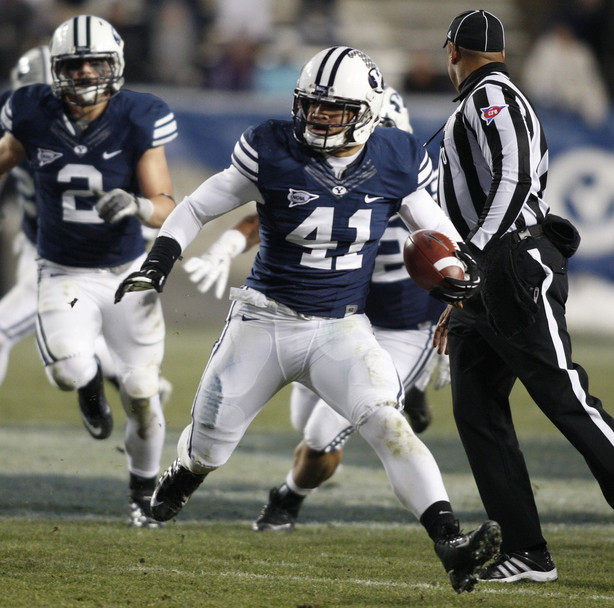 But all his hard work and sacrifice finally paid off this summer. He impressed coaches and teammates during Giants' preseason training camp, and learned Sept. 5 that he made the final 53-man roster.
"Someone posted it on Twitter, and his name was on there," Lachelle 'Unga recalled. "It was kind of weird. It didn't feel like we thought it would feel.
"It was a moment of relief for the both of us for the time being."
'Unga immediately took to his teammates, including fellow middle linebacker Jon Beason.
"First of all, I think he's tough," Beason said in describing 'Unga. "I think he's an extremely intelligent football player. That's what makes him him: he takes coaching really well. When you see a guy who wants it, you are happy to help him out.
"I'm happy he made the team, and now he's going to help us out tremendously."
That same week, after an injury to Beason, 'Unga earned a start in his NFL debut against the Dallas Cowboys on "Sunday Night Football."
"I was kind of scared a little bit," 'Unga said, while laughing. "I had dreamed my whole life to make it to the NFL, and my debut was a starting job."
'Unga led the team with 12 tackles, and he also had an interception that was one of the highlights of the game.
"His first game, I cried, and I am not a crier," Lachelle 'Unga said. "After the game, I think he was even a little emotional."
Going from undrafted to playing for one of the top franchises in the NFL was a dream-come-true for 'Unga.
"This is something special," 'Unga said. "Being in the NFL is something unique. But sometimes it hits me: am I really out here? I try not to think too much about it. But there are days when I definitely feel blessed to be out here."
Even now that he's made an NFL roster, life isn't easy. The family is still separated — Uani lives in New Jersey, while Lachelle and his children live more than 2,100 miles away in Utah.
"For us, it was the best decision to keep my family back home so I could study and focus," Uani Unga said.
His wife agreed, adding he hasn't been with his children personally since August. Still, there are ways to make the separation easier.
"Every day, I'm Facetiming with them thanks to technology," 'Unga said. "It makes it a little easier, but still kind of difficult."
There has been plenty of sacrifice for both sides.
"We thought we'd make it, that we'd have money and it would be worth it," Lachelle 'Unga said. "And then you really see how it is, and it is so different."
There's always uncertainty with life in the NFL. But after all they've been through to get here, they don't take it for granted.
"It's tough; it's hard," Lachelle 'Unga said. "It's really hard to stay in it."
But having the support of a loving wife and children means everything to 'Unga.
"She makes life completely easy, stress-free," Uani 'Unga said. "She's been a big support in letting me do my thing."
Added Lachelle: "Our situation has been rough. But we're thankful every day."
×
Photos
Related Stories