SALT LAKE CITY — Hundreds of Santa Clauses came to town Saturday as part of The Gateway's holiday kickoff celebration.
Whitney DeMille, 22, of Provo, was one of those Santa Clauses. When DeMille heard about the 2015 Utah Santa 5K on the radio, she said it was a unique opportunity she couldn't pass on. She rounded up a group of friends to experience the race.
Each runner received a Santa suit, complete with beard, to wear during the run. Milk and cookie stations lined the three-mile race, taking the place of water stations. Volunteers dressed as elves coordinated the event.
"I've seen Santa races on TV, and I always wanted to do one," DeMille said. "It was fun."
The Santa 5K ushered in The Gateway's annual "Light up the Night" event, which included performances from the West High School jazz band, West High cheerleaders and vocal group Eclipse6. Later, free hot chocolate and cookies were given away, and Santa rode into central Gateway on a fire engine. The festivities concluded with a tree-lighting ceremony.
Quinton Russel, 20, of Murray, walked through the Gateway to grab some dinner when the festivities began. He said the sight of the Santa runners startled him.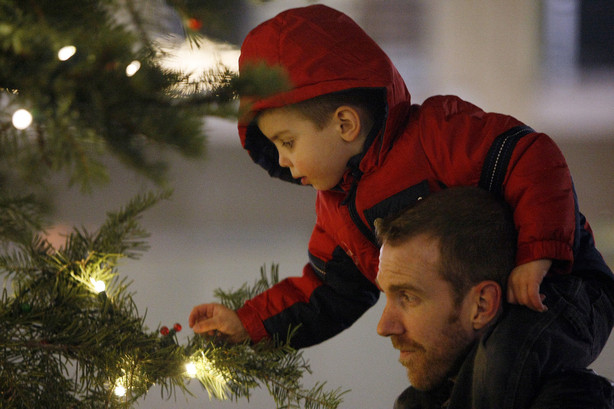 "The only thing that would have been more terrifying is if they were all clowns," he said. "It's too early for Christmas."
Retail malls such as City Creek, the Gateway in Salt Lake City and spots in Utah and Ogden counties have all begun the holiday season, though the calendar says Thanksgiving is still five days away.
Monica Gonzales, 35, of Salt Lake, said it's better to celebrate the holidays earlier because it "keeps everyone in that Christmas mood for longer."
When Gonzales moved to Salt Lake City three years ago, she wanted to start a new Christmas tradition with her daughters, she said, and the "Light up the Night" gave her that opportunity.
As the sun started to go down, Gonzales and her daughters Leah, 4, and Carmen, 3, waited for the lighting of the Christmas tree.
Leah and Carmen were bundled in coats and knit caps, but still mentioned the cold. Carmen said the cold was worth it because watching the tree would be so much fun.
Around 7 p.m., The 52 foot white pine tree from California was ornately decorated with bright lights. The tree is the largest tree The Gateway has ever featured, according to Gateway representative Jan Brownstein.
Gonzales said The Gateway celebration inspired her to put up her tree this week. Leah said she thought that was a good idea, too.
"I want us to buy that one," Leah said pointing to the Gateway tree. "I love that tree."
×
Photos