Estimated read time: 2-3 minutes
This archived news story is available only for your personal, non-commercial use. Information in the story may be outdated or superseded by additional information. Reading or replaying the story in its archived form does not constitute a republication of the story.
PROVO — Producing and distributing vaccines that protect us from life-threatening new viruses could be as simple as just adding water.
That's the key to a new system developed by researchers out of Brigham Young University. The concept is startlingly simple: create biological machinery to mass produce the vaccine and freeze-dry it. Then when needed, add water and voila — you have your active vaccine in as little as 24 hours.
Basically, the heavy lifting is done before the virus even strikes, so that when the need for a vaccine arises, the tools are already in place for a quick production.
"You could just pull it off the shelf and make it," said senior study author and chemical engineering professor Brad Bundy in a release. "We could make the vaccine and be ready for distribution in a day."
Currently, the process of producing and storing vaccines for pandemic influenza strains is difficult, expensive and time consuming, researchers said. Heavy engineering and special equipment necessary for the process exist in just several labs throughout the country, raising obvious challenges.
This new breakthrough could change that, researchers said.
"It will not only provide a quicker response to pandemics, but it will also make protein-based drugs more available to Third World countries where production and refrigerated storage can be problematic," said study co-author William Pitt.
The process involves combining DNA to make proteins necessary for producing drugs, instead of using the traditional method of growing protein in a cell.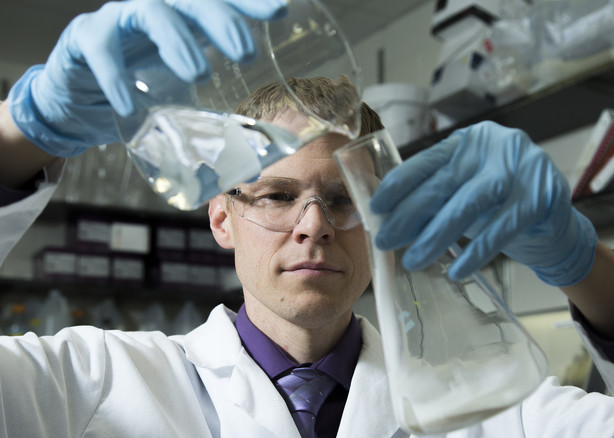 "The lifesaving cancer drugs we have now, the drugs for arthritis, the drugs with the greatest impact, are made out of proteins, not small chemical molecules," said Bundy. "This method takes full advantage of that to provide a quicker, more personal response."
This new method — published in the Biotechnology Journal — could make vaccines more affordable.
Further testing and FDA approval is needed before the BYU technology is ready for mass production, but it's an encouraging and promising step forward in the medical field, Bundy said.
×
Photos